Walt Disney has touched the heart of many kids and adults. Its theme parks, movies as well as merchandise make us revisit our golden days when we were children. To make a brand so big and win the audiences over and over, requires a magical touch. This magic can be found in the marketing mix of Walt Disney.
Product in the Marketing mix of Walt Disney
There are 3 major products of Walt Disney. First and foremost is its production company which is involved in making movies and cartoons with stellar characters like Mickey and Minnie mouse, Goofy, Donald duck and others. All the characters shown in the above pic are creations of Walt Disney production.
Walt Disney is also involved in the production of various movies like beauty and the beast, Alladdin, Jungle book and countless others. The Walt Disney production house drives the magic that is Walt Disney as all the movies are magical and they rope in the audience making them a life long  follower of Walt Disney.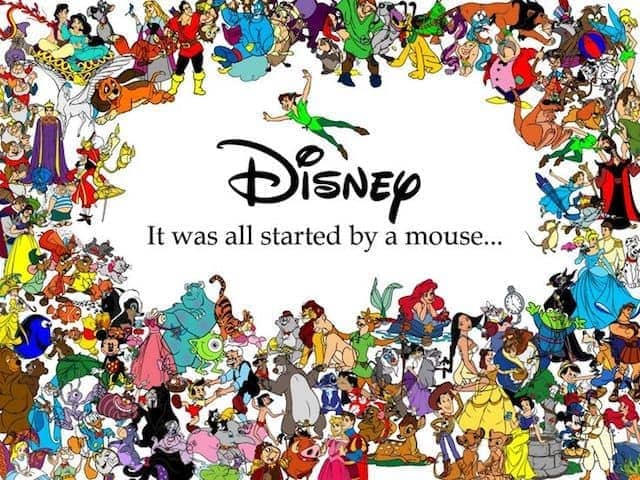 The second product of Walt Disney is Disneyland. Known to be one of the most profitable theme parks, Disneyland is a once in a life time theme park where you are sure to be bedazzled. You get to meet all the characters of walt Disney, go on rides and most importantly – experience the magical world of Walt Disney first hand.
It is but natural that with movies and a huge theme park, Disney have their own merchandise. And hence we enter the third biggest business of Disney – Disney store which is involved in the sales of all products connected to Disney – clothing, accessories, watches, and what not.
Price in the Marketing mix of Walt Disney
As Walt Disney is focused on  getting the mass population involved, the pricing is kept keeping the middle class in mind. Disney wants all kids and their parents to have their merchandise. Thus these products are priced such that the middle class too can enjoy them. The tickets of Disneyland, though not cheap, are certainly not that high priced that you cant visit them frequently. It is quite common to note that several families visit Disney land many times in their lives to enjoy the park.
Place in the Marketing mix of Walt Disney
 Disneyland is placed in several regions across the world. The following article lists all the difference places across the world where various Disney resorts and parks are located. http://en.wikipedia.org/wiki/Walt_Disney_Parks_and_Resorts
Promotions in the Marketing mix of Walt Disney
Promotion of Walt Disney is mainly holistic. The parks and movies rarely need a push. In fact people wait in anticipation for the next Disney movie or for their visits to Disneyland. Promotion is done in an internal manner. For Disneyland, various tours and packages are promoted which make it easier for people to visit Disneyland. Disney's production like movies are promoted through various media.
Disney has its own channel as well where the movies and products are promoted. Finally merchandising is promoted by having various retail stores, online store and on point of sale such as theme parks and resorts.
People in the Marketing mix of Walt Disney
People of Disney are known be most polite and most inclined towards their customers. Disney has its own training university for training of their customer representatives and theme park employees. These universities teach the employees about Walt Disney's culture and value. In Walt Disney, a single customer is said to be a direct contributor to the bottomline of the company as a single customer will later bring 10 more customers to Disney with a positive word of mouth. Thus Disney people are well trained, well mannered and one of the best in the business.
Physical evidence in the Marketing mix of Walt Disney
The tagline for Disneyland is "the happiest place on earth". Another one is "Where the magic begins" and one more is "Where dreams come true". These taglines are loved by people and Walt Disney actually proves that the taglines are correct. People who visit Disneyland and come out shower praises on Disneyland. Disneyland has small small things which makes the whole effect magical. To experience the physical evidence of Disneyland I would like to refer this article. It is an article by another marketer who has written his experience in Disneyland from a first persons perspective. http://www.drewsmarketingminute.com/files/marketingwalt.pdf
Also Read
If you liked this article, we bet that you will love the Marketing91 Academy, which provides you free access to 10+ marketing courses and 100s of Case studies.