Elance-oDesk is currently referred to as Up work. It is a private company associated with online industry and is actually an online portal that connects talent with business at a fast pace.  oDesk was founded in the year 2003 by its co-founders Stratis Karamanlakis and Odysseas Tsatalos. It merged with Elance to form Elance-oDesk in the year 2013 and was later in the year 2015 rebranded to its present name Up work. Some of its competitors are as follows-
com
PeoplePerHour
Profinder
Fiverr
Guru
Awesome web
TextBroker
Product in the Marketing Mix Of Odesk :
Elance- oDesk is a freelancing platform for individual professionals and Business entities so that they can easily collaborate and connect. It gives professional freedom to work at a time and place suitable to him. Company's gateway is used by clients to hire, interview and work with agencies and freelancers.
It is being used as a real-time platform for chatting and is very useful as it saves a lot of time that would usually be spent on hiring and finding required freelancers. Hiring takes place for jobs in software and app development, administrative support, business services, data science and engineering and creative services that include graphic writing and designing. To ensure fair billing by freelancers for jobs on the hourly basis, the portal offers a time-sheet application that helps in tracking time and even takes screenshots at the time when a freelancer is busy working.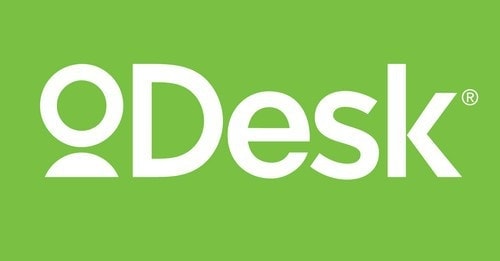 Place in the Marketing Mix Of Odesk :
oDesk has spread its network to include most countries in the global market. Its headquarters base is in San Francisco and Mountain View in California. oDesk is world's largest and biggest marketplace for freelancers as nearly three million jobs on an annual basis are posted on this site. It has registered five million and twelve million clients and freelancers respectively attached to its website.
Up work has launched a mobile app for iOS and Android and also an app used as time-tracker for Linux, OSX and Windows. oDesk has become an innovative platform and its reach has spread beyond geographical boundaries. It has a strong and talented workforce that includes both independent individuals and connected employees to make it a better place.
Price in the Marketing Mix Of Odesk :
oDesk is a popular portal as nearly one billion dollar worth of jobs are posted annually on its website. It is a pay service portal established for commercial usage. At the beginning, the company charged a service fee of flat 10% for freelancers but in the year 2016, 3rd May it changed its pricing policy to a variable plan of 5% to 20% as sliding-service charges or fees.
Since June 21st year 2016, a sliding-service fee is paid by freelancers and it is dependent upon total lifetime-billings it has with every patron, with 20% billed to the client for first 500 dollars related to all contracts, for 500.01 to 10,000 dollars 10% of total billings and 5% of total billings to clients who have exceeded 10,000 dollar mark. 2.75% as processing fees per payment is paid by clients whereas some of them are eligible for paying a flat monthly processing fee of just twenty-five dollars.
oDesk offers several payment options to its users like bank transfers, PayPal and credit cards. It is also possible via escrow system of Up work as it transfers funds to its agents and freelancers after an interval of 6-day period.
Promotion in the Marketing Mix Of Odesk :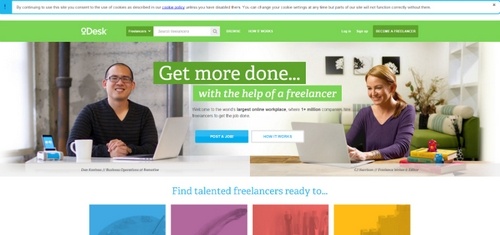 oDesk has been able to create a distinctive place of its own. In order to maintain its position and gain further markets company has adopted several marketing strategies to increase its brand visibility. It has taken help of social media platforms to gain brand awareness via LinkedIn, Facebook, Twitter and other portals.  The company also relies heavily on word-of-mouth publicity as one person recommends it to another and the chain goes on. oDesk has been the recipient of several accolades and awards in recognition of its works like Fastest Growing Innovator Award of Excellence in the year 2011 and AlwaysOn Global 250 Top Private Companies for the year 2011 and 2012.
Liked this post? Check out these detailed articles on
Topic of Marketing Mix of Brands
Alternatively, check out the Marketing91 Academy, which provides you access to 10+ marketing courses and 100s of Case studies.