Ralph Lauren is a publicly traded company of American origins. It is associated with lifestyle and retail industry as it deals in apparels and accessories. Ralph Lauren Corporation was founded in the year 1967 by its founder Ralph Lauren. It is one of the most recognised brands in the fashion industry and operates with help of its numerous brand names like Blue label, Polo by Ralph Lauren and Ralph Lauren Purple Label. Some of its competitors are as follows-
About Ralph Lauren
Type: Publicly traded company
Industry: Fashion
Founded: 1967
Founders: Ralph Lauren
Headquarters: New York City, New York, United States
Area served: Worldwide
Current CEO: Patrice Louvet
Number of employees: 18,250
Major products: Apparel, footwear, accessories, home goods, fragrances, and hospitality
Product in the Marketing Mix Of Ralph Lauren :
Ralph Lauren is a lifestyle brand linked with luxury and recognised by its high quality and distinct design. It is associated with designing, marketing, distributing and manufacturing of apparel, fragrances, accessories and home. Its diversified product portfolio includes products for babies, men, women, girls and boys. Some of them are as follows-
Apparel – Polo shirts, sweatshirts, jackets, outerwear, casual shirts, activewear, sleepwear, shorts, jeans, trousers, tops, tees, denim, formal wear, blazers, jumpsuits, swimwear, loungewear, skirts, pants, coats, vests and dresses
Footwear – Flats, sneakers, sandals, pumps, boots, ballets, casual shoes and dress shoes
Accessories – Belts, ties, bags, scarves, hats, socks, gloves and bow ties, braces, cufflinks, blankets, swaddles, bath accessories, eyeglasses, sunglasses, wallets, handbags, leggings, tights and jewellery
Fragrances – Lauren, Polo, Polo Black, Polo Blue, Polo Red, Midnight Romance and Ralph Lauren Romance
Home – Blankets, comforters, bathrobes, bath towels, frames, lighting, rugs, tabletop collection, artwork and decorative pillows
Place in the Marketing Mix Of Ralph Lauren :
Ralph Lauren serves a global area and its products are easily available in several countries in Asia, Europe, Middle-East, North America and Latin America. It has its headquarters base at New York City in the United States. At the end of the financial year 2015-16, Ralph Lauren had a strong distribution channel that included operations with help of licensing, wholesale business and retail outlets. Company marketing and distribution network included 144 personalised outlets of Ralph Lauren, 493 directly-operated outlets, 272 Polo-Factory outlets and 77 Club-Monaco outlets.
The company also operates via 583 concession-shops. It has a global licensing partnership and through it manages 42 dedicated-shops, 93 personalised Ralph Lauren outlets and 133 Club-Monaco outlets. Ralph Lauren's representative flagship outlet is at New York City, Paris, Moscow, Tokyo, Milan, London and Chicago. It has its own website which acts as its online store along with 10 e-commerce portals for shopping.
Price in the Marketing Mix Of Ralph Lauren :
At the end of the financial year 2015-16, estimated revenues of Ralph Lauren were 7.4 billion dollars and its net income 546 million dollars. It is a multi-billion dollar global enterprise that deals in luxury and premium products.  Ralph Lauren caters to rich clients from an urban class that does revel in high prices and best quality as it denotes an elevated status symbol by association. It has adopted a premium pricing policy for all its products and it has helped in earning good revenues because the profit margin is comparatively greater.
Promotions in the Marketing Mix Of Ralph Lauren :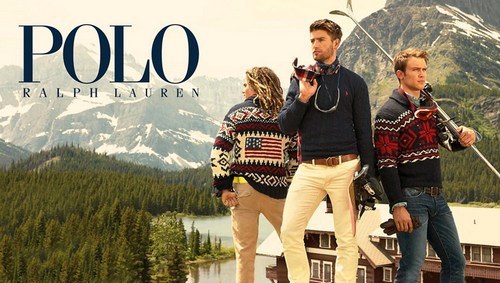 Ralph Lauren has hired an in-house advertising and creative team that creates and executes various promotional policies to increase and retain its brand awareness in the consumer market. Its primary medium for advertising is print and ads are placed in lifestyle and fashion magazines. The company has launched promotion campaigns via advertisements on television, organising special events and direct-to-consumer marketing. Ralph Lauren has put the special onus on digital as well as social media platforms like SMS via mobiles, Facebook, Twitter and YouTube.
The company participates in fashion shows like Milan Fashion Week and New York Fashion week to gain maximum brand exposure. It is official outfitter for on-court officials at US Open and Wimbledon tennis tournaments. Ralph Lauren is official parade outfitter of US Paralympic and Olympic teams. Brand sponsors personalities like Morgan Pressel, Luke Donald, Jonathan Byrd and Tom Watson. The company has been involved in philanthropic activities. Nina Hyde Center is co-founded by the brand for Breast-cancer research. It has established The Polo Fashion School so that its executives can offer insights in the fashion world to interested inner-city youth.
Liked this post? Check out the complete series on Marketing Mix