India is a country located in the Asian continent and is renowned for being the world's largest democracy, its diverse terrain and rich history. Besides being known for the aforementioned, India has an established winery that produces one of the finest wines in the world. Sula wines are India's leading winery, and once you get to taste the wines from Sula, you will discover that good wine doesn't only come from Europe.
Like most companies, Sula wines understands that there are essential elements that they need to give attention to so that they can accurately and more efficiently market their products and services. Therefore, this article seeks to discuss the marketing mix of Sula wines which constitutes for four essential elements, the 4 Ps which are product, price, promotion and place.

About Sula Wines
Type: Winery
Industry: Winemaking
Founded: 1999
Founders: Rajeev Samant, Sanjay Divekar, and Ashok Patole
Headquarters: Nashik, Maharashtra, India
Area served: India and export markets
Current CEO: Rajeev Samant
Number of employees: 1,500
Major products: Red wine, white wine, rosé wine, sparkling wine, dessert wine, and fortified wine
Product in the Marketing mix of Sula Wines
Any company that efficiently utilises marketing mix understands that they need to define their product. They need to pay attention to the quality of their products and how they are packaged. It is also important that the company determines their products features and after that build the advantages from them.
Sula wines in this regard have a defined product. The company produces and sells five different types of wine. These include; red, white, dessert, rose, and sparkling wines. Each of these wines is packaged exceptionally.
Sula Wines has 5 basic types of wines. Each of them has been mentioned here along with The pricing which i could find. Pricing of Sula wines is general pricing and appears more of penetrational rather than premium pricing. Here are the products and pricing of SULA wines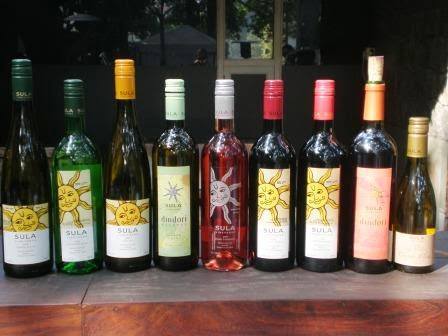 Red Wines
sula cabernet shiraz 395
madera red 250
White Wines
sula sauvignon blanc*540
sula chenin blanc*395
madera white 205
viognier**
dia white
riesling
samara white
Rose Wines
sula blush zinfandel-450
madera rosé-205
Sparkling Wines
sula brut* 550
seco
Dessert Wines
late harvest chenin blanc
Price in the Marketing mix of Sula Wines
The price is the second P in the marketing mix refers to the amount customers pay for a particular product. Price is often assigned to the product by the company based on the material, labour, competition, government regulations, etc.
Sula wines adopts a more premium pricing strategy because it is the most widely distributed and yet well branded wine in the market. Here is a list of the Sula wines products and their prices;
Red wines; Sula cabernet shiraz 395, Madera red 250
White wines; Sula Sauvignon blanc *540, Sula Chenin blanc *395, Madera white 205, Viognier **, Dia white, Riesling, Smara white
Rose wine; Sula Blush Zinfandel 450, Madera rose 205
Sparkling Wines; Sula brut *550, Seco,
Dessert wines;
Late harvest Chenin Blanc
Place in the Marketing Mix of Sula Wines
This refers to the physical or virtual location where customers can access a company's products. Sula wines avail its wines and other beverages in 5-Star holes, wine shops and high-end restaurants. This is typical of wines, they are considered to be exotic drinks, and thus the place element has to be thoroughly discussed with regards to the target market.
Five Star Hotels
Wine shops
High end Restaurants
Promotions in the Marketing mix of Sula Wines
Promotion includes getting the fundamental tools to impart a product or service to consumers. In India, businesses involved in the production of alcohol and related beverages are restricted from using mass media to promote their products. Just in-shop advertising or on-premise is allowed in all states aside Delhi.
Sula wines, along these lines, use other forms of advertising like Sula fests which are intended to promote products. They also organise launches for new products and brands. Complimentary glasses of Sula wines are frequently offered in restaurants and bars as a way of encouraging consumers to buy the product. Sula harvest and the internet are additionally mediums in which the company uses to promote their products.
Use of the mass media to promote alcoholic beverages is not permitted, but in-shop advertising or on-premise promotions are allowed in all states except Delhi.
Organizing Sula fest
Organizing a launch of a new brand
Complementary glass of wine in restaurants and bars
Sula Harvest
Internet marketing
Also Read Service Marketing Mix
Liked this post? Check out the complete series on Marketing Mix