Uncle Chipps is an Indian potato chip making company that has been in existence since 1992 and is owned by Frito-Lay. Previously, the company was owned by Uncle Chipps Co. LTD. Started by Amrit Agro LTD, the company was taken over in the year 2000 by Frito-Lay, a company owned by PepsiCo.
From its inception all through to 1998, the company didn't have any serious competition as it enjoyed at least 71% of the market share. However, there has been a stiff completion thereafter, something that has lowered its market share to just about 30-35%.
Competitors
Sun Chips
Local Multi-grain products
About Uncle Chipps
Type: Snack food
Industry: Food and beverage
Founded: 1992
Founders: Amrit Agro Ltd.
Headquarters: Gurgaon, India
Area served: India
Current CEO: Deepika Warrier
Number of employees: 1,000+
Major products: Potato chips, tortilla chips, corn chips, and other snacks
Product in the Marketing Mix of Uncle Chipps :
As mentioned above, the company markets and sells potato chips in India. Its chips are majorly cooked with Potato, rock salt, spices, vegetable oil and other condiments as its major ingredients. The company has got ethnic brands which include Lehar and Kurkure for the puffed snacks segment but the potato chips are far much their signature product.  Below are some of the most common flavours under the brand:
Spicy Treat
Sendha Namak (Rock Salt)
Bombaat Chili Masala
Plain Salted
Paapri Chaat
Jhakaas Tomato Twist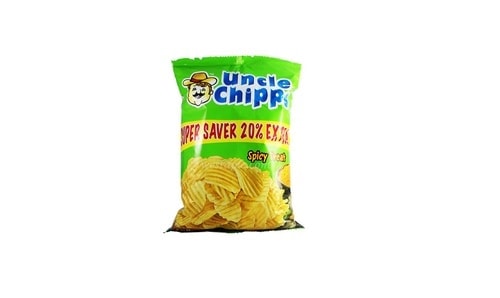 Price in the Marketing Mix of Uncle Chipps :
Upon market study and analysis, it is clear that the world today is very price-conscious hence the adoption of the value-based pricing system by Uncle Chipps. By so saying, the company ensures that their products go through well-laid quality standards in terms of health, nutrition and palatability and the price marked accordingly so that the customer can appreciate the products and feel they have gotten value for their money.
The company also prices its products as per the regions. In places where it is dominant, especially the northern and eastern sides of India, the products are slightly more expensive than in places where it is still just trying to penetrate.
Place in the Marketing Mix of Uncle Chipps :
Since its inception, Uncle Chipps was known to target a wide market group without a specific segment being prioritised. You could find young, teens, senior youths and even the mature people being inclined to the brand. Similarly, just as in the case of the market segment where the company sells to all age and economic groups, it also targets to reach the entire country. Already, it is the dominant force in the northern and eastern parts of India but its marketing is geared towards making it a dominant force in the entire country.
Promotion in the Marketing Mix of Uncle Chipps :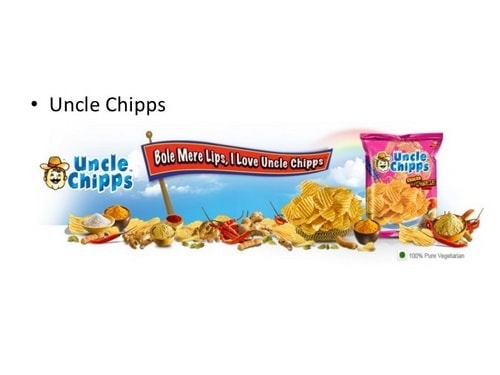 The company has been doing promotions, especially to the western and southern sides where it is not as popular as it is in the eastern and northern sides of India. But what has been doing the company a lot of good to help it reclaim the glory it lost to Lays is the quality production and assurance methods and processes it has put in place. The company has been bringing in more flavours that end up attracting more and more chips enthusiasts. And since even just a slight price adjustment can have great impacts on sales, occasionally, the company has given promotional discounts that have ended up leading all snack eaters to Uncle Chipps.
The company has been able to penetrate the markets through endorsements and association with celebrities and powerhouses in the film industry. Shantanu Moitra, a well-celebrated music director kick started his career with "Bole mere lips I love Uncle Chips" hit-jingle. Uncle Chipps also pioneered the branded nitrogen-foil packaging of potato chips in India. It is a fact that many people will buy a product just because of how good it has been packaged and this is exactly what happened upon the introduction of such an elegant packaging.
Liked this post? Check out the complete series on Marketing Mix