Cathay Pacific Airways Limited is popularly known as Cathay Pacific. It is associated with aviation industry as it deals in the airline sector. Cathay Pacific is a part of Oneworld Alliance and the flag carrier of its country of origin Hong Kong.
It is a public limited company and was founded in the year 1946 by its co-founders Roy C Farrell and Sydney H de Kantzow, the first an American and the second an Australian respectively. Its major shareholders are Air China, Swire Pacific and since the year 2017 Qatar Airways.
It offers both passenger and cargo services. In the year 2010, Cathay Pacific was declared as the largest airline in the international arena for cargo handling and Hong Kong International Airport, its main hub, as busiest airport for cargo traffic. It faces competition from the following airlines-
Air India
Jet Airways
Singapore Airlines
About Cathay Pacific
Type: Airline
Industry: Transportation
Founded: 24 September 1946
Founder: Roy Stanley Nash
Headquarters: Hong Kong International Airport
Area served: Asia, Europe, North America, Oceania
Key people: Patrick Healy (Chairman) and Ronald Lam (CEO)
Number of employees: 27,000
Products in the Marketing mix of Cathay Pacific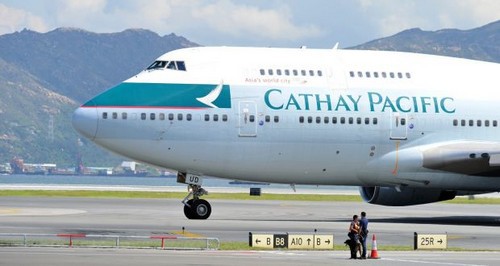 Cathay Pacific operates both domestic and international flights with help of its subsidiaries Cathay Dragon and Air Hong Kong, joint ventures and code-shares. The company has a fleet of one hundred and forty-six aircraft that includes Boeing 777, Airbus A350, Airbus A330 and Boeing 747 for cargo only. Cathay Dragon operates from Hong Kong base to Asia-Pacific region and is accountable in forty-four destinations. Cathay Pacific offers both commercial flights and logistics services to its clients.  Cabin services include the following-
First Class product includes wide and comfortable seating arrangement that can be converted into the bed. It offers power socket, personal television, small cabinet and a massage function.
Business Class offers a much more modern setting with special attention to privacy, comfort, and space. Seats are wider and more spacious and the airline offers video-audio facility-on-demand.
Premium Economy Class offers a bigger and more reclining seat with amenities like power outlet, headsets for noise cancellation, personal television of 10.6-inch, larger pillows, cocktail table and a meal table.
Economy Class has adjustable headrests and slimmer seats with other amenities that include USB port, power sockets, cup holder and 6-inch television screen.
As part of the in-flight entertainment, the company offers personal television with a wide range of movie selection, popular programs, games, and music. It also provides magazines, newspaper, audio-video on-demand, seventy interactive games and twenty-five radio channels. Beverages and food are complimentary on every flight with a serving of two hot meals in long-hauling flights. Cathay Pacific has started loyalty programs. Marco Polo Club has been segregated into groups.
The entry level is Green and its benefits include priority boarding, lounge-access redemption, allowing excess baggage, easy flight reservation, and designated check-in-counters. The next level is Silver and is achieved by earning 300 club points during the membership year. Its additional advantages include lounge access to business class, priority baggage handling, baggage allowance of 10 kg extra and advanced reservation of seats.
If a member earns 600 points in a year he is eligible for 15 kg extra baggage, one economy class ticket and lounge access to the business class via Gold tier. Diamond tier is achieved after 1200 points and includes guaranteed tickets before 24 hours of departure, 20 kg extra baggage and first class lounge access.
Place in the Marketing mix of Cathay Pacific
Cathay Pacific is a well-recognized airline that operates via its headquarters based at Hong Kong and its main hub at Hong Kong International Airport. The company has spread its operational services to more than sixty countries via two hundred and one destinations to include places like Manchester, Shanghai, Seoul, Paris, Rome, London, Frankfurt, Bangalore, Mumbai, Delhi, San Francisco, Sydney, Los Angeles and Kolkata.
Cathay Pacific has a widespread distribution network that helps in offering its products and services easily. The company offers easy booking via its official website and other online portals with which it has entered into partnership deals. Tickets are also available via travel agents, company officials and airport counters.  The company has launched its personal mobile app CX mobile that helps in knowing about arrival, departure, destinations, city guidelines and any cancellations. This app has gained immense popularity as it is very convenient for the passengers in gathering relevant information.
Price in the Marketing mix of Cathay Pacific
Cathay Pacific has been ranked at the tenth position as the largest airline in terms of sales figures and at the fourteenth position in terms of market capitalization. By the end of the fiscal year 2016, it posted its revenues and net income at HK$ 92.751million and –HK$ 274 million respectively.  The company has targeted middle, upper middle and business corporate as its target customers who prefer reliable flights and comfortable services.
The fares are dependent on several factors like the route, how many miles, destination, airspace sector, days, timing and season. Cathay Pacific has kept a variable pricing policy that is dependent on above factors. It has given a choice to its customer to choose a ticket that will be beneficial to the passenger. For itself, it has adopted a competitive pricing policy because it faces a lot of rivalry in the airline industry. In order to tackle its competitors, it offers discounts and incentives at regular intervals and this actually helps the company to maintain its loyal customer base.
Promotions in the Marketing mix of Cathay Pacific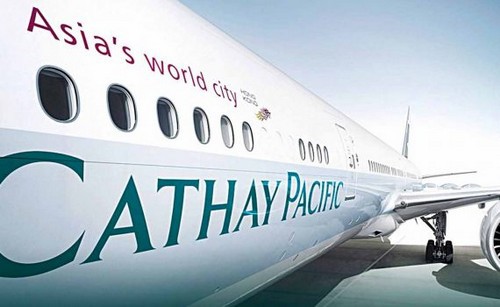 Cathay Pacific is a globally reputed company and has adopted several strategies to create positive brand visibility. Cathay Pacific has started a mobile app that helps in offering flight-related information to the passenger in time and has been a huge success amongst its passengers. The airlines also use various social media platforms to its advantage.
It advertises heavily via Facebook, Twitter, Flickr, Instagram, and YouTube. It tries to connect directly with its passengers via these platforms and also its own official website.
Its promotional activities include duty-free shopping, lounge services, and tours to show its new cabins and services. Cathay Pacific has sponsored several sporting events to increase its brand awareness. It has become the major sponsor of Cathay Pacific/HSBC Hong Kong Rugby Sevens.
The company has uploaded videos showing the daily lives of flight attendants so as to highlight their services and professionalism. Cathay Pacific has been the recipient of numerous awards and recognition. It has been ranked as World's Best Airline for consistently four times in a row.
Liked this post? Check out the complete series on Marketing Mix