Ashok Leyland is a public company, which belongs to the Hinduja group and was founded in the year 1948 by Mr. Raghunandan Saran. In India, they are the 2nd largest manufacturer of commercial vehicles with a turnover of more than US $ 2.5 billion. The company is based in Chennai, Tamil Nadu. Ashok Leyland has various subsidiaries, which operate, across the world.
The company has great competence at international level and it stands as the 4th largest manufacturer of buses in the world. The current CEO is Mr. Vinod K Dasari. Although being at a well-established position in the automotive business Ashok Leyland has some competitors too across various product segments in the business. It has tough competitors Tata Motors, Daimler AG, Volvo, Eicher Motors, and Maruti Suzuki etc.
About Ashok Leyland
Type: Commercial vehicle manufacturer
Industry: Automotive
Founded: 1948
Founder: Raghubir Singh
Headquarters: Chennai, India
Area served: Worldwide
Key people: V. Sumantran (Chairman) and Vinod K. Dasari (CEO)
Number of employees: 56,000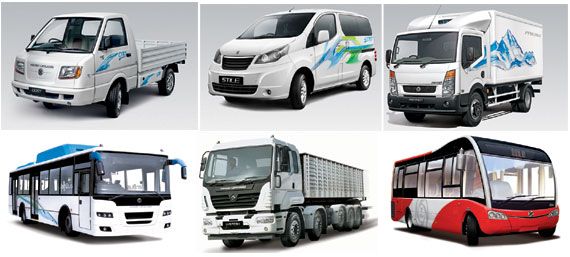 Product In Marketing Mix Of Ashok Leyland
The products manufactured by Ashok Leyland fall under these broad categories
Buses: Passenger buses with capacity of 19-80 seating seats. The flagship BEST buses and double Decker buses in Mumbai and the ibus are the products of Ashok Leyland.
Trucks: main focus on 16-25 ton range of trucks, with presence in all segments from 7.5 tons to 49 tons. Axle lorry with custom-built cabin is very popular in this segment.
Light, medium and heavy commercial vehicles for various industrial and transport utilities are made by Ashok Leyland.
Defense: road mobile launchers, protection armored vehicles, army trucks etc are the flagship products in this segment.
Power Solutions
Place In Marketing Mix Of Ashok Leyland
The products are exported to various countries like Ghana, Bangladesh, and Sri Lanka etc and with various joint ventures in different countries the brand Ashok Leyland has made a global presence. The main manufacturing units across India are in Ennore and Hosur (Tamil Nadu), Alwar (Rajasthan) and Pantnagar (Uttarakhand). The units are highly specialized with well trained technicians and engineers who make sure a flawless vehicle is delivered at the showroom and ensure proper after sales service is provided to the customer.
Price In Marketing Mix Of Ashok Leyland
In the commercial vehicles segment the major competitor for Ashok Leyland is Tata Motors. For example Ashok Leyland trucks are in the price range of Rs 13 lacs and Rs 16 lacs in two variants particular whereas similar trucks from international manufacturer Volvo are slightly higher in price at Rs 14.25 lacs and Rs 17.85 lacs.
As the trucks and buses have long usage life like 15-20 years minimum what gets essential is the maintenance cost which can be minimal if the quality of product is good. So automotive manufacturers like Ashok Leyland if have slightly higher price on the product with respect to competitors then this assures you the quality and future savings on the maintenance aspect.
Promotion In Marketing Mix Of Ashok Leyland
The brand's image is built by years of hard work of thousands of employees delivering quality products in the automotive industry. But in this competitive world to stay in the market and protect market share, a brand needs some other marketing strategies.
After over six decades of their business Ashok Leyland named Mahendra Singh Dhoni as the brand ambassador. For the first time Ashok Leyland roped in some celebrity for their multimedia advertisement campaign across all markets addressing all the segments. And the rival company Volvo used the similar strategy by getting the golfer Jeev Milkha Singh as the brand ambassador for itself in India.
The values that the promoters have invested in the business are truly revealed by the patronage that Ashok Leyland has and they truly reflect to be the son of the soil.
Liked this post? Check out the complete series on Marketing Mix