1. Product Kingfisher First (International & domestic routes) Kingfisher Class (International & domestic routes) Kingfisher Red – formerly known as Air Deccan (Domestic routes) Flying Chef.
About Kingfisher Airlines
Type: Airline
Industry: Aviation
Founded: May 9, 2005
Founder: Vijay Mallya
Headquarters: Mumbai, India
Area served: India and abroad
Number of employees: 6,000
Major products: Air travel
2. Price
Kingfisher Airlines being a premium airline adopts a premium pricing strategy Kingfisher Red its low fare arm adopts a low fare pricing The pricing strategy aviation industry is highly dependent on the behaviour of the crude oil prices, dollar rates and competition. Fuel at present accounts for 45 per cent of an airline's total operating cost.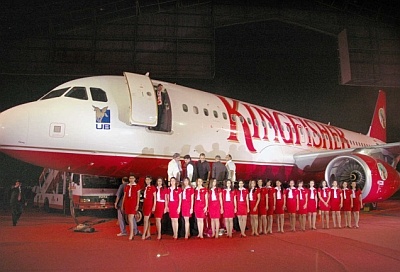 3. Place
Kingfisher Airlines operates services to 80 destinations domestic as well as international. International operations started on 3 September 2008, with a flight from Bangalore to London. One of the reasons to acquire Air Deccan was to gain entry on to the international circuit, by gaining advantage on Air Deccan`s eligibility to fly international (as per DGCA rules) It also has plans to add several international destinations such as Bangkok, Hong Kong, Karachi, Kuala Lumpur, Lahore, Malé and Singapore in 2009
4. Promotion
Kingfisher Airlines as a brand is promoted in many ways When it was launched Yana Gupta was the brand ambassador Hoardings/ Press Release Kingfisher Airlines sponsors Mumbai ATP Open KF First sponsors Mtv Style Awards 06 Kingfisher kicks off Rs 1 billion campaign (On Launch of its international flight to London) Formula 1 team (Force India) IPL team (Royal Challengers) Red Pouch The colour "RED" King Club frequent flier programme Vijay Mallya himself is a brand ambassador for all his brands including Kingfisher Airlines
5. Physical Evidence
Kingfisher Airlines started its operations on May 9, 2005 with a fleet of 4 Airbus A320 aircrafts. Kingfisher Airlines was the first airline in India to operate with all new aircraft. On June 15 2005 Kingfisher Airlines became the first Indian airline to order the Airbus A380, to be delivered by 2014 Fleet size of 73 and 137 orders placed The planes have the best in-flight facilities that match world class standards
6. Process
KFs Tickets through ATMs The Roving Agent Web Check-In FlyBuy SMS Flight Updates Mobile Ticketing
7. People
Being a service industry it has two types of customers: External Customers (Passengers) Internal Customers (Employees) Kingfisher Airlines uses the term "Guests" for its external customers. Dr Mallya tells his crew to treat every guest "In the same way as if they have visited his home." In an airline, Cabin Crew play an important role because they are the ones who deliver the service and therefore they are termed as The Walking Billboards of an organization.
Also Read Service Marketing Mix
Liked this post? Check out the complete series on Marketing Mix