The Ritz Carlton Hotel Company, LLC is commonly referred to as Ritz Carlton. It is associated with Hospitality and Tourism industry as it deals in hotels and resorts. The luxury chain is a subsidiary of its parent company Marriott International. The American origin company was founded in the year 1983. Ritz Carlton hotel and resorts are synonymous with luxury, elegance, and glamour. It faces competition from the following brands
Hilton
Hyatt Hotel Corp
Starwood Hotels and Resorts
Four Seasons Hotels
About Ritz Carlton
Type: The luxury hotel chain
Industry: Hospitality
Founded: 1983
Founders: Herve Humler, Colgate Holmes, Joe Freni
Headquarters: Chevy Chase, Maryland, United States
Area served: Worldwide
Current CEO: Arnold Donald
Number of employees: 40,000
Major products: Luxury hotels and resorts
Product in the Marketing mix of Ritz Carlton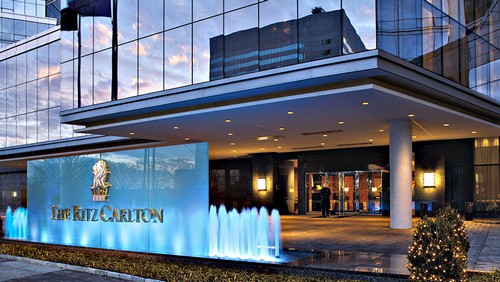 Ritz Carlton offers its guests exceptional treatment by providing finest facilities and personal services. It wants its customers to enjoy their stay in a warm, refined and relaxed ambiance.
Ritz Carlton has revolutionized the hospitality sector by offering spacious room, comfortable settings, private baths, and extensive fresh flowers in public areas, gourmet cuisine, restaurants, spas, bars, beach clubs, golf course, banquet halls, conference halls, Wi-Fi connection, medical facilities, refrigerator in rooms, free room service, paid car services, 24-hour front desk services and travel guides.
The Ritz Carlton will be offering its Yacht Collection for public use from the year 2020. It has built a customized yacht that will offer seven to the ten-day voyage. Each of these will have one hundred and forty-nine suites with a private terrace and will offer luxurious amenities and elevated dining options. Ritz Carlton Yacht will be able to carry two hundred and ninety-eight guests. Ritz Carlton hotels and resorts offer both outdoor and indoor venues place in a beautiful and scenic location to the guests who are interested in having a wedding ceremony at its place.
The Ritz Carlton Club Level offers ample opportunities to either stay alone or meet fellow travelers. The Lounge provides personal services from the concierge, complimentary culinary treats in elegant ambiance to create a sense of belonging. Ritz Carlton offers a unique spa experience by combining world-class expertise and local flavors that speak of the high level of competence and personalized services that are unmatched anywhere.
It has a mobile app that enables check-in before arrival and sends an alert to show that your room is ready. Reservations are now easy and convenient for spa or dining purposes. A guest can request valet service or other amenities like fresh towels, shoeshine by ordering it via the mobile app. The apps home screen is directly linked to the hotel desk and receives the entire request immediately. A guest has the convenience of requesting mobile check-out also. The customer can link his reward account with the mobile app and check its activity directly and regularly.
Place in the Marketing mix of Ritz Carlton
Ritz Carlton started its operations from the United States and over the years has captured the overseas market in thirty countries. It has one hundred and thirty resorts and luxury hotels to its name that helps it to offer best possible services to its esteemed guests. It has its headquarters based at Maryland in the United States.
The locations include Arizona, California, Colorado, Florida, Georgia, Ohio, New York, Missouri and Nevada in United States and Canada, Virgin Islands, Puerto Rico and Mexico, in Latin America and Mexico region, Germany, Hungary, Spain, United Kingdom, and Austria in Europe, Singapore, India, China, Japan, and Malaysia in Asia-Pacific region, and UAE, Oman, Morocco, Qatar and Egypt in Middle-East and Africa.
The Ritz Carlton brand has paid special attention to the location of all its hotels and resorts. It has a team that selects its next location very thoroughly before approving it. The company prefers prime locations that are either in central or near airports and highways. Ritz Carlton has its own official website that encourages its customers to make online bookings. It has launched a mobile app that is tailor-made to offer specific and related details. The app can be accessed in five languages English, French, Spanish, German and Chinese.
Price in the Marketing mix of Ritz Carlton
Ritz Carlton strives to offer personal, memorable and unique experience to each of its guests so that their stay becomes comfortable. It has targeted business executives, leisure travelers, corporate and families from upper and upper-middle class section of society. The brand has positioned itself as a luxury group that believes in creating memories for its guests.
Ritz Carlton is perceived as a premium hotel group and hence has adopted a premium pricing strategy. It serves high-profile elite class people and dignitaries who do not mind spending extra for more luxurious settings. For them, extra benefits and comfort matter more than money and hence the brand has been successful with its premium prices. Moreover, first-class prices denote premium products and an elite class is class-conscious as they like to be associated with a high-profile brand.
Promotions in the Marketing mix of Ritz Carlton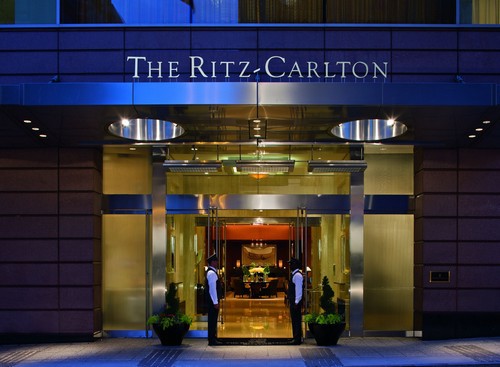 Ritz Carlton has adopted a mouth-of-word promotional strategy. Its distinguished guests are satisfied with products and services and tell about it to people known to them. This creates a vocal chain and the hotel and resorts are able to increase their customer base. The brand advertises via travel magazines, travel agents and social media platform like its official website. Catchy and vivid ad commercials are displayed to create brand visibility.
Ritz Carlton has its own reward program that offers several opportunities to its members to earn reward points. Points can be accrued by staying at any of its location or at a hotel with which the brand has a tie-up. The customer has to enroll as a member to start earning reward points. An individual can earn ten reward points on his/her stay at any of its location. Guests will be eligible for earning airline miles with several associated airlines. Sufficient reward points will allow complimentary stay, upgrading of its rooms and other related facilities.
As part of its promotional policy, the company offers vacation packages and other incentives. Ritz Carlton operates five-star rated hotels and resorts and has been the recipient of several awards and recognition in the hospitality sector. It is the only hotel group to be awarded twice the Malcolm Baldrige Quality Award. In the year 2017 it received Travel Weekly Reader's Choice awards for Best Luxury Hotel Chain 2017 and in the year 2015 AAA Four and Five Diamond award.
Liked this post? Check out the complete series on Marketing Mix