The Spotify marketing mix framework has helped the popular music streaming platform to create marketing strategies that will take the business model forward in the global music streaming industry.
Spotify leverages user data, exclusive content, visual and audio elements, local artists, music consumption via free accounts, curated playlists, new music labels, and new music videos to target audiences.
Spotify has proved itself as one of the most popular streaming music apps because it can easily create a customized playlist for every person based on the listening history of the users.
Spotify's success to a great extent depends upon its marketing mix elements that focus on the podcast community, four premium pricing models, pricing strategy, social media platforms, digital marketing campaigns, and promotional strategy to create a unique brand identity in the music industry.
About Spotify
Origin Country: Sweden
Founders: Daniel EK, Martin Lorentzon
Chairman & CEO: Daniel EK
Founded: 2006
Headquarters: Stockholm, Sweden
Employees in 2023: 9,646
Annual Revenue in 2023: 11.7 billion EUR
Net Income in 2023: -430 million EUR
The Swedish-origin Spotify is a proprietary music streaming platform that offers media services and audio streaming services.
Spotify was the brainchild of Martin Lorentzon and Daniel EK who saw an opportunity in the existing practice of music piracy and decided to make this chance count by legalizing the whole concept without people having to download pirated music files.
When Spotify launched the music streaming platform the business model within a short time became the largest provider of music streaming service in the world. It has a library of audio content, podcasts, and millions of songs for Spotify listeners and streamers.
Spotify's success is not limited to audio music streaming as it has overtaken Apple Podcasts (28.5 million listeners) and becomes the largest podcast community with 32.5 million listeners in the podcast streaming market.
Spotify proved its marketing genius through the music streaming platform. It is listed on the New York Stock Exchange through Spotify Technology S.A.
Target Market: Spotify Marketing Strategy
Spotify's target audience is young music who belong to Gen Z and Millennials and want to download music from a premium music streaming service for exclusive content. Spotify leverages user data and with the help of listening history, music videos and new songs create a customized playlist that helps to maintain customer loyalty.
The target audience also includes Spotify listeners looking for a free version so that they do not have to pay any sum for listening to music to their heart's content. The freemium subscription is most popular among young users and 71% of users using the free version are under 35 years old. Currently, Spotify has 295 million free users on its online platform who can use the free version through their free accounts.
Spotify faces stiff competition from Apple Music Store and YouTube Music, but it has managed to create a distinct brand identity of its own in the music and podcast streaming market and that is because of its loyal customer base which is located worldwide.
Spotify's target audience also includes older adults who enjoy music and are eager to download traditional forms of music as well as trendy new music videos.
The music streaming platform targets both males and females although the target audience ratio is 56:44 female to male.
According to statistics, the average listener spends 118 minutes per day listening to the audio streaming music. If you look at the listening history more than one-third of users spend time listening to playlists created and shared by other users.
Spotify Marketing Strategy & Marketing Mix (4Ps)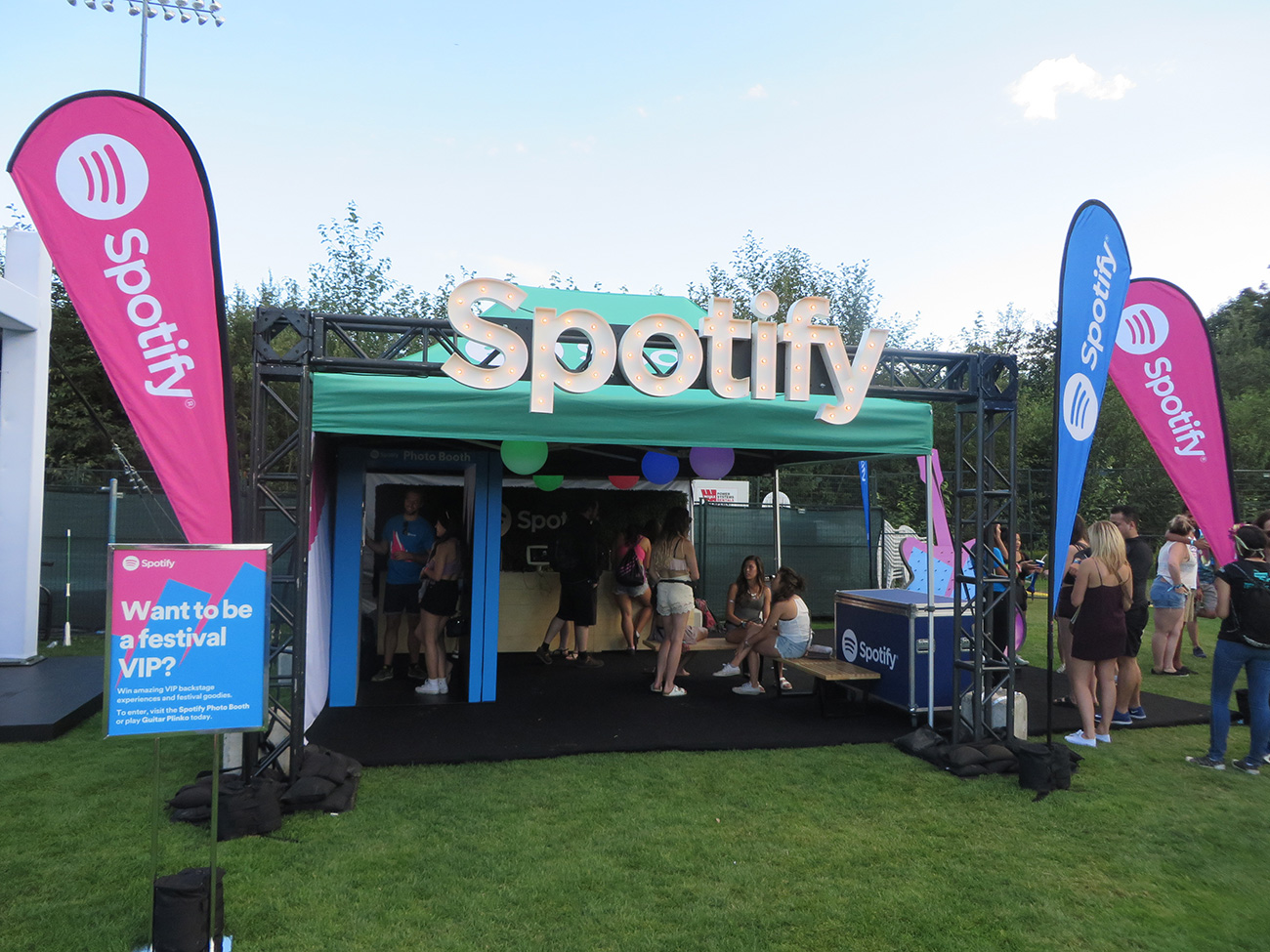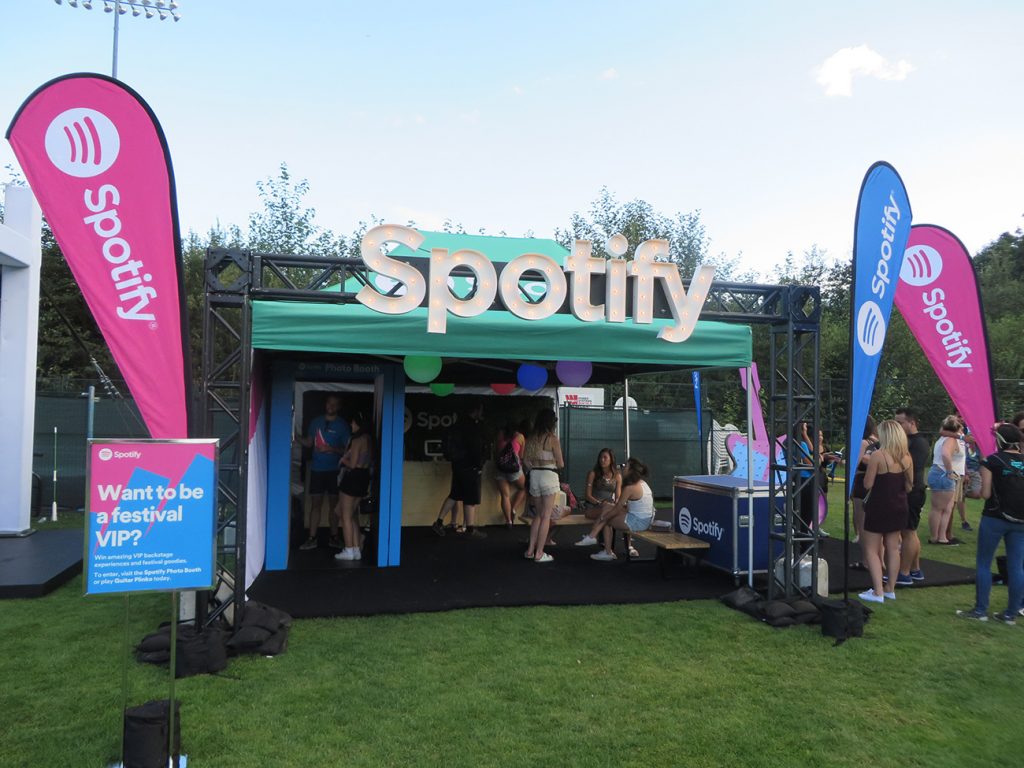 Spotify's business model has helped the company to become one of the most popular streaming music apps in the music industry. It is a great venue for local artists, musicians, content creators, and the podcast community to showcase their work.
The attitude of the current generation toward media consumption correlates and aligns with Spotify's marketing strategy. As audio is considered the most immersive media form, Spotify's vast library of music labels, new music songs, and podcasts has a tremendous appeal to its target audiences.
The marketing mix elements and marketing strategies of the music streaming platform focus on personalized marketing, streaming service, pricing strategy, social media platforms, and promotional strategy to create further brand awareness and gain a larger market share in the music industry.
Product Strategy of Spotify
Spotify is an online platform in the music industry from where any music lover can download music at his convenience. The music streaming platform is a favorite of music lovers and a renowned name in the global music industry. It has 100 million song titles and music labels as well as 5 million podcasts in its library which is a serious competition to established competitors like Apple Music and YouTube Music.
Spotify's product strategy is about providing users with a seamless experience on every type of device that the platform supports. The interface is intuitive and easy to navigate with key features like personalized playlists and the ability to create and share music with others.
Spotify marketing strategy concerning its product makes sure that the platform enters collaborations and partnerships with other companies and artists to promote the brand products and expand its reach to wider audiences. The platform also leverages machine learning and data to improve product offerings and services, offer personalized recommendations, and identify the content which the listeners prefer.
Product Mix of Spotify
Spotify is a premium music streaming service that offers recorded audio from various media companies and record labels. Users can use Spotify via most devices like macOS, Windows, and Linux computers, Android and iOS smartphone mobile devices, tablets, digital media players, and smart home devices like Google Nest and Amazon Echo.
Freemium Model
The business model has a freemium service where the basic features offered by the streaming platform are free but with shuffle mode, limited content control, and advertisements. Besides the freemium model, Spotify also offers paid subscription services called Spotify Premium which have additional features like commercial-free listening and offline listening.
Premium Model
In the paid plan users can search music based on genre, album, and artist and can share, edit and create playlists. Select new albums are only available in the Premium category for a specific time before opening to both paid and free users.
Spotify for Artists
In 2017, Spotify launched a new site "Spotify for Artists" where record labels and independent artists can stream music.
Spotify Car Thing
Spotify launched "Spotify Car Thing" in the year 2022 so that subscribers could enjoy the app experience in the car.
Spotify Wrapped
One of the popular features rolled out by the platform every December is the Spotify Wrapped. It shows statistics about how long and when the listener was listening to any artist on the platform throughout the year. Spotify Wrapped shows the user's preference, the number of songs listened to by the user, and the time spent on the platform.
Spotify's marketing strategy has been designed to make the streaming platform a seamless companion to both paid and free users, accessible always.
Place and Distribution Strategy of Spotify
Spotify streaming music service is available in 184 markets and that includes most of Americas, Europe, Africa, Asia, and Oceania.
The music streaming company Spotify has spread its product presence with 489 million active Spotify users every month which includes 205 million paid subscription users and 295 million free Spotify users. Registration to the music streaming platform to download music and audio streaming services is a must.
Music piracy was very common in the earlier days and music fans had to download pirated music files from illegal channels. When the company realized that music lovers wanted to download music at any cost and there was a huge market for visual and audio elements in the music streaming industry, they decided to create a legal music streaming company of their own.
Currently, the business model is most popular in Europe which has 66 million users followed by the US with 48 million users, Latin America with 33 million users, and the rest across other global regions.
Spotify has a presence all over the world and is available to users with the help of mobile apps, tablets, computers, digital media players, and smart home devices.
Users can install the Spotify app through App Store, Spotify Web Player, or Google Play Store. They just need a web browser and an internet connection.
Pricing Strategy of Spotify
Europe and the US jointly account for 53% of the total users and 67% of the total Spotify's revenue stream.
The business model pays royalties to the artists based on the number of streams by the artist as a proportion to the total number of songs streaming on the platform. 70% of the total revenue earned is distributed by the company to the rights holders who redistribute to the artists based on their personal agreements.
The business model generates revenues by selling subscriptions to users of Spotify Premium and advertisement placements. Users can choose from the four premium pricing models offered by the platform.
Spotify's marketing strategy pays special attention to its pricing plans even though it has adopted a freemium model.
Spotify offers a 50% discount to students under the "Students: plan to target the younger cash-strapped audience with reduced prices.
Its pricing strategy targets couples with a "Duo" plan with a discounted rate of $12.99 and a "Family" plan that is valid for 6 premium account users who are living at the same residential address. The Family plans at $14.99 offer access to Spotify Kids.
In the year 2021, Spotify launched the HiFi subscription package, but it is yet to be rolled out. It also launched Spotify Plus whose subscriptions cost $0.99 and is a combination of free and premium plan. Users will receive ads but can listen to songs without the Shuffle Mode and can skip any track they wish to avoid.
Spotify pricing strategy has evolved over the years as the company has been making basic changes as per customer demands and preferences in the market. The company has adopted the following pricing strategies to keep its customer base happy.
Freemium Pricing Strategy
Spotify has adopted a freemium pricing strategy for free users who do not want to spend money downloading and listening to music. The basic features are free, and the users have to see the advertisements.
Premium Pricing Strategy
Spotify has adopted a premium pricing strategy for users who can and want to spend money to listen to the music of their choice.
Promotional Strategy of Spotify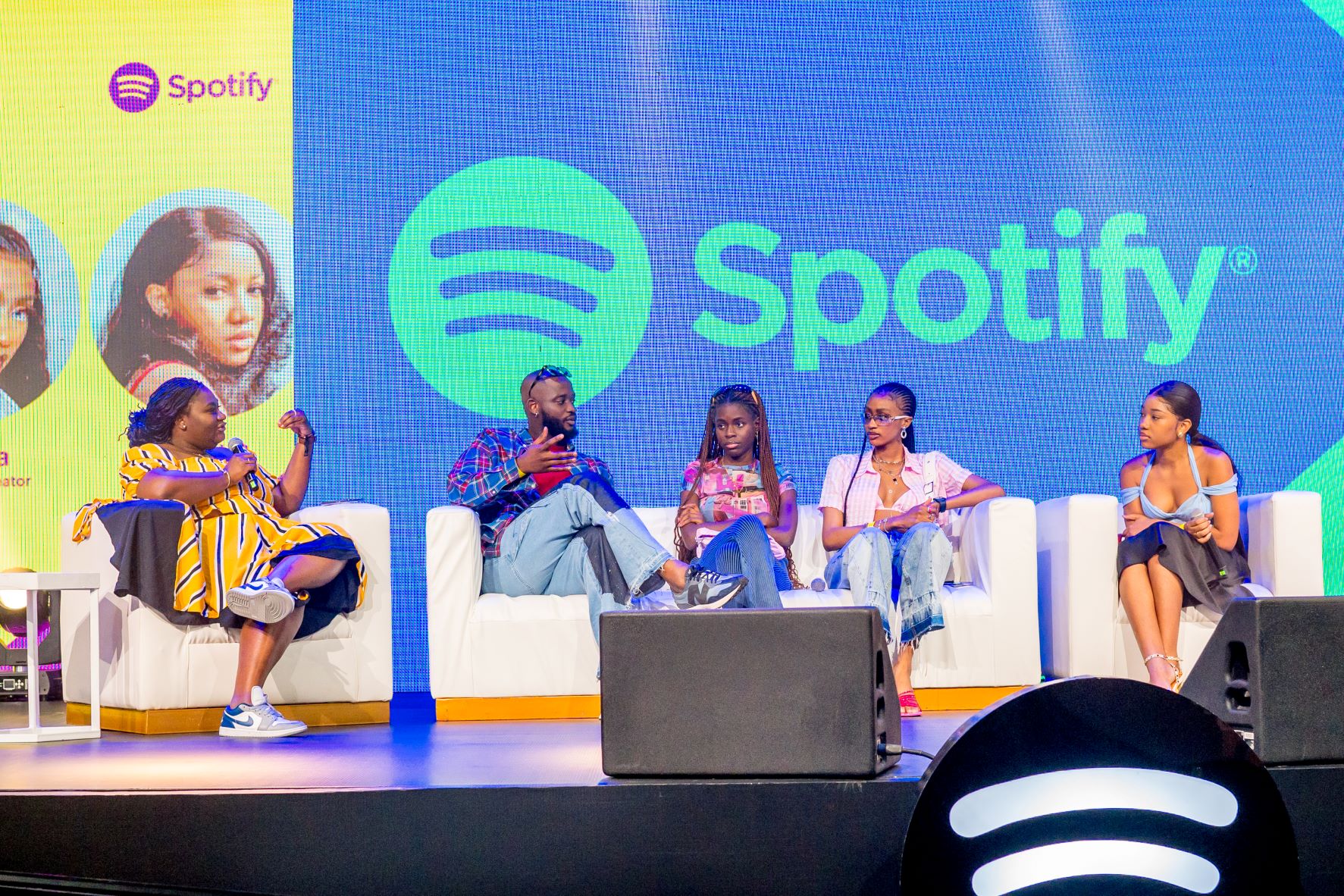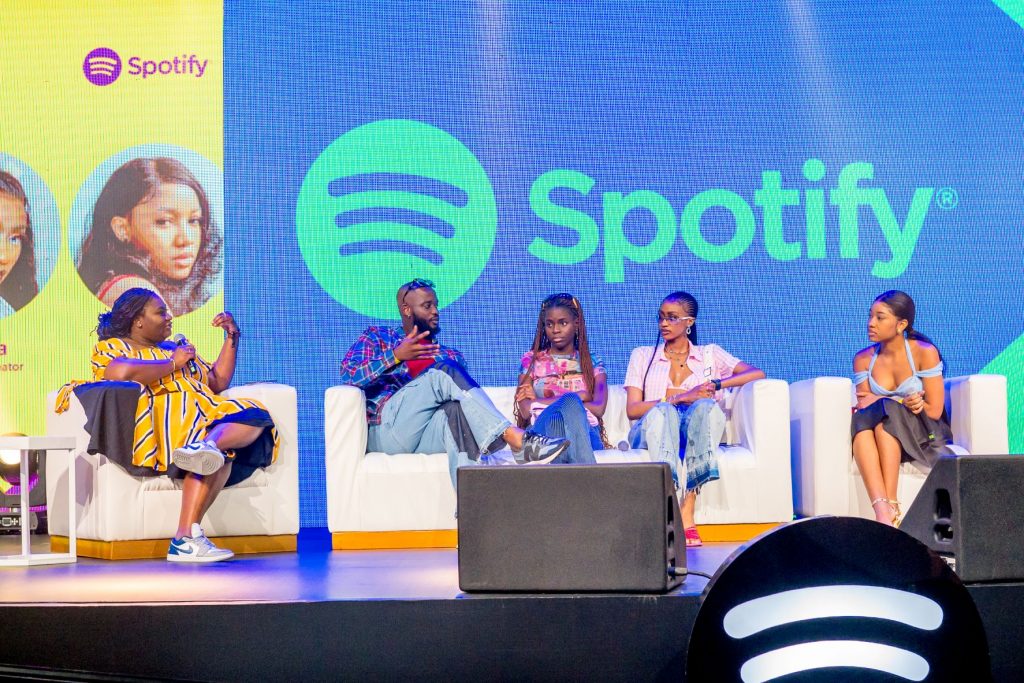 The streaming platform Spotify believes in personalized marketing and uses a multi-channel Spotify marketing strategy to promote the brand and its products. The comprehensive promotion strategy includes tools like social media promotion, Spotify's personalized in-app user experience, traditional media advertising, targeted advertising, and influencers, etc.
Targeted Advertising
Spotify has access to vast user data that helps the online platform to go through the listening history and create targeted marketing campaigns. Based on Spotify market research the company has often come up with ads that appeal to and attract the target audience towards the podcast music streaming service.
Traditional Media
Spotify uses traditional media like television, radio, magazines, billboards, and hoardings to reach out to its targets.
Social Media Platforms
Spotify realizes the importance of using social media platforms and thus regularly updates all the relevant information about albums, artists, and new launches at regular intervals. The brand also runs social media trends and hashtag campaigns on social media to create brand awareness.
Social Media Influencers
One of the most important social media trends is to use social media influencers to promote the brand's products. Spotify also takes the help of social media influencers where these influencers promote the brand in their own style through their accounts.
Word-of-Mouth
Spotify offers high-quality service through its platform for a better user experience. This is why satisfied users talk about their experience to others and thus drive mouth publicity from one to another.
The word-of-mouth publicity has helped the platform to create a strong user base that reaches out to other users by creating and sharing playlists and favorite songs on their social media platform. Facebook and Instagram are two of the most popular social media platforms that users use for mouth-of-the-word publicity.
Partnerships
The marketing strategy of Spotify uses company partnerships to promote its brand and products in the music industry.
Over the years it has partnered with several companies like Sony for PlayStation Music in 2015, with the South by Southwest conference in the year 2017 for special playlists in Spotify's app through an SXSW hub, with Netflix in 2020 to curate podcasts and DC to create audio shows around several characters like Batgirl and Wonder Woman, etc.
Spotify has also partnered with and sponsored concert tours, music festivals, and music events to reach target markets.
Digital Campaigns
Only You
The ad campaign "Only You" was launched in 2021 to show its unique users that they were not alone because of their odd listening habits. The campaign strengthened the bond between the users and the platform.
Music for Every Mood
The ad campaign "Music for Every Mood" specially targeted Gen Z and millennials through the right memes that could create an instant connection with the users
Key Takeaways
The key takeaways from the Spotify marketing mix and marketing strategy are –
Create user-friendly marketing campaigns so that they can relate to the content
Maintain the pricing strategy
Focus on promotional tools
Liked this post? Check out the complete series on Marketing Mix