Kotak Mahindra Bank is associated with finance and banking industry. It is a privately-owned bank and was able to acquire a license to conduct banking services in the year 2003 by Reserve Bank of India. In terms of Market capitalization, Kotak Mahindra Bank is ranked at third position as the largest bank in private sector. Some of its competitors are as follows-
Federal Bank
Union Bank of India
Axis Bank
Bank of Rajasthan
HDFC Bank
UTI Bank
About Kotak Mahindra Bank
Type: Private sector bank
Industry: Banking
Founded: 1985
Founder: Uday Kotak
Headquarters: Mumbai, India
Area served: India
Key people: Uday Kotak (Chairman) and Dipak C Jain (CEO)
Number of employees: Over 40,000+
Product in the Marketing Mix Of Kotak Mahindra Bank :
Kotak Mahindra Bank offers a diversified range of financial services and banking products to retail and corporate customers. It is a one-stop shop that has the capacity and means to meet every requirement of its customer. Its product and services include-
Convenience Banking
Cash Deposit Machine
SMS Banking
Alerts
Immediate Payment Service
Insta-Balance Service
Kotak Payment Gateway
Hashtag Banking
Money Watch
ATM Network
Phone Banking
Mobile Banking
Net Banking
Insurance and Investment
Mutual Funds
National Pension System
ASBA
Qualified Foreign Investor
Life Insurance
Demat
Deposit Accounts
Kotak 3-in-1 Account
Safe Deposit Locker
JIFI Account
Corporate Salary Account
Term Deposits
Current Account
Savings Account
Kotak Cards
Credit Cards
Debit Cards
Kotak Multi-Currency World Travel Card
Best Compliment Cards
Kotak Net@rd
Compare Credit Cards
Kotak Loans
Home Loans
Personal Loans
Saral Auto Finance
Construction Finance
Loan Against Securities
Commercial Vehicle Finance
Gold Loans
Home Loan Balance Transfer
Home Improvement Transfer
Rural Auto and Farm Equipment Finance
Tractor Finance
Education Loan
Loan Against Property

Place in the Marketing Mix Of Kotak Mahindra Bank :
Kotak Mahindra Bank is of Indian origins and has its headquarters base at Mumbai in Maharashtra. It has an international presence via its global offices in Singapore, Mauritius, Dubai, San Francisco, London and New York. Kotak Mahindra Bank has adopted an intensive distribution network so that its products and services are available in every nook and corner. It has two thousand and forty-four ATMs and one thousand three hundred and thirty-six branches spread in seven hundred and two places in India for efficient handlings.
It offers services to nearly fifteen million clients with help of an efficient workforce of more than forty-six thousand and five hundred employees. Its distribution channel includes satellite offices, representative offices and franchises spread in both urban and rural parts. Kotak Mahindra Bank also offers phone, mobile and internet banking facilities anytime and anyplace 24*7. Online Banking is free of charge and is possible with a single click.
Price in the Marketing Mix Of Kotak Mahindra Bank :
Estimated revenues of Kotak Mahindra Bank is rupees 27,954.52 crore and net income rupees 3,431.12 crores at the end of the financial year 2015-16. Banks have a unique way of pricing because it includes both high and low rates depending on customers and also the type of service and product required. Kotak Mahindra Bank has also adopted an affordable pricing policy that is different for the individual customer from that of corporate clients.
It offers loans to its customers and charges flexible and easy EMIs for repayment. It has kept its rates of interest for services and products reasonable especially for individuals. Kotak Mahindra Bank has adopted a value-based pricing policy for its corporate clients that have been implemented after a complete evaluation of market and the price rates set up by competitors.
Promotions in the Marketing Mix Of Kotak Mahindra Bank :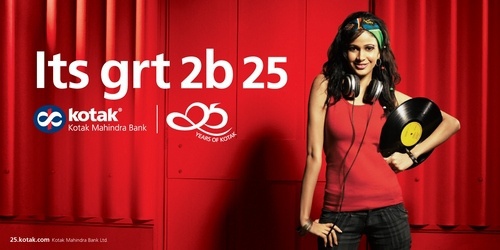 Kotak Mahindra Bank has offered easy, convenient and safe options to its clients and it is reflected in its tagline let's make money simple. It realises that marketing is an integral part of any organisation and has adopted several plans for promoting its services and products. Ads have been launched in television channels and are aired on radio for gaining positive visibility. Hoardings have been set up in popular places so that it can earn maximum publicity. It has also taken help of mobile and internet to launch several promotional campaigns.
Liked this post? Check out the complete series on Marketing Mix