Syndicate Bank is a publicly traded company of Indian origin. It deals in financial services and is associated with the banking industry. Syndicate Bank was founded in the year 1925 by its co-founders Vaman Kudwa, Upendra Pai and T M A Pai as Canara Industrial and Banking Syndicate Limited. It was renamed Syndicate Bank Limited in the year 1964 and was nationalised in the year 1969, 19th July. Presently it is owned by Government of India. It faces competition from the following
Allahabad Bank
Indian Bank
Dena Bank
Central Bank of India
Corporation Bank
About Syndicate Bank
Type: Public sector bank
Industry: Banking
Founded: 1925
Founder: Upendra Ananth Pai, T. M. A. Pai and Vaman Srinivas Kudva
Headquarters: Manipal, Karnataka, India
Area served: India
Key people: R. Dinesh (Chairman) and R. K. Vishwanath (CEO)
Number of employees: 34,000
Product in the Marketing Mix Of Syndicate Bank :
Syndicate Bank is one of the oldest banks with an iconic status. It offers rural and urban banking with a complete package of banking solutions. Its diversified product range includes
Deposits
Synd Corporate Suvidha Deposit Scheme
Pigmy 1828 Deposit
Syndicate Suvidha Deposit
Vikas Cash Certificate
SyndSamanya Savings Bank Account
Synd-Super Premium Savings Bank Account
Priority Sector Loans
Grameen Bhandaran Yojana
Synd Solar Jyothi Scheme
Syndicate General Credit Card Scheme
Syndicate Kisan Samrudhi Credit Card Scheme
Agricultural Loans
Syndicate Kisan Credit Card
Rural Employment Generation Program
Animal Husbandry Scheme
Development of Irrigation Infrastructure
Finance for Hi-Tech Agriculture
Synd Jai Kisan Loan Scheme
Personal Loans
SyndiUdyog
SyndMortgage
SyndMahila
SyndPravasi
SyndVidyarthi
SyndVidya
SyndNivas
SyndSaral
SyndVahan
SyndSenior
Home Loans
Purchasing new homes
Renovating existing home
Value-Added Services
Electronic Funds Transfer System
Western Union Money Transfer
On-Line railway Ticket Booking
Direct Taxes Online Collection
Synd Bill Pay
Multi City accounts
Any Branch Banking
Internet Banking
TeleBanking
ATM
Gift Cheques
Cash Management Services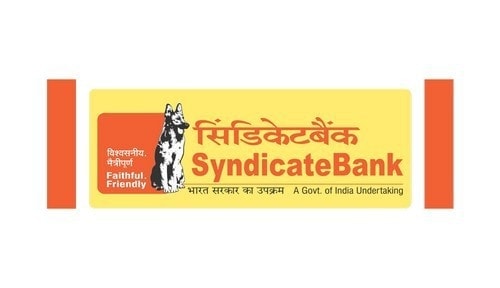 Place in the Marketing Mix Of Syndicate Bank :
Syndicate Bank started its operations from Udupi in Karnataka and with time gained Pan-India presence. It has its headquarters base at Manipal in Karnataka. Bank has spread its presence in the overseas market via a branch in London and it manages Musandam Exchange Co and National Exchange Co at Muscat and Doha respectively.
In domestic circuit, Syndicate Bank has a widespread distribution channel that includes eight offices of Field General Managers for business and administration purpose at Manipal, Mumbai, Lucknow, Kolkata, Hyderabad, Delhi, Chennai and Bengaluru. It has fifteen regional offices located at strategic regions headed by DGM, AGM cadre. By the end of the calendar year, 2016 Syndicate Bank had spread its presence via 3859 branches including one overseas branch, 38 satellite offices and 12 extension counters. It controls international business via its office in Mumbai.
Price in the Marketing Mix Of Syndicate Bank :
By the end of the financial year 2015, estimated total deposits of Syndicate Bank were 255,388 crore rupees, total assets 30,313,525 lakh rupees and net profit 1,523 crore rupees. Banks are dependent to a great extent on basic guidelines set up by IBA and RBI.
Syndicate Bank is one of the major Indian banks in the commercial sector. It faces competition from other banks in terms of interest rates. Syndicate Bank has adopted a reasonable pricing policy for its products and services as it wants to increase its client base in the banking sector. Its offers affordable and competitive rates in categories like interests, term deposits and loans to its clients.
Promotion in the Marketing Mix Of Syndicate Bank :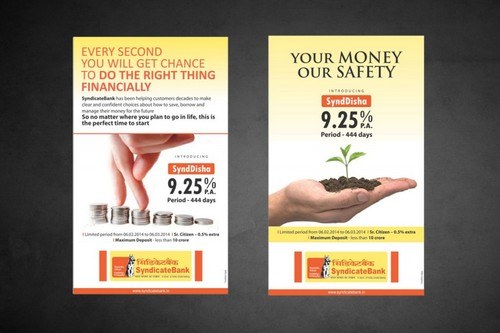 Syndicate Bank has entered into a sponsorship deal to sponsor first regional bank named Prathama Bank located in the district of Moradabad. It had a tie-up with UNEP for starting the solar-loan program. Syndicate Bank was instrumental in organising 14196 literacy programs to promote financial literacy in small towns and villages.
Recently it was in the news as it opened one million customer accounts within three months. Syndicate Bank has been the recipient of accolades and awards in recognition of its works. It was awarded Best Bank Award and Banking Excellence Award 2013. In order to move with changing times and harness its brand image it has given a contemporary look to its existing logo and changed its colour combinations.
Liked this post? Check out the complete series on Marketing Mix