Casio is a public limited company and is associated with electronic engineering industry. It is a multinational company that manufactures commercial and consumer electronic items. The company was founded in the year 1946 and its founder was Tadao Kashio, an engineer dealing in fabrication technology. Casio has used its vast experience and latest technology to create personalised items that are energy-efficient, compact and light. It faces competition in market from following adversaries
About Casio
Type: Multinational conglomerate
Industry: Electronics
Founded: 1946
Founder: Tadao Kashio
Headquarters: Shibuya, Tokyo, Japan
Area served: Worldwide
Key people: Kazuo Kashio (Chairman) and Kazuhiro Tsuga (CEO)
Number of employees: 125,000
Product in the Marketing Mix Of Casio :
Casio has been dealing in retail and lifestyle sector and its product includes watches and different accessories. Its portfolio is vast and has varying products that are technologically very advanced. The first key product of company was a finger ring that worked as a cigarette holder and this invention proved to be highly successful.
In the year 1954, it introduced first electro-mechanical calculator of Japan with 10-key number pad. In the year 1957, it introduced first compact calculator of the world that was all-electric. In 1980s brand became popular because of its electronic instruments and affordable musical instruments.
Casio was one of the first manufacturers of analogue and digital watches. Its watches included features like display of time at different time-zones and display of altitude, atmospheric pressure and temperature. The company has also introduced digital cameras with features like LCD screen at the back and camera with ceramic-lens-technology. Presently its products include-
Calculators

Cash registers

Watches

Illuminators

Film cameras

Digital cameras

Laptops

Mobile Phones

Electronic games

Portable television

Clocks

Computer printers

Place in the Marketing Mix Of Casio :
Casio is an international company and has its headquarters based in Tokyo in Japan. It has nearly 1,986 trademarks registered to its name. The brand serves its customers through a wide network that spreads over one hundred and eighty-seven countries. Research and development is a vital part of any manufacturing company and Casio has consistently devoted a large sum to its R&D department, which has been set up in numerous places.
In an attempt to expand its market and broaden its horizons, the company opened plants in places like Hong Kong, Taiwan, Mexico and California and by the year 1996, it had set up manufacturing plants in Thailand, Malaysia, Singapore, China and India. Casio has a highly efficient distribution policy for its products. It has exclusive agencies for selling diverse products. Its stores are located all around the world like New York, Paris, London, Guangzhou, Mumbai and Dubai.
The company has also tie-ups with other outlets that sell Casio products for a pre-determined fee. In order to tap the online market, it sells its products through its own online store as well as through various other online shopping stores.
Price in the Marketing Mix Of Casio :
Products of Casio are technologically very advanced. Before setting up a pricing policy the company has created a research team that evaluates its prices according to market conditions. It also compares it's prices with that of its competitors and after that sets up the actual selling price of all its products. Casio has maintained a value-added pricing policy for its goods. It has kept medium-priced pricing policy to retain its customer loyalty. They have also targeted the middle-income group and students with sub-brands and pricing policy for such items are comparatively very less. Casio also offers periodic schemes and discounts on its products to increase its revenues.
Promotion in the Marketing Mix Of Casio :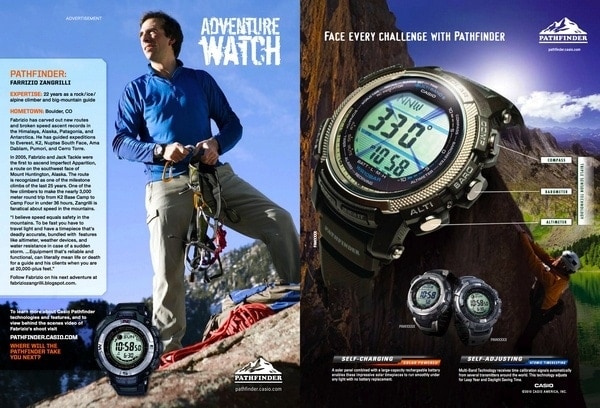 Casio has always believed in international marketing and has taken numerous steps in this direction. It has invested millions in its advertising policies to create and maintain its brand awareness. Its logo of white and blue colour is easy and simple to remember. Casio has tie-ups with various fashion houses and it has been an avid sponsor of numerous high-profile events. It has emphasised on creating innovative designs so as to attract the youth section of society. Commercials are shown on television and its ads are displayed on print media like magazines, billboards and newspaper. The company has also promoted its products through online media and have been highly successful in its endeavour of creating a major consumer base.
Liked this post? Check out the complete series on Marketing Mix