Candy Crush is an online game released by a gaming company King that deals with social games. This mobile game was launched in the year 2012 on 12th April for Facebook. Candy Crush is a free game and has become a craze amongst gaming society. Millions of people are downloading it and it has become a sort of addiction. Although the young population was its main target group but its popularity has spread beyond age-group and gender.  Some of its chief competitors are as follows-
Temple Run
My Talking Tom
Farm Heroes
Fruit Ninja Free
About Candy Crush
Type: Mobile game
Industry: Video games
Founded: August 2003
Founder: Riccardo Zacconi
Headquarters: St. Julian's, Malta
Area served: Worldwide
Key people: Melvyn Morris (Chairman) and Riccardo Zacconi (CEO)
Number of employees: 2,000
Product in the Marketing Mix Of Candy Crush :
Candy Crush is an online game and has an addictive nature as its players are desperate to reach next level. Game sets out certain limitations that instead of annoyance push players to better performance level. Players have only five lives and on spending them they have to wait for a minimum of thirty minutes. Scarcity helps in making it more attractive to its players and thus game never wears out its attraction and welcome.
Getting started is quite easy as its rules are simple and players learn quickly. There is a reward system while playing it and it provides due motivation to player. As soon as a level is completed, various pieces explode creating frenzy. In between a game a good move will result in a voice generating appreciation like Delicious or Sweet. Sometimes a player earns a special piece by playing a good move and this helps him in winning that level.

Place in the Marketing Mix Of Candy Crush :
Candy Crush was launched on King.com and it started becoming popular as it was innovative and family-friendly. Developers realised its potential and eventually launched it on a mobile platform. Candy Crush is a free game and has occupied a hefty market share. It has one hundred percent visibility and almost every person on Facebook knows about this game. As it is a quick and fun game, people tend to at least try it for once and hence have become one of the top most games to be downloaded every day.
Besides Facebook, it can be played on other platforms like iOS Linux, Microsoft Windows, Windows Phone and Android.  Candy Crush has become top grosser on both Android's Google-Play-Store and Apple's App-Store as it is easily accessible and simple to play.
Price in the Marketing Mix Of Candy Crush :
Free is a word that is loved by human beings and has an influential effect on our brains. As Candy Crush is free for downloading and for playing, it seems like a zero risk to players who are playing it for the first time. Many players do the not ever pay for this game but their number is comparatively smaller.  Most of them are willing to pay in a small capacity to resume their game or to overcome any hurdle.  This is what actually generates revenues for the company as millions play it and even a small amount leads to a hefty turnover at the end of a day.
Candy Crush is one of the most popular games of recent times and generates nearly million dollars every day for its developer and publisher King.
Promotion in the Marketing Mix Of Candy Crush :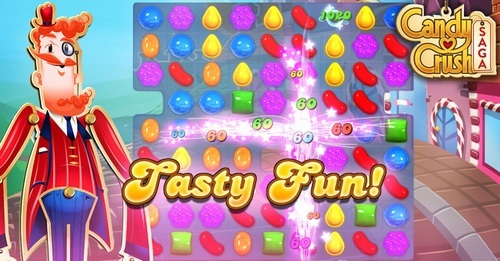 Developers of Candy Crush realised that promotion is a very vital aspect of their game if they want to maintain awareness amongst the gaming community. It decided to adopt several promotional policies like PR, cross-promotion, word-of-mouth, advertising, featured placement and Facebook referrals. It is a single player game and players are always discussing it with others to improve their game and this result in free publicity for the product. The Sweetest Game Around is the slogan of Candy Crush and it is apt as it is self-defining.
The company has been experimenting with new ideas to maintain its charm and various offers and incentives during the game have helped them to maintain and increase their consumer base. Players can view the progress of their friends when logged on Facebook and it creates healthy competition that encourages them on doing better. Candy Crush received free publicity through video Gentlemen as it showed its artist playing this game.
Liked this post? Check out the complete series on Marketing Mix