Snickers deals in chocolate products and is associated with the food industry. It is a subsidiary brand of its parent company Mars Incorporated. Brand Snickers is of American origin and was introduced in the consumer market in the year 1930. It has been projected as a brand that offers a nutritional and fulfilling product that also serves as a convenient snack. It faces competition from several rival brands and their products and some of them are as follows-
Bounty
Bar One
Mars
Cadbury's 5 star
About Snickers
Type: Chocolate bar
Industry: Confectionery
Founded: 1930
Founders: Frank C. Mars and Ethel Mars
Headquarters: McLean, Virginia, United States
Area served: Worldwide
Current CEO: Alfonso Gómez-Mont
Number of employees: 77,000
Major products: Snickers, Milky Way, Twix, M&M's, Skittles, Starburst, and Orbit gum
Product in the Marketing Mix Of Snickers :
Snickers is one of the most renowned brands of its parent company with annual sales figures crossing 2 billion dollar mark in the global market.
It is a confectionery that includes ingredients like Nougat topped with peanuts and caramel dipped in milk chocolate. Snickers promises full satisfaction from hunger pangs to its customers. It has a diversified product portfolio with lots of variants like
Snickers Munch
Snickers More Choc
Snickers More Caramel
Snickers More Nuts
Snickers 3X caramel
Snickers 3X Nuts
Snickers 3X Chocolate
Snickers Peanut Butter Squared
Snickers Peanut Butter
Snickers Almond
Snickers Maximus
Snickers Fudge
Snickers The Lot
Snickers Charged
Snickers Dark
Snickers X-treme
Snickers Duo
Snickers Marathon Energy Bars
Cookies Snickers
Snickers Almond Bar
Snickers Cruncher Bar
Snickers Ice Cream Cone
Snickers Ice cream Bar
Snickers Minis
Snickers Gold
Snickers Nut N Butter Crunch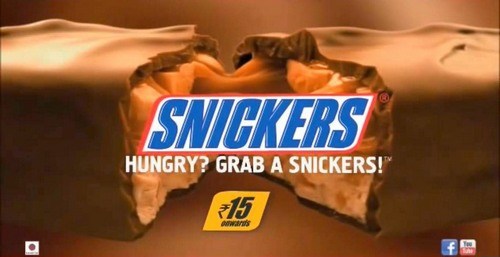 Place in the Marketing Mix Of Snickers :
Snickers cater to a worldwide consumer market and its product reach has extended to numerous countries like Australia, Italy, Portugal, Bosnia, The Netherlands, Sweden, Israel, Slovakia, Austria, Latvia, Poland, Egypt, Romania, Germany, New Zealand, Hungary, Denmark, Norway and India. In Ireland, Isle of Man and the United Kingdom it was sold under brand name Marathon but since the year 1990 bars are now sold under one name Snickers.
It has a strong and widespread network as it takes help of its parent company to distribute its products successfully in the consumer market. Its channel includes services of wholesalers and retailers to reach consumers via grocery stores, vending machines, convenience stores, pharmacy, department stores, malls, shops at airports and discount stores.
Price in the Marketing Mix Of Snickers :
Brand Snickers has targeted people from the all-age group that belongs to middle, upper-middle and an upper class section of society as its target customer. It is perceived as a health bar with nutritional values that promises great taste. Brand Snickers is popular because of its mouth melting variants. It has adopted a mid-premium pricing policy for its high-end product.
The company has kept product prices within an acceptable range so that a person can easily make a purchase.  Affordable and pocket-friendly prices have contributed towards larger sales volume and have ultimately resulted in garnering better revenue figures.
Promotion in the Marketing Mix Of Snickers :
Snickers is a popular brand and has adopted both ATL and BTL promotional policies to market its product in the consumer market. It has been able to create positive brand awareness because of some brilliant commercials laced with humour.  Snickers launched several innovative ads via electronic and print media in television, radio, newspapers, magazines and billboards. It has also taken help of social media platforms like YouTube and Facebook to launch its product campaigns.
Brand realises the strong impact of star power and has roped in Indian actor Rekha to act in its commercials. One of its ad campaigns featuring Abe Vigoda and Betty White became a huge success and was ranked as the best commercial of that year. Brand Snickers has entered into several sponsorship deals and became official sponsors of WWE's WrestleMania, UEFA European Championship and FIFA World Cup. It was declared Official snack of Summer Olympics 1984.
Some of its popular taglines are You're not you when you are hungry, Not going anywhere for a while, Get some nuts and Its so satisfying. Snickers have been the recipient of awards and accolades in recognition of its qualitative products like 2011 Effie Global Gold Award.
Liked this post? Check out the complete series on Marketing Mix