Slice is a soft drink and is associated with beverage industry. It is of American origins and was introduced in the consumer market in the year 1984. Slice is a subsidiary brand of its world-renowned parent company PepsiCo. It has a refreshing taste with 10% juice content. Slice has been able to make a distinctive mark of its own in fruit-flavour drink market but it faces competition from several brands and their products like the following
Dabur Real Juice
Tropicana
Maaza
Frooti
Minute Maid Orange Soda
About Target
Type: Fruit-flavored soft drink
Industry: Beverages
Founded: 1984
Founders: PepsiCo
Headquarters: Purchase, New York, United States
Area served: Worldwide
Current CEO: Ramon Laguarta
Number of employees: Over 262,000
Major products: Slice fruit-flavored soft drinks
Product in the Marketing Mix Of Slice :
Slice is a fruit-flavored line of soft drink. With time company has introduced lots of variants to increase its market share and lure in new customers.
Slice is available in several pack sizes and bottles like pet bottles and small cartoon packs to meet varying needs of consumers. In India, it has become synonymous with the most popular and famous fruit mango and is made from both Alphonso and Ratnagiri variants.  Its product portfolio includes varieties like
Slice Lemon-Lime
Slice Sierra Mist
Slice Apple
Slice Strawberry
Slice Pineapple
Slice Mandarin Orange
Slice Orange
Slice Peach
Slice Passion Fruit
Slice Grape
Slice Fruit Punch
Slice Cherry Cola
Slice Pink Lemonade
Slice Wild Cherry Pepsi
Dr Slice
Slice Red Cherry-Lime
Slice One
Slice Mangola
Place in the Marketing Mix Of Slice :
Slice was first introduced in the market of United States and with time spread its product presence to several global countries. It has gained worldwide acceptance because of its unique and refreshing taste. Slice was launched in India in the year 1993 and has become of the most popular soft drinks available in the consumer market. It is also available in Pakistan, Bangladesh and Canada markets.
Slice has a widespread and good distribution policy that makes its availability very easy because of its parent company that has powerful channels in most countries of the world. It has adopted VPS or Vertical marketing System of distribution and its channel includes services of distributors, small retailers and bulk buyers to reach end customers via supermarket, hyper market, food stores, discount stores, corner shops, café, restaurant, hotels, airports, railway stations, school and college canteens and bus depot.
Price in the Marketing Mix Of Slice :
Slice has projected itself as a fun drink. It has targeted every section of society belonging to an all-age group as its potential customer. Slice faces stiff competition from several similar products. It has implemented a competitive pricing policy and has kept its product prices at par with prices of competitors. Moreover, it wanted to penetrate in further markets and increase its market share. Hence Slice has adopted a penetration pricing policy so that its products are easily available in every nook and corner of a country. Reasonable and affordable rates have helped the brand in gaining greater consumer base and garnering greater profit margins.
Promotion in the Marketing Mix Of Slice :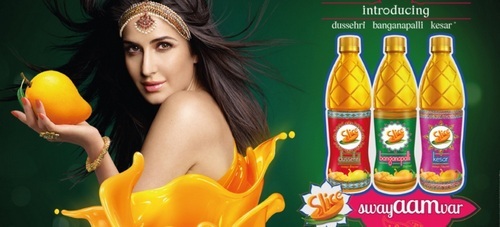 Slice is an international brand and has adopted several ATL and BTL strategies to create and maintain its brand awareness in the consumer market. It has launched several memorable advertisements that are shown with help of electronic and print media in popular television channels, radio, newspapers, magazines, hoardings at popular places and sides and back of trucks, tempo, bus and trams.
Slice has also taken help of social media platforms and has launched campaigns via Twitter, Facebook and YouTube. It realises the positive impact of star power on the mindset of common masses and has roped in popular Indian actor Katrina kaif to act in its commercials and become its brand ambassador in India.
Slice has several popular taglines associated with its brand like Ab ras bar saga, Aamsutra, Taste the biggest orange and Pure mango pleasure. In the year 2009, the company launched Slice Pure Pleasure Holidays as part of its promotional policy. It offers a chance to its consumers to win all-expense-paid luxurious holidays to exotic destinations like Venice, Greece, Vienna and Paris.
Liked this post? Check out the complete series on Marketing Mix