Thums up is a soft drink and is associated with beverage industry. It was launched in the year 1977 as flagship brand by Parle Agro in India. Currently, it is a subsidiary of its parent company The Coca-Cola Company. It is the market leader in cola category in India and occupies nearly 42% of the total cola market share and 15% share in Indian market related to aerated water. It faces stiff competition in both non-cola and cola market from
Pepsi
Sprite
Maaza
Mountain Dew
Product in the Marketing Mix Of Thums Up :
Thums up has always enjoyed a sense of monopoly in cola segment in India. It is a carbonated soft drink with a strong fizzy taste.  Thums up is synonymous with power, enthusiasm and energy. During early years it introduced 300ml bottle titled MahaCola and became very popular.
Brand Thums up has been positioned as a manly drink with a strong taste. It became a favourite in rum-based cocktails. Major ingredients in Thums up are sugar, carbonated water, acidity regulator, added flavours and natural colour. It is available in cans, bottles and pet bottles in varying sizes of 200ml, 600ml, 1.25l, 330ml, 300ml and 2 litres.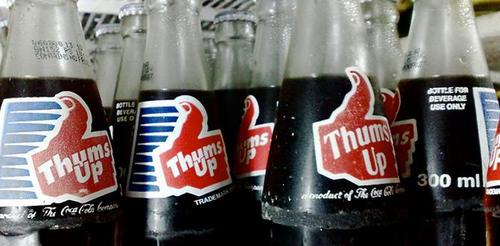 Place in the Marketing Mix Of Thums Up :
Thums up has a Pan-India presence as it has spread its product presence in every part of India including both rural and urban India. States like Andhra Pradesh, Karnataka, Utter Pradesh, Gujarat, West Bengal, Andhra Pradesh and Maharashtra contributes towards 30% of the total sales volume.
Thums Up has taken help of its parent company Coca-Cola Company in dispensing its products to the consumer market.  It has set up a strong and widespread distribution network that includes services of bottling plants, suppliers, wholesalers and retailers to reach consumers via supermarket, hypermarket, grocery store, discount store, corner shops, movie theatres, petrol pumps, airports, railway stations, bus depots, cafes, hotels, restaurants and even bars for cocktails.
Price in the Marketing Mix Of Thums Up :
Thums up has been an iconic drink with a strong presence in Indian market. It has targeted all age group people from lower, upper and the middle-class section of society as its potential customer. Although its ads project it as a manly drink but it has found acceptance from both males and females and even kids. It has always faced competition from one or other brand in soft drink market and hence has adopted a competitive pricing policy.
It is a non-alcoholic beverage for the masses and hence has kept product prices at par with prices of rival brands. Thums up has launched its drink in several sizes and containers and has implemented affordable and economical rates so as to increase its share in the consumer market. It does not want to let go of its loyal customers because of a price war with rival brands and hence maintains competitive and economical prices.
Promotion in the Marketing Mix Of Thums Up :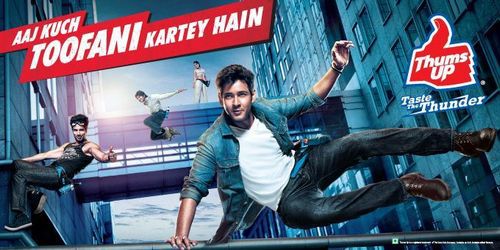 Thums up has been a believer of marketing and hence has adopted aggressive promotion policies. It was one of the major companies to advertise on a full-time basis in the 1980s. In later years Thums up launched attacking ad campaigns directed at its rival brands. It also focussed on its strength and launched Grow up to Thums Up. Its descriptive ads caught the imagination of Indians and became number one cola drink in India. Ads are shown via print and electronic media in popular television channels, radio, newspapers, magazines, billboards, sides and back of vehicles like a tram, bus and lorry.
The company has roped in several famous personalities to act as its brand ambassadors like Salman Khan, Akshay Kumar, Sunil Shetty, Mahesh Babu, Chiranjeevi and Vishal. Thums up has entered in a tie-up with Being Human, Salman's charitable organisation. It sponsors cricket matches and Indian Motorsport in the 80s. Thums up was positioned at 66th position as Most Trusted Brand in India by Brand Trust Report 2014. Its popular taglines are Happy Days are here Again, Aaj Kuch Toofani Karte Hein, Taste the Thunder, Toofany Thanda and I am the Thunder.
Liked this post? Check out these detailed articles on
Topic of Marketing Mix of Brands
Alternatively, check out the Marketing91 Academy, which provides you access to 10+ marketing courses and 100s of Case studies.