Westside was founded in 1998 by Mrs Simone Tata upon her acquisition of the Littlewoods. The company's design is meant to cater to the shopping needs of an array of customers in at least 42 cities where it has opened it's at least 70 stores. It is one of the fastest growing retail stores in India and is today operated by Trent, which is owned by the Tata Group.
Competitors
Maxx
Ruchi's Big Life
Globus
About Westside
Type: Fashion retail chain
Industry: Retail
Founded: 1998, Mumbai, India
Founder: Trent Limited
Headquarters: Mumbai, India
Area served: India
Key people: Mr. Noel Tata (Chairman) and P. Venkatesalu (CEO)
Number of employees: 10,000
Product in the Marketing Mix of Westside :
The company has about eight product categories below its belt. These have majorly in-house brand displays, with other brands also being tied-up in their marketing mix. Below are some of its typical products:
Kid's wear
Daily necessities
Men's wear & accessories
Footwear
Women's wear & accessories
Gift items
Crockery & kitchen
Interior decoration
Furniture
Branded jewelry
Daily necessities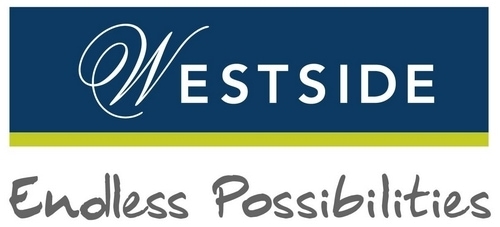 Price in the Marketing Mix of Westside :
The pricing strategy and decisions are all in consistency with the marketing strategy as well as in accordance with the target market.  The company has a belief in the democratisation of services so as to charge fair prices. As a consumer, you are guaranteed value for your money, especially because you can always buy the brand of your choice from the entity.  Such a pricing strategy has helped Westside to augment its sales margin.
The company has been able to do a lot of price variations on its products in the near past. Such price variations were done with the aim of tapping all the market segments and customer groups, something it has successfully been able to achieve. In its pricing, below are some of the types used:
Value pricing
Image pricing
Promotional discounts
Product bundling pricing
Seasonal pricing
Product-form pricing
With such a strategy, 11% of Westside customers are very satisfied with the prices, 44% satisfied, 28% moderately satisfied, and only 16 % and 1% are dissatisfied and very dissatisfied respectively.
Place in the Marketing Mix of Westside :
 Westside mainly sales its products through chain stores, most of which have been positioned in malls. The stores are always mostly located near those of competitors so as to attract customers from doing business with these competitors. Quality and price give Westside a competitive advantage. All the products distributions are done distributed from the company's headquarters which is in Mumbai, with stock replenishment mainly always being done on Fridays.
In most cases, product availability is highly dependent on the operating city. Most stores have also exclusively been opened for women hence in such stores, you won't get men attire. Women customers form the biggest segment of buyers and customer loyalty hence the reason behind such decisions to open exclusive stores for this group.
Promotions in the Marketing Mix of Westside :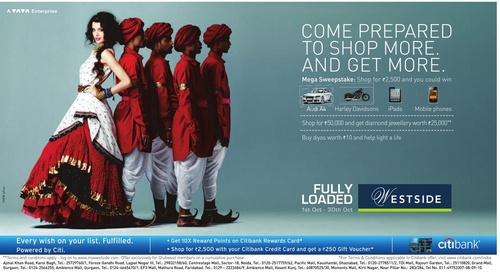 Westside is very fond of enticing customers with discounts, some of which can run up to 50% the marked price. The company also does a lot of in-house brand promotions, with space availability for some formidable international labels. Westside is also fond of tying up with some of the renowned and reputed designers. This gives customers more confidence to do business with Westside. There is also the use of membership cards specifically their Club west card membership that is used for customer retention.
The company uses theme-based stores such as Westside Woman that is located in Shalimar Bagh. In addition to all these, Westside does run advertisement campaigns. The company is credited for increasing its customer base through the addition of international brands within its basket. These include Vera Moda products, U.S. Polo ASSN and Chicco among others.
Liked this post? Check out the complete series on Marketing Mix