Car manufacturing has been a vast function, which further involved further attachment of several smaller functions, which are intricately integrated with each other to form a major production facility. This function is known for its accuracy as there is no margin for errors in its existence and the company producing cars cannot take any chances with the outcome, as the yield is expected to be of topmost quality and have an exceptionally long life, enduring varied conditions in terms of operation or driving.
All the major car production companies have a long legacy backing there name and this experience has supported these companies to grow manifold within all these years, becoming market leaders or major shareholders in their own way. One such name in car manufacturing is that of Japanese motor vehicle giant, Nissan, which has a long history of car manufacturing and exporting. It was established in 1914, when the very first car was produced by the name of DAT and the company's original registered was Datsun, which continued till 1933, when it first produced under the name of Nissan.
Currently the company has a stronghold in many Asian countries and after the 1999 pact with French giant Renault, the stature has raised in other parts of the world as well. Nissan and Renault are now collectively operating in many countries, by providing same models of cars with different names, and Renault has major voting stakes in Nissan. Nissan is the sixth largest car manufacturer of the world, whereas it is considered as the biggest Japanese participant in some countries, such as China, Russia and Mexico, and enjoys major proportion of the market in several other nations. It provides latest and off the hook models to its target customers, and has been operating three major auto brands, like Nissan, Datsun and Infiniti, with each of the brands having their own niche and appeal.
About Nissan
Type: The automobile manufacturer
Industry: Automotive
Founded: 1933
Founder: Yoshisuke Aikawa
Headquarters: Nishi-ku, Yokohama, Japan
Area served: Worldwide
Key people: Makoto Uchida ((Chairman) and Ashwani Gupta (CEO)
Number of employees: 227,000
Following is the marketing Mix for Nissan:
Product in the marketing mix of Nissan
Nissan offers a varied product range for its customers and appeals beyond categories and segments, which is very important for a firm that appeals to customers from across segments, and has to function without market restrictions. Car industries, worldwide have four segments in which the vehicles are categorized among these segments based on their features, but majorly according to pricing, which further appeals to customers accordingly. Nissan has an advantage that it offers cars across segments and categories and has a varied range of Hatchbacks and SUVs which appeal to different category of customers, right from basic small car models (Micra and Go), sedan models (Sunny), luxury cars, and SUVs such as X-Trail. This strategy has helped Nissan to capture various markets and has provided it advantage to have respectable proportions and market share. However, because of lack of product depth, Nissan has never been among the top car manufacturers and has lagged behind in the market.
Price in the marketing mix of Nissan
Depending upon its strategy of offering vehicles across segments and categories, the pricing function works in direct correlation with the product function, and Nissan has been known to offer reasonable and logical price to its cars. This is the reason for its widespread popularity and reliance. It has a varied price catalogue, which further appeals and attracts customers from all income groups. Also, in car and auto industry, a major aspect of consideration is the after sales function and maintenance factor of a car, and Nissan has advantage in this section as well, because its spares are nominally priced, apart from rational service and maintenance charges across company owned workshop network.
Place in the marketing mix of Nissan
Nissan has more than 300 dealerships across India which are strategically placed across the country. Nissan also has an integral advantage of being present in the manufacturing and export hub of Asia, which has locus points around Japan, India, and Singapore, which aims at further exports throughout the world, apart from a very strong dealer network of Nissan and Renault. Talking of the sales and service function, Nissan has strategically placed its complete dealership network, in almost all major cities and related popular towns to strengthen, and this placement has paid back, by making its Micra model, one of the most popular hatchbacks in India, with high sales.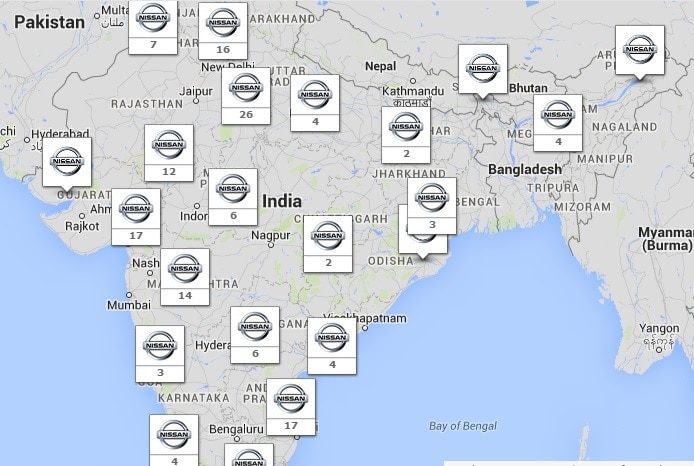 Promotion in the marketing mix of Nissan.
It has a very nominal promotion plan, which is a complete mixture of combined promotional activities and is carried out across mediums and publications. Apart from running advertisement campaigns on televisions, print media, on the internet and a combination of charity events. Nissan organizes rallies and outdoor events for its customers, in the form of fun drives for cities, and specialized club based off road events for customers from its SUV portal, which attracts further customers. Also, the signing up of highly popular Bollywood star Ranbir Kapoor has proved in its favor with high sales of Micra.
Liked this post? Check out these detailed articles on
Topic of Marketing Mix of Brands
Alternatively, check out the Marketing91 Academy, which provides you access to 10+ marketing courses and 100s of Case studies.