Founded 123 years ago in America, Abercrombie and Fitch was started with a motive to leverage the then world with a style statement. What Abercrombie and Fitch has achieved over the course of time is a strong business lessons and very much inspiring. Today Abercrombie and Fitch has more than 300 locations in United States and it is expanding internationally at a break neck speed. The brand motivated the youth of yester years to adopt a new style of dressing, which today is no less than Status Quo. This article analyses the Marketing Mix of Abercrombie and Fitch.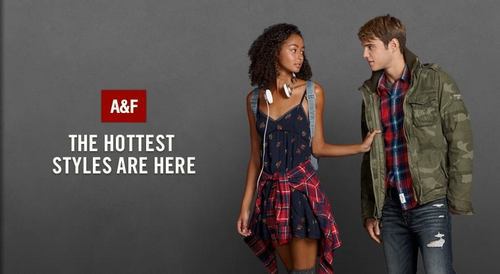 Abercrombie and Fitch has not only helped people dress properly but has also shared a sense of fashion. Two main offshoot brands of Abercrombie and Fitch namely are Abercrombie kids and Hollister Co. American Eagle outfits and Aeropostale are the two contemporaries giving Abercrombie some serious goals.
Over the time Abercrombie and Fitch has turned out to be a known brand, today be it old or young, everyone wants to acquire a denim from Abercrombie and experience the best of style along with the requisite comfort.
T-shirts and Denim have always been the flagship product of Abercrombie and Fitch but with the increasing competition and outreach the brand aims to delve into every vertical of dressing and apparel.
About Abercrombie And Fitch
Type: Retail Company
Industry: Fashion
Founded: 1892
Founder: David T. Abercrombie
Headquarters: United States
Area served: United States, Canada, Europe, Asia, and Latin America
Key people: Jonathan S. G. Nelson (Chairman) and Fran Horowitz (CEO)
Number of employees: 15,000
Product in the Marketing Mix of Abercrombie and Fitch
Abercrombie has always been leading the denim and t-shirt market from front but the brand wants to be present in all genres, hence they have launched a wide range of products for everyone. Abercrombie and Fitch aims to leverage equal dressing opportunity to every kid and every oldie on the street.
Abercrombie kids has launched a series of apparel for kids, the brand aims to be everyone's favorite and they have been quite successful at it.
The "Neo-Preppy" and "Edgy tone imagery" are some of the phrases that defines the brand in the best possible way. Premium Jeans and leather handbags have also found elite positioning as the product Abercrombie and Fitch. The brand has always tried to inspire people to dress better and look better.
Some of the impressive products launched by Abercrombie and Fitch over the course of time are:
Graphic Tees
Chambary Shirts
A&F Shorts
Swimwear
Denims
Men's Fragrance Fierce
Abercrombie and Fitch Credit Card issued by World Financial Bank Network
Handbag collection by Ruehl
Perfume 41
Place in the Marketing Mixing of Abercrombie and Fitch
The business development at Abercrombie and Fitch has always been specific about reaching out to their real customers and serving an experience. With 300 locations in United States and with the ongoing expansion, Abercrombie and Fitch aims to be accessible to everyone in the world.
Abercrombie and Fitch has also been very careful with their brand awareness; the brand presence is very impressive and has established benchmark for everyone who wants to delve into apparel business.
The fact that Abercrombie and Fitch launched products that will allow people have a complete makeover makes it the best apparel enterprise in the contemporary world. An apparel enterprise that provides people with credit facility via its credit card & helps people develop intricate understanding of brand and creates trust as well.
Abercrombie functions at all levels and ensure that everyone gets to make profit out of their brand. Retailers and small level shop owners have also been able to sell their reputed products and generate some profits. Abercrombie and Fitch has also delved into the online space and has left the contemporaries awe-struck with their performance.
Price in the Marketing Mix of Abercrombie and Fitch
With the unlimited number of competitive brands, Abercrombie and Fitch has always tried to maintain a range that ensures quality measures and comfort. The simple idea of reaching out to the world with style and comfort that are incomparable has ensured that Abercrombie and Fitch is here to stay.
While Abercrombie is for everyone who loves to dress and flaunt, it is also for everyone who wants to look good without spending a million dollar. Yes! Abercrombie is quite a popular brand that goes easier on pocket. One can use the diverse range of Abercrombie to dress exquisitely and impress boss and other people.
In essence, Abercrombie & Fitch applies value based pricing. It prices its products as per the value it provides to the customer. Abercrombie and Fitch has various sizes that includes of Small, Medium, Large, XL and XXL clothing. One can easily find their size and style at Abercrombie and Fitch store.
Promotions in the Marketing Mix of Abercrombie and Fitch
Abercrombie is always quite apprehensive about their brand reputation and has always tried to enroll brilliant people for making their brand a success. The positive energy they tend to create with their brand is quite impressive and very much beneficial for the brand and the company.
The brand always tries to make a resonation between their products and the image they tend to create.
Abercrombie and Fitch is more or less about serving people with experience. Abercrombie and Fitch is one of those brands that has allowed people to shop with their money. Launching Abercrombie and Fitch credit card was simply the best brand promotion in the history of marketing arena.
A unique point of Abercrombie and Fitch's promotions is that it generally uses people with partial nudity. Most of its advertisements have sexual overtones. Moreover, it casts only store employees in its advertisements. Abercrombie and Fitch has always maintained a set of impressive and stylish models. The brand believes in helping people understand the fashion before they try it. The brand has made exclusive use of classic collection and models for promotion and branding.
Abercrombie and Fitch surely has few impressive branding stories to share with the world and the upcoming marketing managers and has proved its worth over the 123 years and helped people enjoy some amazing style without worrying about the Status Quo and old paradigms.
Liked this post? Check out the complete series on Marketing Mix