M&M's is a subsidiary brand of its owner company Mars Incorporated. It is a candy shell made of chocolate as its main ingredient and is associated with the food industry. M&M's is of American origins and was launched in the year 1941. Its initials are the names of its creators Bruce Murrie and Forest Mars. Brand faces competition from other chocolate makers and some of them are as follows –
About M&M's
Type: Chocolate
Industry: Confectionery
Founded: 1941, United States
Founders: Forrest Mars Sr. and Bruce Murrie
Headquarters: McLean, Virginia, United States
Area served: Worldwide
Current CEO: Grant F. Reid
Number of employees: Over 130,000
Major products: M&M's Chocolate Candies
Product in the Marketing Mix Of M&M's :
M&M's are chocolate filled candy shell with button-shaped to make it look more attractive. Each of the products is printed with letter m on its lower case and is filled with one or more of its variant. They are available in different colours like brown, orange, green, yellow, red and blue.
Original candy was filled with milk chocolate and was called plain variety. Its first variation had peanut along with milk chocolate in a candy shell. Both these are the all-time favourite and are still in-demand products. With time several other varieties have been introduced in the consumer market. M&M's variants include following fillings and sizes-
Chocolate varieties like white chocolate, dark chocolate and milk chocolate
Sizes include mega, mini and regular
Nuts used include strawberry-peanut butter, dark chocolate peanut, peanut butter, almonds and peanuts
Fruit include candy apple, coconut, pineapple, cherry cordial, raspberry, cherry and orange
Spice and herbs include chilli nut and honey nut, coffee nut, mocha, pumpkin spice latte, pumpkin spice, mint crisp, gingerbread, holiday mint, cinnamon and mint chocolate.
Dessert includes pecan pie, vanilla shake, red velvet, white chocolate candy corn and pretzel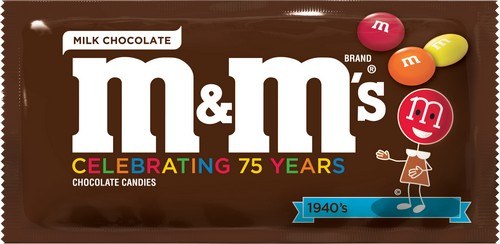 Place in the Marketing Mix Of M&M's :
 Operations of M&M's candies started from a factory at Clinton Hill in New Jersey but excessive demands led to a bigger and better factory outlet at Newark in New Jersey. Later this factory was also relocated to Hackettstown. M&M's started selling its products in the international market in the 1980s in places like Australia, United Kingdom, Malaysia, Japan, Hong Kong, France and Canada.
Currently, its products can be easily obtained in nearly one hundred countries. The company has a strong distribution channel to market its products in the global market and has entered in tie-ups with several leading stores in different countries.  It also has its own retail outlet M&M's World that sells M&M's merchandise and candy. The first outlet was opened in Las Vegas Strip and later in Orlando in the year 2005 followed by New York City in the year 2006, London outlet in 2011 and Shanghai location in the year 2014.
 Price in the Marketing Mix Of M&M's :
M&M's caters to a mass market and has targeted individuals from all age groups who love sweets as its target customers. It is a special favourite of children because it is colourful and has chocolate as its core ingredient. The company has adopted a reasonable pricing policy for its product making it an affordable chocolate brand that anyone can buy anytime without looking at its price tag. Thus M&M's has made its products easily accessible to every consumer. The brand has also adopted a promotional pricing strategy and offers special incentives to its customers.
Promotion in the Marketing Mix Of M&M's :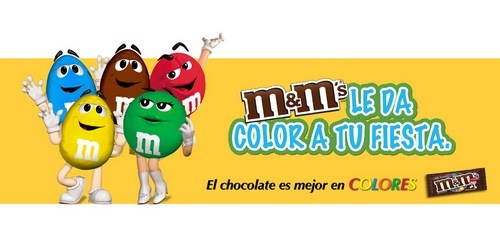 M&M's has a descriptive tagline melts in your mouth, not in your hand. It is a true reflection of M&M's products. It has been able to earn the trust of consumers and has gained high brand recognition because of its intensive marketing activities that include personal selling, sales promotion, advertising and public relations. M&M's have launched excellent ad campaigns with a distinct character for every coloured candy and these are shown via children's magazines, newspapers and television channels.
It offers personalised M&M's gifts for special occasions like birthdays and anniversary to increase its brand visibility. It has entered in several partnership deals and sponsors NASCAR and some of its famous drivers include Kyle Busch, Elliot Sadler and Ken Schrader. M&M's recognises the appeal of famous personalities and has roped in several celebrities for its brand endorsements like J.K. Simmons, Billy West, Cree Summer and Vanessa Williams.
Liked this post? Check out the complete series on Marketing Mix