Sunfeast Yippee Noodles is a product of its brand Sunfeast which in itself is a subsidiary of its parent company ITC Limited. It is associated with FMCG industry as it is a food product. Sunfeast as a food product brand was launched in the year 2003 for manufacturing biscuits and later in the year 2010, September the company launched yet another product Sunfeast Yippee Noodles.
It is an Indian brand and has a Pan-India presence. Sunfeast Yippee Noodles belongs to the ready-to-cook category and as it is available in several variants has been able to gain a large part of noodles market share.  It faces serious competition from the following brands
About Sunfeast Yippee Noodles
Type: Instant noodle brand
Industry: Food and beverage
Founded: 1985
Founders: Suresh Neotia and R. S. Goenka
Headquarters: Kolkata, India
Area served: India and Nepal
Current CEO: Sanjiv Puri
Number of employees: 10,000
Major products: Yippee! Magic Masala Noodles, Yippee! Power Up Atta Noodles, Yippee! Stuffed Cups, Yippee! Lollipops, Yippee! Pasta
Product in the Marketing mix of Sunfeast Yippee Noodles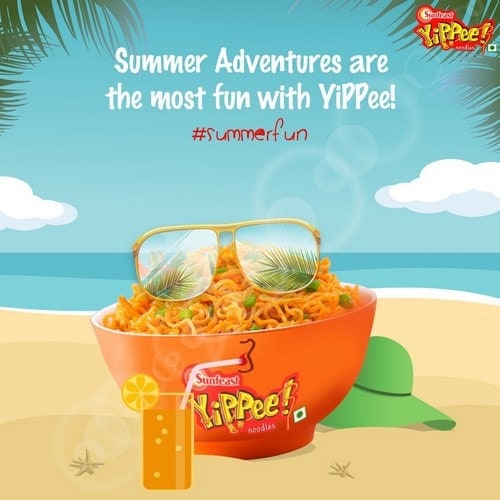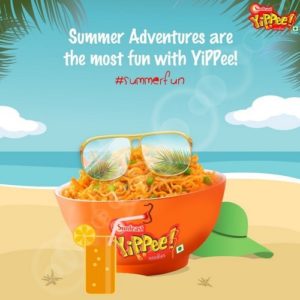 Noodles at one time had become a rage and Sunfeast wanted to cash this market. Hence it started with an idea to create something different with noodles retaining its basic properties. It gave its customers options in terms of variants so that one had a choice in eating the famous noodles.
Sunfeast Yippee Noodles is a blend of Aashirvaad Atta with different masalas, in a process that does not allow the formation of lumping. The first products to be launched were Yippee Classic Masala and Yippee Magic Masala in the year 2010. In the year 2013 the brand launched its first pasta in tri-colour and in the year 2016 it introduced its Power up Atta Noodles.
This was a revolutionary product and helped the company on gaining 12% of the total market space in healthy noodles sector. In the year 2017, the month of June Sunfeast Yippee Noodles came up with yet another variant. Its product kitty now includes
Magic Masala Noodles – These are safe, non-sticky and long noodles made from special flavour and recipe. It is a delicious blend of five variants of dehydrated vegetables and unique spices. This magical and tasty noodle is available in sizes of the pack of six, four, two, one and mini
Power Up Masala Noodles – As the name suggests these noodles are packed with wheat power and goodness of vegetables and are available in sizes of the pack of four and one.
Classic Masala Noodles – These non-sticky strands of noodles have a classic Indian taste and flavours. The round shape is given to make the noodles longer while eating. It is available in packs of four, one and mini.
Mood Masala Noodles – Its special quality is two sachets of masala mix. First, add masala mix fully and then add the second sachet according to your taste and preference. These are available in the pack of four and one
Place in the Marketing mix of Sunfeast Yippee Noodles
Sunfeast Yippee Noodles has been able to spread its product presence to most parts of India. It was first introduced in consumer markets in the city of Bengaluru as its owner company has its headquarters base over there. The company launched another of its product also in Bengaluru in 2013. Sunfeast Yippee Noodles have manufacturing plants in Bengaluru, Haridwar, Kolkata and Pune. Its manufacturing plants have maintained high standards of safety and quality standards and all its products undergo the rigorous testing procedure.
Sunfeast Yippee Noodles has a strong and powerful distribution channel that helps in distribution of its products far and wide. It also uses the distribution channel of its parent company so as to reach consumer market easily and conveniently.
Sunfeast Yippee Noodles uses the oldest distribution method of manufacturing plants to distributor to stock-holders to the retailer and from there to consumers. The company depends quite heavily on its carrying and forwarding or C&F agents that manage to transport the products from one point to another efficiently.
Sunfeast Yippee Noodles also uses e-choupal distribution network of its owner company ITC quite splendidly. Via this channel of more than six thousand and one hundred e-choupals in more than thirty-five thousand Indian villages are interconnected to serve an estimated four million people.
Its products are available at grocery shops, corner shops, kirana stores, hypermarket, supermarket and malls. The company has its own website and has a tie-up with e-shopping portals to market and deliver its products. Sunfeast Yippee Noodles have been able to reach the customers in every nook and corner because of its widespread distribution channel.
Price in the Marketing mix of Sunfeast Yippee Noodles
Sunfeast Yippee Noodles has targeted children and younger generation from middle, upper-middle and upper class, which are in the look-out for a healthy in-between-meals snack when hungry, as its target customers. It has positioned itself as instant noodles with different taste and with no lumping even after thirty minutes of cooking.
Sunfeast Yippee Noodles belong to a cut-throat industry with very strong competitors. It has to handle its pricing strategy very delicately so as to beat its competitors at their own game. The company has adopted a competitive pricing policy and kept its prices at par with the prices set up by its rival.
One smart thing that Yippee did was increasing its quantity marginally so that at the near-about same prices its competitors are giving less of the product. In a competitive market, this is a huge factor and made an even bigger difference.  It has resulted in Sunfeast coming out at the top with its strategy and increasing its sales figures to register better revenues and profits.
Promotions in the Marketing mix of Sunfeast Yippee Noodles

Sunfeast Yippee Noodles believes in the heavy advertisement to market its products in the consumer market. It has launched several ad campaigns via print, digital and visual media to attract and maintain its customer base. Its ads are shown via popular television channels, radio, newspapers, magazines, leaflets and hoardings.
The company also advertises heavily via social media accounts like its own website, other shopping portals, Twitter, Facebook page and YouTube. Recently Sunfeast Yippee Noodles launched an advertising campaign that emphasized on its product quality and safe eating. The ad commercial shows the inside of the manufacturing plant and offers all relevant information so that the customer is in no doubt about the product. Its initiative You Ask We Answer has been appreciated by the regular users of Sunfeast Yippee Noodles. Its tagline has Spread the smile, The better noodles.
Liked this post? Check out the complete series on Marketing Mix