Haldiram's is a private company of Indian origins. It is associated with food and beverage industry and deals in manufacturing tasty, hygienic and authenticated Indian food items. The company was founded in the year 1937 by its founder Gangabhisan Aggarwal. It has its headquarters base at Nagpur in India. The company has targeted every age-group and class of people as its potential customer as its products are for everybody and every- time. Some of its main competitors are as follows-
About Haldiram's
Type: Confectionery and snack food company
Industry: Food and beverage
Founded: 1937
Founders: Ganga Bishan Agarwal
Headquarters: Noida, India
Area served: India, USA, UK, Middle East, South East Asia, and other countries
Current CEO: Aditya Agarwal
Number of employees: Over 20,000
Major products: Namkeens, sweets, snacks, and beverages
Product in the Marketing Mix Of Haldiram's :
Haldiram's is one of the most popular brands in India dealing in making of sweets and snacks. It serves nearly one hundred genuine food items and its diversified range includes-
Namkeens like Sev, Mathri, Pancharatan Mixture, Navratan Mixture, Samosa, Gol Kachori, Murukku, Lite Chidwa, Bhel, Aloo Lachha, Dry Fruit Mix, Chana Choor and Salted Kaju
Drinks like Orange Squash, Pineapple Squash and Rose Sharbat.
Sweets like Mango Bite, Peanut Chikki, Rajbhog, Gulab Jamun, Soan Papdi, Kaju Katli and Badam Barfi.

Biscuits like Kaju Butter, Pista Badam and Kaju Nankhatai.

Dairy products like Rassagolla, Sandesh and Chamcham

Kesar sticks kulfi and Ice creams

Pappad

Ready to eat items like Punjabi Choley, Paw Bhaji and Dal Makhni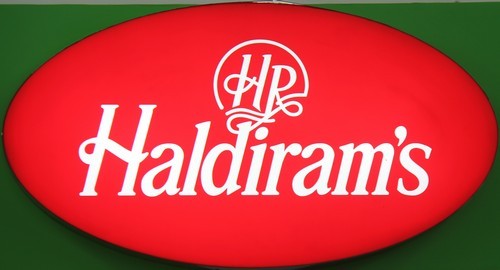 Place in the Marketing Mix Of Haldiram's :
Haldiram's is a trusted brand name synonymous with quality and taste. It started its operations from a small shop in Bikaner and from there has spread its presence in both domestic markets in India and also in international markets. Export orders are carried to several global countries like Thailand, Japan, New Zealand, Australia, UAE, Canada, United Kingdom and Sri Lanka. In domestic arena it operates through its retail chain and its products are easily available in every food store, confectionary store, bakeries, convenient store, local markets, discount stores, superstores and hypermarkets. Its first manufacturing facility was in Kolkata and later plants were established at Nagpur, Bikaner and New Delhi.
It has several outlets that are spread in places like Kolkata, Mumbai, New Delhi, Nagpur and Bangalore. Haldiram's has an official website where orders can be placed and items procured. Several shopping portals on internet supply products from Haldiram's brand on demand. Haldiram's has a strong distribution channel to ensure a wider geographical reach in both international and domestic scenes. Finished items from manufacturing outlets are passed to C&F agents and then to distributors who ship the contents to retailers and lastly to consumer markets.
Price in the Marketing Mix Of Haldiram's :
In the financial year 2013-14, Haldiram's brand recorded revenues amounting to rupees 3,500 crores. At its onset the brand wanted to penetrate in both urban and rural markets so that it could capture maximum part of sweets and snacks market in India. The company knew that Indians by nature were price-conscious people and hence decided to adopt a competitive and penetration policy for its products and kept its prices lower than its rival brands.  It has a reasonable pricing strategy that makes its products affordable and within range.  Small packets were introduced so that it became easy buys. Large sales volumes have helped the company in achieving greater revenues.
Promotion in the Marketing Mix Of Haldiram's :

Competition has been a driving factor which has led to Haldiram's making some good changes in its promotional policy. It has adopted Profile Advertising strategy and consequently has designed several mailers. brochures and attractive posters for enhancing brand visibility. The company took help of print media and advertised about its entire product range through newspapers and magazines. Billboards were placed in high-traffic areas like railway and bus stations and were also displayed on several vehicles such as busses, trucks and tempo.
According to a survey conducted in the year 2014, Haldiram's was ranked at 55th position in terms of trust amongst its customers. The company has paid special attention to its presentation and packaging so that it can maintain taste, freshness and flavour of the product for a longer time-period. Haldiram's has made several deals to promote its products. In the year 2014, August, it started catering operations for Paschim Express of Indian Railways which ran between stations Mumbai and Amritsar.   
Liked this post? Check out the complete series on Marketing Mix