McCafe is a subsidiary of its parent company McDonald's and was founded in the year 1993. It is associated with food and beverage industry and is actually a chain of restaurants. McCafe has opened more than thirteen hundred outlets in the global arena and is still going strong. Some of its competitors are as follows-
Timothy's
Tim Horton's
Starbucks
Second Cup
Country Style
Coffee Time
Sonic
Product in the Marketing Mix Of McCafe :
McCafe is a retail chain of coffee-house nature that serves beverage and food items with specific flavours and unique taste. Beverages include an assortment of cool and hot drinks that are smooth, delicious and creamy and food products include desserts and cakes of the following nature-
McCafe Latte
McCafe Cappuccino
McCafe Deluxe Hot Chocolate
McCafe Espresso
McCafe Mocha
McCafe Mango Pineapple Smoothie
McCafe Premium Roast Decaf Coffee
McCafe Strawberry Banana Smoothie
McCafe Blueberry Pomegranate Smoothie
McCafe Whole Bean Espresso
McCafe Americano
Premium Tea
Premium Roast Brewed Iced Coffee
Chocolate frappe
Filter Coffee
Hot Chocolate
Iced Latte
Iced Frappe
Macchiato
Strawberry Frappe
Earl Grey Tea
English Tea
Cakes and Desserts
Carrot Cake
Chocolate Ganache Cake
Homestyle Donut
Koko Donut
White Chocolate Donut
Caramel Donut
Choc chip Muffin
Strawberry Cheesecake
Blueberry Muffin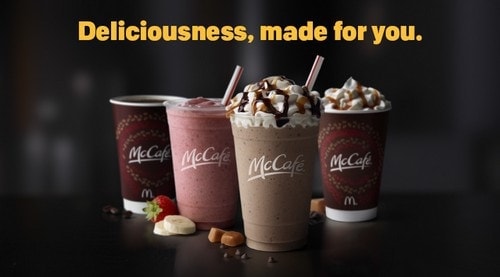 Place in the Marketing Mix Of McCafe :
McCafe serves a worldwide area with its headquarters base at Oak Brook in Illinois. It started its operations from an outlet at Melbourne in Australia and by the year 2003 became largest brand of a coffee shop in New Zealand and Australia. McCafe has always strived for international expansion and it opened its first outlets in the United States in Chicago in the year 2001. There were already 300 McCafe outlets by then. In 2004 it opened in Costa Rica, then in France and later in Italy.
In the year 2006 first McCafe was launched at Mall of Sofia in Bulgaria and in the year 2007, its operations extended to Japan and Paraguay. A coffee line McCafe was opened nationwide in the United States. It was not a full-fledged coffee shop but a line of special drinks only. In 2008 McCafe made its debut in South Africa and later in places like El Salvador, Zona Rosa, Madrid, Ukraine, Malaysia, Turkey, United Kingdom, India and Canada. McCafe works on a franchise basis and has opened its outlets at popular places to draw maximum customers. They have comfortable settings and serve in an impeccable manner by its capable workforce.
Price in the Marketing Mix Of McCafe :
McCafe is reputed to earn 15% more revenues than a regular McDonald outlet. Its outlet is for everyone and all age groups including kids, men, women, youngsters, middle-aged and aged people because it offers a much-diversified menu. The success of this brand is dependent on tried and tested formula of its owner company McDonald's and that is a high-quality product with reasonable rates.
In today's fast-paced life people are putting emphasis on convenience rather on the hassle of buying and preparing. They are willing to pay for a delicious bite and this is where McCafe comes in. It is a reputed brand with a qualitative product and the best part is that it has adopted a strategic pricing policy creating reasonable and affordable price range that suits every customer's requirements by being pocket-friendly.
Promotion in the Marketing Mix Of McCafe :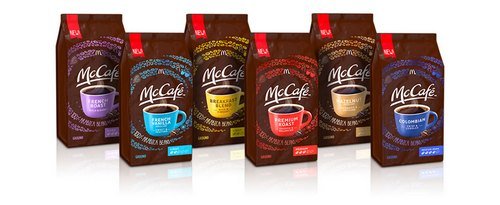 It takes hard work to enhance the reputation of a reputed brand and McCafe has adopted several plans to retain and maximise its brand visibility. It has launched ad campaigns on television, newspapers, billboards, Facebook, Twitter and YouTube to attract a larger consumer base. Whenever a customer pulls inside an outlet he/she is greeted with an automated message informing of new and special products of the day. Outlets are filled with signs and posters encouraging customers to try new products. It has also implemented Happy Hours theme from 2 PM to 5 PM offering a rebate of one dollar on any McCafe product.
Liked this post? Check out these detailed articles on
Topic of Marketing Mix of Brands
Alternatively, check out the Marketing91 Academy, which provides you access to 10+ marketing courses and 100s of Case studies.