John Deere is a public company of American origin. It is associated with engineering and heavy-equipment industry. The company was founded in the year 1837 by its founder John Deere. According to Fortune 500, it occupied 97th position in America and according to Global 500, it was ranked at 364th in the world. Some of its competitors are as follows-
CNH Global N. V.
Kubota Corp. Japan
About John Deere
Type: Public
Industry: Agriculture machinery, heavy equipment, forestry machinery, diesel engines, drivetrains, and lawn care equipment1
Founded: 1837
Founders: John Deere
Headquarters: U.S.
Area served: Worldwide
Current CEO: John C. May
Number of employees: Over 67,000
Major Products: Agricultural machinery, heavy equipment, forestry machinery, diesel engines, drivetrains, and lawn care equipment
Product in the Marketing Mix Of John Deere :
John Deere is a manufacturer of lawn care and heavy-equipment for drive trains, diesel engines, forest machinery, construction and agriculture. It also offers financial and related services to its customers like lease and sale of its own equipment. John Deere offers wholesale financing with long-term warranties to its dealers.  It also procures and resells products from a manufacturer to a customer. Products are also sold under several brand names like Benye, Sabo and Frontier. Its product range includes items like-
Agricultural Equipment- These include sprayers, silage machines, seeders/planters, balers, cotton harvesters, combine harvesters and tractors.
Construction Equipment includes loader, backhoe, excavator, grader, tracked loader and skid-steer
Forestry Equipment includes a wide range of forestry machinery like log loaders, feller bunchers, skidders, forwarders and harvesters.
John Deere is also a manufacturer of commercial and consumer equipment. It produces snow throwers and various other products like Starfire, all-terrain vehicles, snowmobiles and lawnmowers. It is a supplier of transmissions and axles.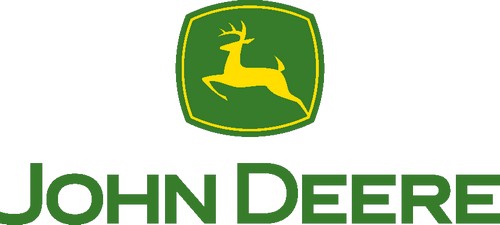 Place in the Marketing Mix Of John Deere :
John Deere is an international company serving a worldwide area. Its headquarters base is at Moline in the United States. John Deere started its operations from a shop at Grand Detour in Illinois. In the year 1842, a factory was constructed in Illinois near Rock River. This was the start which the company was looking for and it went on to spread its network far and wide. John Deere has factories in East Moline, Davenport, Horicon, Waterloo, France, India, Argentina, Germany, Finland and Netherlands. Its equipment divisions are located in places like Australia, Brazil, Argentina, China, India and Germany.
John Deere has a strong and wide-spread distribution network that includes services of retailers and dealers. It has a strong workforce that helps in efficient dealings with help of capable employees. For techno-savvy customers, the company offers twin options on the internet. Clients can make a purchase via its official website or from the authorized-site dealership. Although products are available at other shopping portals but these two offer a competitive advantage in terms of prices.
Price in the Marketing Mix Of John Deere :
John Deere has positioned its brand as a value-based product. Company emphasis on innovative and quality products and has decided to set prices according to client expectation. It faces tough competition from rival companies but John Deere is one of the very few companies that do not allow competitors to set the pace.
It actually looks in its own folder and after coming on a decision about costs related to production, distribution and marketing set up a pricing policy that is favourable and a perfect balance for both itself and its customers. Its product prices are reasonable and clients are happy to purchase them even if they seem a bit higher than products of competitors.
Promotions in the Marketing Mix Of John Deere :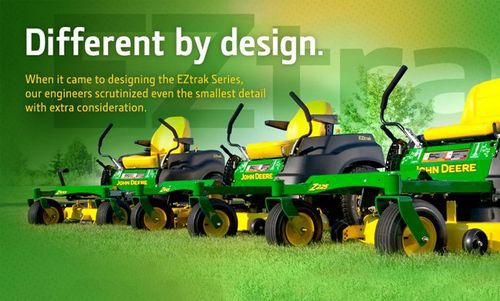 In order to encourage sales of its products, John Deere has decided to adopt an extensive marketing plan. It encourages product-trials so that customers become aware of its distinguishing features. It takes part in several trade and industrial fares and offers free demos to keep its clients abreast of its innovative tools and equipment. John Deere has maintained a positive buzz about its brand and products by generating favourable impression via good media relations. It has also launched ads through print media in specialised magazines which offer maximum coverage.
John Deere has been involved in several sponsorship deals. It sponsors professional golf tournament titled John Deere Classic and was also the sponsor of #97 and #23 car during NASCAR for driver Chad Little. John Deere Green, a song was released in the year 1993 by Joe Diffie. For John Deere enthusiasts, the company has published a Green Magazine that has advertisements, letters from magazine readers and features on tractors.
Liked this post? Check out the complete series on Marketing Mix