Flair is one of the leading companies associated with writing instruments and deals in manufacturing pens and other related products in various categories. It is one of the major exporters in the Asian continent and has been able to create a distinctive brand name of its own. It was the efforts of K. J. Rathod that resulted in the existence of this company. He was a visionary and could clearly see the future and hence played an important role in establishing company's roots in India. Its main competitors in consumer market are-
About Flair Pens
Type: Manufacturer and exporter of writing instruments
Industry: Stationery
Founded: 1967
Founder: Mr. K. J. Rathod and Mr. V. J. Rathod
Headquarters: Mumbai, India
Area served: Over 50 countries
Key people: Mrs. Sangeeta Sethi (Chairman) and parul shah (CEO)
Number of employees: 2,000
Product in the Marketing Mix Of Flair Pens :
Flair Pens have been in existence for more than four decades and is known for its innovative products that are testimony to the company's commitment towards quality. Core competence has made the brand ace manufacturer and producer of a complete range of writing materials. It is known for its proficiency in QEM Business. Product kitty of Flair Pens includes the following-
Plastic Ball pens- Includes Sunny Grippo, Bliss, Sunny DX, Magic, Razor Point and Spring
Metal Ball Pens- Includes Long Champ, Mighty, Addiction, Prestige and Real Magic
Gel Pens- Includes Concorde, Osmium, Monitor, Writo-Meter and Hydra
Fountain Pens-
Roller Pen
Refills
Gift Sets- Includes P-11: Exclusive Box, P-16: Convex 2Pcs Box and P-13: Monogram Box
Water-based writing materials including correction pens, permanent markers, hi-lighters and markers
Calculators- Pocket calculators like Flair FC-60, Flair FC-170 and Flair FC-150, Semi-Desktop Calculators like FLAIR FC -130 and Flair FC-101, Desktop Calculators like Flair FC-199, Flair FC-280 and Flair FC-275, Scientific Calculator like FC-996MS and Talking Calculator like FT-600.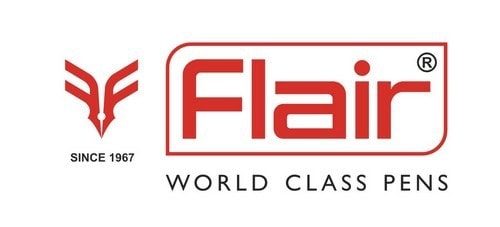 Place in the Marketing Mix Of Flair Pens :
Flair Pens has an international presence that has extended to several countries in the world. Its headquarters base is in Mumbai in India. Currently, its products are being exported to nearly seventy-five countries in the global market. Flair has tie-ups and joint ventures with pioneers of this industry and it along with its three brands Rudi Kellner, Landmark and Flair are set to conquer a large part of the consumer market. Flair has a huge domestic market in India that is spread to several parts of both urban and rural sector. Its operations are diversified in Indian Sub-continent with manufacturing plants located mostly in Western Region.
These include Surat, Dehradun, Daman and Mumbai. Its production capacity is three million units daily. Flair has a strong distribution network to provide easy accessibility of its products. Brand follows an intensive distribution policy and its products are available in every corner shop, pop and mom stores, discount stores, supermarkets and convenient stores.
Price in the Marketing Mix Of Flair Pens :
Diverse and quality products have taken the brand Flair Pens to unimaginable heights. One other important factor for its meteoric rise is its pricing policies. Company realises the potential of penetrating in both urban and rural sectors and realises that it is possible only through prices which seem reasonable to customers.
Moreover, there are lots of writing instruments easily available in the market. In order to compete with them, it has to keep a competitive pricing policy which will help in further penetration as well as successfully maintaining the loyalty of its customers. Flair Pens has adopted a reasonable pricing policy that enables good quality products at affordable rates. This allows in large volumes and greater profit margins.
Promotions in the Marketing Mix Of Flair Pens :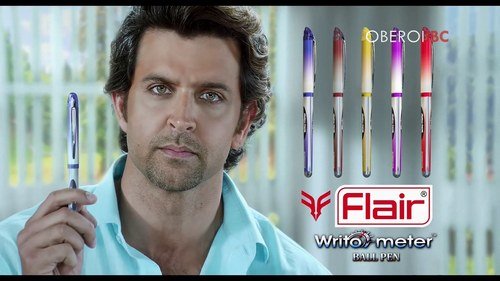 Flair Pens is recognised as one of the leading manufacturers in consumer markets and to maintain its position brand has adopted several marketing plans. It realises the impact of a good strategy to increase visibility and has gravitated towards making something unique and special to make a mark on the mindset of consumers. Innovative commercials and qualitative ad campaigns have led Flair Pens to create positive brand awareness.
It has utilised several advertising mediums like electronic, print and social media to make its products known. Currently, its ads are aired on different channels of television, radio, on newspapers, magazines and even on billboards. Hrithik Roshan, famous Indian actor is its brand ambassador and can be seen in its commercials.
Liked this post? Check out the complete series on Marketing Mix