Marks and Spencer, commonly known as M&S, is a public limited company of British origin. It is associated with Lifestyle and Retail industry as it deals in the retail category. The famous company was founded in the year 1884 by its co-founders Thomas Spencer and Sir Michael Marks. It faces competition from
Farmfoods
Tesco
Centra
Asda
Aldi
About Marks and Spencer
Type: Multinational retailer
Industry: Retail
Founded: 1884
Founders: Michael Marks and Thomas Spencer
Headquarters: London
Area served: Worldwide
Key people: Archie Norman (Chairman) and Stuart Machin (CEO)
Number of employees: 78,000+
Products in the Marketing mix of Marks and Spencer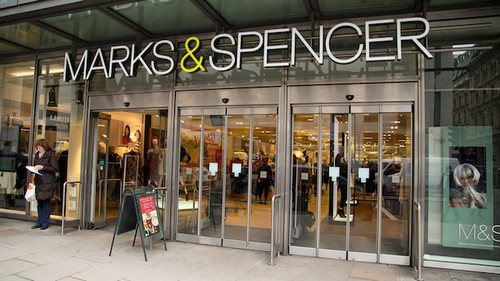 Marks and Spencer believes in eco-friendly goods and fair-trade products and hence has worked wholeheartedly towards achieving it. It has a diversified product portfolio that includes
Women
Apparel- Jackets, coats, trousers, t-shirts, tops, beachwear, swimwear, workwear, suits, sportswear, skirts, shorts, blouses, shirts, leggings, joggers, cardigans, jumpers, jeans and dresses
Accessories- Watches, jewellery, purse and handbags
Footwear- Slippers, shoes, sandals and boots
Lingerie- Camisoles, vests, thermals, shapewear, slips, bodies, nightdresses, general knickers, t-shirt bra, sports bra, strapless bra, post-surgery bra, the maternity bra, first bra, DD+ bra and bracelets
Men
Footwear- Socks, slippers and footwear
Nightwear- Dressing gown, pyjamas and underwear
Formalwear- Suits, customized shirts, blazers, jackets, formal trousers and formal shirts
Apparel- Polos, t-shirts, tops, swimwear, shorts, cardigans, jumpers, joggers, jeans, jackets, coats, chinos, casual trousers and casual shirts
Accessories- Wallets, ties, luggage, briefcase and bags
Kids
School uniform for both girls and boys
Girls- Jumpsuits, dresses, underwear, shorts, trousers, t-shirts, tops, swimwear, tights, socks, dressing gowns, pyjamas, slippers, boots and shoes
Boys- Underwear, shorts, trousers, t-shirts, swimwear, socks, dressing gowns, pyjamas, slippers, boots, shoes and suits
Beauty-
Skincare- Toners, night cream, serum, exfoliator, eye-care and day cream
Make-up- Nail polish, lipstick and foundation
Hair care- Conditioner and shampoo
Toiletries- Soaps, moisturizer, hand-wash, hand cream, shower gel and bath gel
Home
Accessories- Artificial flowers, candle holder, curtains, cushions, lighting, mirror, figurines, vases, rugs and ornaments
Bed and Bath- Towels, bath mats, children's bedding and bedding
Cooking and dining- Table linen, serve-ware, glassware, dinnerware, cutlery, baking and cookware
Travel bags and luggage
Furniture
Sofa, love seats, footstools, armchairs, tv cabinet, side table, console table, bookcases, dining chair, dining table and display cabinet
Wine
Red wine, white wine, rose wine, champagne, cava and sparkling
Food
Cakes, cold meat, fruit, fish, desserts and cheese
Flowers
Flower bouquets, luxury flower, outdoor plant, orchids and indoor plant
Place in the Marketing mix of Marks and Spencer
Marks and Spencer has spread its presence in the international market to include places like Egypt, Spain, Qatar, Jordan, Morocco, Finland, Ireland, Kabul, Canada, France, Germany, Belgium, China, India and Austria. It is a multinational retailer with its headquarters based at City of Westminster in London.
The company has established overseas offices in Sri Lanka, Indonesia, Italy, China, Turkey, Bangladesh, India, Thailand, Hong Kong and Malaysia. In Unitthe ed Kingdom it operates via nine hundred and seventy-nine outlets and recently its overseas outlet count has crossed one thousand marks. In India, it started its operations since the year 2001 and has more than fifty outlets for selling its products.
Marks and Spencer sells its products via its outlets, which are strategically chosen to gain maximum brand visibility and customers. Its outlets are tastefully decorated to offer a soothing ambience. By the end of the year 2017, the company had eighty-four thousand, nine hundred and thirty-nine employees who offered best possible services to its customers.
In the year 1999, the company launched its online shopping store for the first time and since then the customers can make a purchase and also get the home delivery facility. The online stores offer the option of buying in local currency to suit the customer's needs.
Price in the Marketing mix of Marks and Spencer
At the end of the financial year 2017, Marks and Spencer posted its revenues and net income at 10,622.0 million pounds and 115.7 million pounds respectively. Its operating income was 690.6 million pounds.
Marks and Spencer have its own brand for apparels. It caters to upper and upper-middle class section of society. Its products are perceived as value for money because of its diversified range, convenience and high quality of products.
The company has its own in-house brand for apparels which are meant for everyone including men, women and children. These products are of premium quality but the company has kept its prices between medium to high range. Marks and Spencer face rivalry in the consumer market. Strong competition means limited market share and in order to increase its mass-market consumption, the company has adopted a competitive pricing policy.
Marks and Spencer have adopted a dynamic pricing policy and during off seasons, festive seasons and seasonal time it offers incentives and discounts to its customers. This results in two-way benefit. The company is able to clear its old stock and the incentives help in larger sales figures.
Promotions in the Marketing mix of Marks and Spencer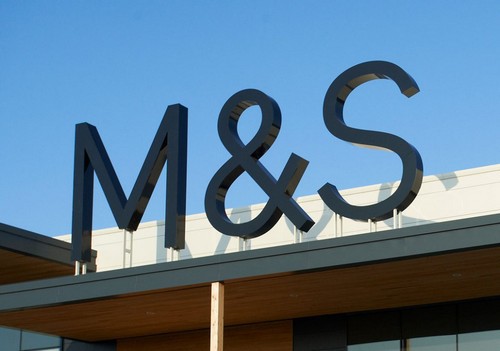 Marks and Spencer believe in full-on marketing policy and has aligned itself with every possible tool. It has adopted both above-the-line and below-the-line strategies to make its presence felt. The brand has chosen its campaigns very carefully and displayed it in print, digital and visual medium. Ads are placed in magazines, newspapers, radio, television channels, billboards and hoardings. The brand realises the importance of celebrity endorsements and over the years has roped in several personalities to market its products like Myleene Klass, Antonio Banderas, Lisa Snowdown and John Sergeant.
 Marks and Spencer has an in-store strategy that helps in promoting its products via its outlets. Its favourite promotional medium is online and promotes heavily via its own website. Product information, as well as promotional activities and related information, are all uploaded in the website at regular intervals. News of various discounts, offers and incentives are also first known via its official website.
Marks and Spencer has a loyalty program Sparks that keeps on adding points to customer's account. This is based on the total amount of shopping by the customer. Reward points are collected and later can be redeemed on further purchases. The company believes in charitable works and has taken an active part in several events. In the year 2015, Spark Something Good event was launched by the company where volunteers worked on various charities.
Liked this post? Check out the complete series on Marketing Mix