Spencer's Retail is associated with lifestyle and retail industry. It is of Indian origin and was founded in the year 1863 under brand name Durrant & Spencer by its co-founders William Spencer and Charles Durrant. Currently, it operates as a subsidiary of its parent company RP-Sanjiv Goenka Group. Spencer's Retail has put its onus on all-round quality in service standards, products and customer engagement programs. It faces competition from the following
Pantaloon Retail
Lifestyle Brands Ltd
N Stores Food Retail Pvt Ltd
Aditya Birla Retail Ltd
Reliance Fresh
About Spencer's Retail
Type: Retail Company
Industry: Food and grocery retail
Founded: 1992, Kolkata, West Bengal, India
Founder: RPG Group
Headquarters: Kolkata, West Bengal, India
Area served: India
Key people: Sanjiv Goenka (Chairman) and R. Subramanian (2018–present)
Number of employees: 12,000
Product in the Marketing Mix Of Spencer's Retail :
Spencer's Retail as the name suggests is a retail chain dealing in diversified products. It started with the Food-First format but most of its outlets now include multiple items. Spencer's Retail encourages weekly, daily and speciality shopping by fulfilling customer's every need and requirement. Its product kit includes the following-
Food Items
Condiments and Spices
Meat and Fish
Dairy Products
Processed Food Items
Beverages
Vegetables and Fruits
Party delights
Dry Fruits and Nuts
Baby Food
Pet Food
Diet Food
Organic Food
Home Products
Stationery and Toys
Travel Needs
Dining Essentials
Kitchen Essentials
Bathroom Essentials
Home Furnishings
Home Décor
Personal Care
Personal Hygiene
Men's Grooming
Baby Care
Oral Care
Hair Care
Skin Care
Beauty Products
Fashion and Accessories
Footwear
Accessories
Innerwear
Women's Ethnic Wear
Women's Casual Wear
Men's Office Wear
Men's Casual Wear
Electricals and Electronics
Digital Equipment and related accessories
Electrical Fittings and its accessories
Kitchen Appliances
Home Appliances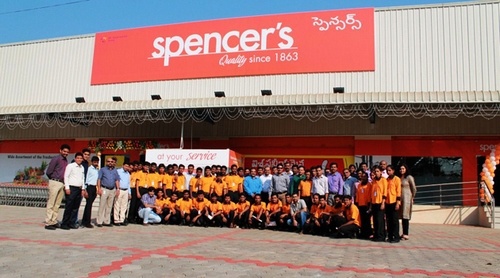 Place in the Marketing Mix Of Spencer's Retail :
Spencer's Retail has spread its presence across thirty-five cities to include one hundred and twenty locations in India. It has its headquarters base at Kolkata in West Bengal. Spencer's operates via retail chain in twin format system. Hypermarkets are known as Spencer's Hyper and Convenience store as Spencer's. Its largest outlet is at Kolkata in South City Mall and is spread across an area of 72,000 square feet.
Other important stories are at Allahabad, Bengaluru, Chennai, Baroda, Durgapur, Ghaziabad, Hyderabad, Lucknow, Mumbai, Noida, Warangal, Varanasi, Tanjore and Haridwar. Spencer's Retail offers convenient and customised shopping experience at convenient locations in soothing ambience via Spencer's Hyper, Spencer's Super, Spencer's Daily, Spencer's Fresh and Spencer's Express.
Price in the Marketing Mix Of Spencer's Retail :
Spencer's Retail is one of the most admired companies in the retail sector in India. In India, two most important survival routes are differentiation and discounting. The company has put its onus on both. Spencer's is one of the oldest retailers in India with lots of firsts to its credit. It has established itself as a preferred destination with a wide range of qualitative products at affordable rates. Spencer's Retail has adopted a reasonable pricing policy and kept its product prices pocket-friendly to increase its customer base. It has implemented a promotional policy and offers incentives to encourage bulk sales so that it can garner better profits.
Promotion in the Marketing Mix Of Spencer's Retail :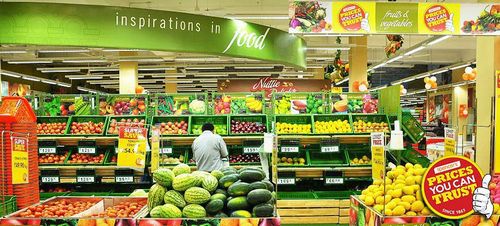 Spencer's Retail has adopted promotional strategies to increase its brand visibility. It advertises via print media in newspapers and brochures by giving informative details about recent incentives. It has been the recipient of awards and accolades in multiple categories like Most Admired Food & Grocery Retailer of the Year at Cocoa Cola Golden Spoon Awards-2016, Best VM & Retail Design in Hypermarket Category, Highest Job Creator in the Eastern Region, Best Practice Award and Most Admired Retail Company of the Year 2013.
As part of its promotional strategy, Spencer's offers incentives like Monsoon Dhamaka, Discount Sale and Periodical Sales. It rewards its loyal customers through Smart Rewards Program. A regular customer earns points on every purchase and can redeem them after a certain sum is accumulated. Spencer's Retail has launched Spencer's Gift Card as an ideal Gift for friends and family and it can be loaded with an amount of rupees 500- 9,999.
Liked this post? Check out the complete series on Marketing Mix