Eveready Industries is a flagship company and a subsidiary of its parent company B. M. Khaitan Group. It is of Indian origins and was launched in the consumer market in the year 1905. Eveready Industries has occupied the first position in India in terms of sales related to flashlights and dry-cell batteries. It is the third-largest manufacturer of carbon-zinc batteries in the global market with sales of billion units every year. Some of its competitors in consumer market are as follows-
Bajaj Electricals
Havells India
Panasonic
Philips
About Eveready
Type: Electrical Storage Company
Industry: Electrical/Energy Storage
Founded: 1905
Founder: George Cleveland, Conrad Hubert
Headquarters: Kolkata, India
Area served: India and select international markets
Key people: Amritanshu Khaitan (Chairman) and Amritanshu Khaitan (CEO)
Number of employees: 4,200
Product in the Marketing Mix of Eveready :
Eveready deals in marketing and manufacturing of flashlight cases, batteries, arc carbons, electrolytic manganese-di-oxide, and photo-engravers strips/plates for castings, printing, carbon electrodes and tube rods. It has also been associated with marketing and producing of tea. Its current product portfolio includes-
Batteries
Rechargeable battery and chargers

Zinc-carbon battery for camera, toys, torch, radio, cordless mike and clock

Alkaline Battery for usage in electronic gadgets
Flashlights
Plastic and Aluminium torches with slide switches and durable bodies and available in different colours and models

Brass Torch is a repairable, durable and reliable product and has been specially made for usage in villages

digiLED Torch operates with LEDs that are power-efficient
Lighting Solutions
General-lighting Service includes incandescent bulbs in several colours, voltage and size. These are used for commercial lighting and in households

Halogen Lamps used mostly for video-shooting and outdoor lighting

Compact-Fluorescent Lamps was launched in the year 2007 and has a diversified range of products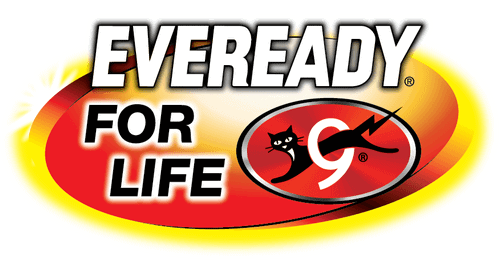 Place in the Marketing Mix of Eveready :
Eveready has become a very popular and renowned brand name in India with its headquarters based in Kolkata, India. At its onset, it imported batteries from the United States and sold in several places in India. The company set up its first factory for arc-carbon in the year 1926 at Canal Road in Kolkata. In the year 1939, it established a battery plant at Cossipore in Kolkata and another in the year 1952 at Chennai.  In the year 1958, it set up a manufacturing facility for torches in Lucknow.
Operations are conducted through its offices that are located in Navi Mumbai, Gurgaon, Noida, Hyderabad, Chennai and Kolkata. Eveready has a deep-rooted and extensive distribution network that involves penetration of both urban and rural sector. The channel includes the quick availability of products through retail stores, e-tailing, electrical outlets and traditional networks like general stores, grocery stores, stationary shops, music shops, hardware stores, gift stores, printing centres and photo studios. Its sales network is handled by strong and capable sales force.
Price in the Marketing Mix of Eveready :
Eveready has become an integral part of Indian household through its various products. It is the undisputed leader in the consumer market in relation with battery segment. The company has put a high emphasis on penetrating every nook and corner of India and hence set up it is pricing policies to capture consumer market in both urban and rural sector. Eveready has adopted a reasonable pricing policy for capturing a wide consumer base through affordable prices. It also has kept its prices lower than the prices set up by its competitors under competitive pricing policy. Its strength lies in its economical prices that have created huge sales volume and contributed towards its success and great revenues.
Promotion in the Marketing Mix of Eveready :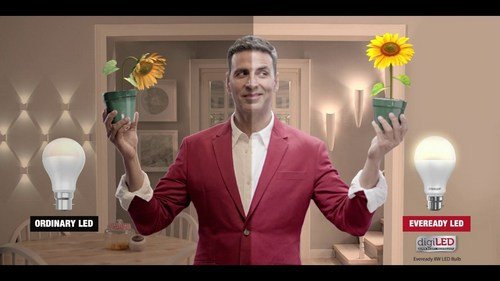 A good promotional policy will take a company very far and Eveready has already an advanced marketing strategy in place. Give me Red is one of its most popular tagline which was launched in the year 1992 and company still continue to use because it has become a synonym of the brand. The company appointed Indian superstar Amitabh Bachchan in the year 2004 and later also roped in actor Akshay Kumar as its brand ambassadors.
Several ad campaigns were released with first Amitabh Bachchan and later Akshay Kumar featuring them and displaying advantages of the brand. Eveready uses all possible marketing tools to its maximum advantage. Commercials are aired through electronic media on radio and several prominent channels of television. Advertisements are published in print media through magazines, newspapers and hoardings.
Liked this post? Check out the complete series on Marketing Mix