Havells is a public company of Indian origins. It is associated with the electrical equipment industry and deals with several products relating to domestic and industrial circuits. The company was founded in the year 1958 by its founder Qimat Rai Gupta. Havells is the owner of several global brands like Luminance, Concord, Sylvania, and Crabtree. It has targeted builders, dealers, distributors, and construction companies as its target customers. Some of its rival companies are as follows –
Bajaj Electricals
Crompton Greaves
ABB Limited
PolyCab
Phillips
RR Cables
Finolex
About Havells
Type: Public limited company
Industry: Electrical and electronics manufacturing
Founded: 1884
Founder:  Qimat Rai Gupta
Headquarters: Faridabad, Haryana, India
Area served: India, Africa, and Europe
Key people: Anil Rai Gupta (Chairman) and D K Agarwal (CEO)
Number of employees: 25,000
Product in the Marketing Mix Of Havells :
Havells is one of the topmost FMEG Companies in India with a wide range of diversified product portfolio. It has a strong footprint in global market because of its qualitative products and some of them are as follows-
Kitchenware- It includes Bakeware and Cookware items like Pressure Cooker, Cookware set, Hand blender and Chopper

Home decorative- It includes products related to Lighting like CFL Bulbs, Recessed Lights, LED Lights, LED Bulbs and Decorative-Lighting fixtures like Ceiling Lights, Lamps and Wall Lights.

Hardware and Tools- It includes Electrical items like Lighting Fixtures, Electrical Spares and Hardware, Bells, Water Pumps and its accessories, Automation and Switches, Wires and Extension Cords.

Appliances- It includes Home Appliances like Air Purifiers and Iron, Large Appliances like Heaters, Geysers, Fans, Microwaves and Air Coolers and Kitchen Appliances like Food Processors, Choppers, Hand Blenders, Sandwich Makers, Toasters, Electric Kettle, Coffee Maker, Electrical Cooker, Induction Cooktops, Grinders, Mixers and Juicers.
Place in the Marketing Mix Of Havells :
Havells is an Indian company with international presence in nearly fifty countries of the world. It has ninety-one representative offices which are served by an efficient workforce of six thousand and five hundred employees. Havells has its headquarters base at Noida in India. By the end of the year 2013, in India, company had twelve manufacturing facilities in places like Neemrana, Alwar, Faridabad, Noida, Baddi and Haridwar. Its six overseas plants for manufacturing are located across Africa, Latin America and Europe.  It has a strong global channel that includes twenty thousand distribution networks.
In India, it includes services of thirty-five thousand retailers and four thousand three hundred wholesalers.  Its first R&D facility is situated at Noida in India. To encourage direct dealing with customers company has opened a one-stop outlet titled Havells Galaxy to meet every lighting and electrical needs. Havells have already opened eighty such outlets with plans for several more in other cities.
Price in the Marketing Mix Of Havells :
Havells has been projected as a premium brand offering qualitative products. It has adopted a premium pricing policy for all its items. Dealers are interested in Havells products irrespective of high prices because it provides quick turnover and customers are also comfortable with this high pricing strategy because they realise it is value-based. Consumers are now willing to spend the extra cash if it is a worthy item and as Havells has been marketed as a high-quality brand, it has been able to maintain its pricing policy successfully in the global market. Havells offer periodic and festive offers and incentives like discounts and free gifts to attract and maintain its customer base.
Promotions in the Marketing Mix Of Havells :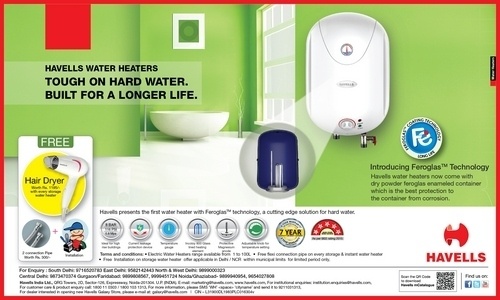 Havells has a global presence and has adopted several marketing policies to maintain its brand awareness amongst consumers. The company has launched several informative campaigns that have been aired on radio and several channels of television. Ads are also displayed in newspapers, magazines and hoardings. The brand has been involved in sponsorship deals of cricketing events like T20 World Cup, IPL Season 1&2, Champions League and Champions Trophy.
Havells has taken care of its employees by providing several beneficial plans for them. It offers its retailers medical insurance plans. The company has a good reputation and has been a participant in several schemes and events to increase its brand awareness. During this meets, Havells offer extra incentives, lucky draw and discounts. It is the first company related to FMEG Sector that offers door-step services.
Liked this post? Check out the complete series on Marketing Mix