Diesel is a private limited company of Italian origin. It is associated with lifestyle and retail industry as it deals in apparel and accessories.  This well-known fashion house was founded in the year 1978 by its co-founders Renzo Rosso and Adriano Goldschmied. Diesel is a subsidiary of its parent company OTB Group. The brand has seen extraordinary growth and is popular because it offers an alternate taste that makes it unique and exclusive. It is an innovative brand that is known for authenticity, self-expression, individuality, and passion. It faces competition from the following
Levis
Chip and Pepper
Giorgio Armani
About Diesel
Type: A lifestyle brand
Industry: Fashion
Founded: 1978
Founders: Renzo Rosso and Adriano Goldschmied
Headquarters: Molveno, Trentino, Italy
Area served: Over 80 countries
Current CEO: Massimo Piombini
Number of employees: Over 5,000
Major products: Clothing, footwear, accessories, perfumes, eyewear, watches, and home furnishings
Product in the Marketing mix of Diesel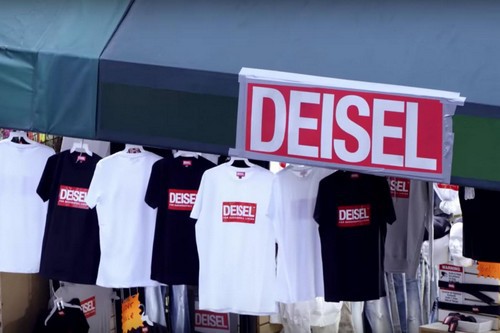 Diesel is a fashion brand that deals in apparel, accessories, and footwear.  It operates via two brands Diesel Black Gold and Diesel. It has also launched a clothing line for kids called Diesel Kid. The brand offers a fragrance line that is marketed and owned by L'Oreal.
Diesel collection includes
Men
Apparel
Beachwear
Underwear
Tops and t-shirts
Polos
Knitwear
Sweaters
Shirts
Shorts and Trousers
Leather Jackets
Jackets
JoggJeans
Jeans
Footwear and Accessories
Gadgets and Bijoux
Technology
Smartwatches
Watches
Perfumes
Eyewear
Accessories
Belts
Wallets
Bags
Shoes
Denim
Bootcut
Carrot
Straight cut
Tapered
Skinny fit
Women
Apparel
Underwear
Knitwear
Skirts
Sweaters
Shirts
Tops and T-shirts
Shorts and trousers
Leather Jackets
Jumpsuits
Dresses
JoggJeans
Jeans
Denim
Straight
Bootcut
Boyfriend
Skinny and super skinny
Accessories and Footwear
Technology
Smartwatches
Watches
Perfumes
Eyewear
Accessories
Belts
Wallets
Bags
Shoes
Kid
Apparel
Denim
Accessories
Diesel Black collection includes
Men
Pants
Shirts
Sweatshirts
T-shirts
Caban and outerwear
Leather
Jeans
Bags
Footwear
Women
Footwear
Shirts and knitwear
Pants
Sweatshirts
T-shirts
Caban and outerwear
Overalls, skirts and dresses
Leather
Jeans
Diesel Living Home collection includes
Home accessories
Technical ceramics
Flooring
Furniture
Kitchen
Lighting
Place in the Marketing mix of Diesel
Diesel is a global brand with its headquarters base at Breganze in Italy. It started its operations from Molvena in Italy and with time has spread it successfully in overseas markets.
Products are now sold in places like Mexico, Japan, New York City, Rome, London, San Francisco, Paris, Barcelona, and Berlin.  Diesel operates via its flagship stores called StyleLabs. Its denim products are manufactured only in Italy via several out-sourced factories.
Diesel is an exclusive brand that manages its operations via five thousand selling points located in eighty countries with help of twenty subsidiary companies. The outlets are present in important, central and prime locations like major malls to garner maximum clients. In the year 1995, a fashion retail site was launched online by Diesel that showcased images of its each and every collection.
The first products to be sold online were in Finland and Sweden in the year 1997 and later the brand opened a virtual store that enabled home delivery so as to increase its customer base. For its retail lines, Diesel offers illustrated catalogs.  Besides Diesel Online Store it also markets via the help of other e-commerce portals.
Price in the Marketing mix of Diesel
At the end of the fiscal year 2015, Diesel posted its revenues at 2.9 billion Euros. It is a complete Lifestyle brand known for its luxurious and exclusive items. The brand targets upper and upper-middle class section of society from an urban area who is fashion, image, and brand conscious. They want to tag themselves with a high-profile brand so that they can elevate their own status via this brand in society.
Diesel is a premium brand and has adopted a premium pricing policy for all its products. It targets the rich and privileged class, who are least bothered about money matters. Diesel offers unique and qualitative products and boasts of the fact that all its products are exclusive with none of them having a match in any collection.
It is also not afraid of its competitors and hence do not pay any attention to the product prices set by rival brands. Diesel has been fortunate with the pricing strategy that helps it in earning greater revenues and recognition in the consumer market.
Promotions in the Marketing mix of Diesel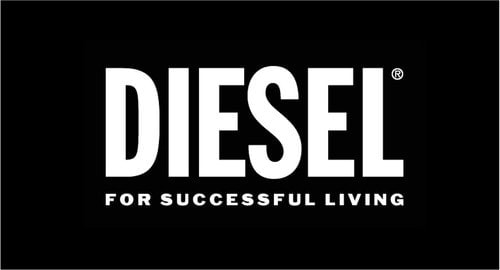 Diesel has created waves via its impressive advertising campaigns that included surreal images. The highly successful campaigns have used themes like social consciousness, ironic plays related to global issues, and anti-establishment messages.
These groundbreaking ads have been shot in collaboration with leading photographers. Its ads are full of provocation, irony, and sex-appeal and generate disbelief, laughter, shock and of course recognition. Its famous ad campaigns are Be Stupid and Go with the Flow whereas its popular tagline is For Successful Living.
The brand recognizes the positive impact of celebrity endorsements and had roped in Liam Hemsworth and Winnie Harlow to act in its commercials separately in the year 2015. The ads are shown via fashion magazines, billboards, and social media platforms.
Diesel has a loyalty program of its own D: Code that offers certain facilities to its members. The brand sends personalized anniversary gifts, birthday gifts, sale previews, access to international parties, access to new collections before general public and glimpses at behind the scenes.
In the year 1992, the brand became the title sponsor of World Superbike Racing Circuit and in the year 2007, it was a major sponsor of Diesel-U-Music, a music contest. Diesel at the Cannes Lions International advertising Festival won The Grand Prix Award in years 1997, 2001 and 2010.
The company realizes its responsibility towards society and in the year 2008 has opened The Only The Brave Foundation as a non-profit organization for its CSR activities.  It works towards removing social inequality in society. Diesel has been the recipient of several awards over the years like Best Italian Company of the Year in 1996 from Bocconi Institute and in the year 1998 The Label of the Moment from the Wall Street Journal.
Liked this post? Check out the complete series on Marketing Mix