Indian Fine Blanks Limited was later renamed as IFB and started its operations from the year 1974. IFB Group is associated with consumer goods, travelling and automobile industry. It is of Indian origins and guarantees excellence, technology and quality through its innovative products. IFB Group includes four companies of independent nature titled as follows-
IFB Industries Limited
IFB Travel Systems Limited
IFB Agro Limited
IFB Automotive Private Limited
About Indian Fine Blanks Limited (IFB)
Type: Private limited company
Industry: Home appliances
Founded: 1954
Founder: Karam Chand Thapar
Headquarters: Faridabad, Haryana, India
Area served: India
Key people: N. K. Thapar (Chairman) and Kamal N. Thapar (CEO)
Number of employees: 10,000
The competition for IFB is from the following brands.
Product in the Marketing Mix Of IFB :
IFB is associated with marketing and manufacturing of high-quality products. IFB Industries deals in home appliances like built-in-hobs, built-in-ovens, modular kitchens, cooker hoods, refrigerators, air conditioners, microwave ovens, dishwashers, clothes dryers and washing machines. Products also include fine blanked tools and components to relevant machines like strip loaders, decompilers and straighteners. IFB Automotive deals in manufacturing of fine blanked seating systems, automotive components, automotive motors and door systems to meet demands of auto-sector.
IFB Agro has created a distinctive name for itself via consumer-oriented products like dry ice, fine spirits and packaged food for export and domestic market. IFB Travel deals in a logistic section of IFB Group and was formed in the year 1991. It offers service support to several private companies. It has an online travel portal to provide services to corporate companies, business houses and direct customers. Its product kit includes cruises, holidays, transfers, buses, cars, hotels and air tickets.
Place in the Marketing Mix Of IFB :
IFB Group has been able to spread its network in most parts of India as well as abroad. Its products are available in several countries of the world. The company has an overseas plant for manufacturing products related to fine blanketing at Wrekhan in the United Kingdom. Corporate offices of IFB in India are at Kolkata in West Bengal. IFB Travel has offices in Delhi, Goa, Bangalore and Kolkata. Engineering division is in Bangalore and Kolkata and manufacturing facility of appliance division is in Goa. It has R&D department that is equipped with the latest technology so as to develop innovative products. IFB has a strong distribution channel to market its products to every nook and corner of India and includes manufacturing plants, warehouses, dealers, franchise outlets and lastly consumers.
Service network of IFB Industries includes 2832 service engineers and 650 franchised outlets. IFB Travel has 6,500 dealers, 314 franchisee outlets and 56 direct offices to ensure smooth delivery and exceptional services across the country. Products are also available through IFB website and from other shopping portals.
Price in the Marketing Mix Of IFB :
IFB has a strong brand presence and has put the special onus on qualitative and eco-friendly products. IFB knows that price is one of the most important aspects of any organisation. The production cost of its products is higher than similar products from rival companies. It deals in products of premium quality and hence has adopted premium pricing system for its company.
The company faces stiff competition in the consumer market but has still maintained its premium pricing because it is confident that customers will choose quality over prices any day. Hence it has been able to maintain a value-added policy because its loyal customers realise that the company is offering the best possible product in that price range.
Promotions in the Marketing Mix Of IFB :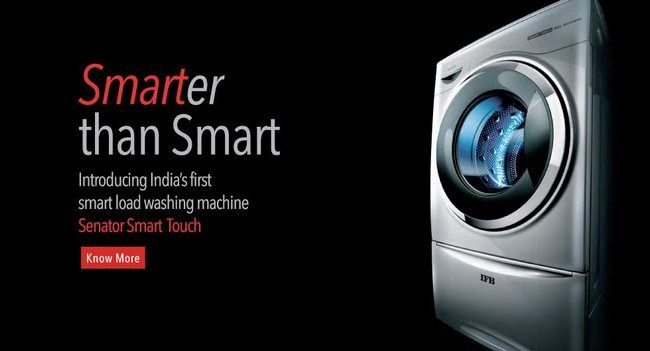 IFB is one of the most trusted brands in India and has become the first choice of consumers. It realises the impact of a good and strong marketing policy and hence has adopted multi-level marketing to promote its products. Distributors, dealers and customers are important advertising tools of this brand. It relies heavily on mouth publicity as it believes that superior quality of its products is in itself enough for its promotion. It also takes part in several events like trade fair and conducts live demo of some products. This helps in creating good brand visibility. It has a co-operative, efficient and friendly workforce that helps in direct and indirect dealings with customers. IFB offers better and quick after-sales services to deal with customer problems.
Liked this post? Check out the complete series on Marketing Mix