Nirma Washing Powder is a product produced by its parent company Nirma Ltd. It is associated with FMCG industry as it is a home care brand. The brand is of Indian origin and was introduced in the consumer market in the year 1969 via door-to-door selling by its inventor Karsan Bhai Patel.
He went on to create his own private company Nirma Ltd that later became the owner of several products including Nirma Washing Powder.  It has been able to gain market leadership in the mid-priced sector of detergents. Nirma is a brand that is synonymous with value-for-money as it believes in offering better value and product at lowest possible prices. The company in detergent sector faces competition from the following
Active Wheel
Tide
Surf
Ariel
About Nirma
Type: Detergent
Industry: Consumer Goods
Founded: 1969
Founders: Karsanbhai Patel
Headquarters: Ahmedabad, Gujarat, India
Area served: India
Current CEO: H. M. Patel
Number of employees: 10,000+
Major products: Nirma Washing Powder, Nirma Soap, Nirma Talcum Powder, Nirma Shampoo, Nirma Dishwashing Liquid
Product in the Marketing mix of Nirma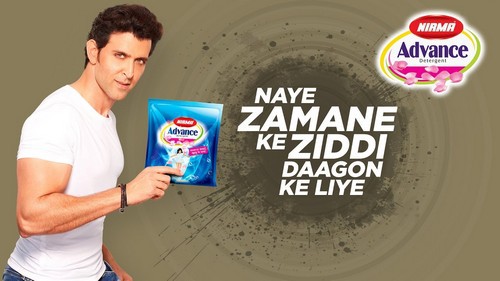 Nirma Washing Powder has been able to create a distinctive place of its own because of its strong brand equity over the years. It is a detergent that has been accepted by the mass market because of its good quality.
By the year 2000 Nirma Washing Powder occupied 30% of the total market share in the detergent segment and in the year 2004 was able to sell nearly 800,000 tonnes of its product. It has the distinction of being largest selling item under a single brand Nirma in the whole world in the year 2004.
The company offers a unique product that has a phosphate-free formulation and is environment-friendly. The immense success of detergent powder led to the launch of detergent cakes in the year 1987. It was available in pack sizes of 250gm and 125gm. The detergent cakes also have a unique formulation. It lasts longer, melts slowly and offers better stability. The product portfolio of Nirma in detergent sector includes the following-
Nirma Green Detergent Powder
Nirma Popular Detergent Cake
Nirma Popular Detergent Powder
Super Nirma Washing Powder
Nirma Detergent Cake
Nirma Washing Powder
Super Nirma Detergent Cake
Nirma Yellow Washing Powder
Place in the Marketing mix of Nirma
Nirma Washing Powder has a Pan-India presence that has spread to every nook and corner of India. It operates via its headquarters based at Ahmedabad in Gujarat. The company has set up manufacturing plants at Bhavnagar and Baroda.
Nirma Washing powder is distributed by its own company which has a strong and powerful distribution network. It created a deep penetration channel that started initially by capturing the rural market that was by that time still untapped. At its onset, the company used nearly four hundred distributors that had a reach to more than two million households.
To cut down its cost the company started supplying the products directly to distributors in their own transports, thus eliminating intermediaries. In places like Tamil Nadu and Andhra Pradesh depots were maintained so that the products could reach markets quickly.
With time the company has changed its distribution policy as it has grown from a small company to a very large holder of the consumer market. Currently, its distribution channel includes services of dealers, agents, wholesalers, and retailers. The products are easily available at grocery shops, hypermarkets, corner shops, malls, and supermarkets.
Price in the Marketing mix of Nirma
Nirma for its washing powder segment has targeted mass consumer market that is associated with the economy segment as its target customer. It is catering to families and households as well as laundry stores. Nirma Washing Powder has positioned itself as a brand offering quality product at reasonable prices.
At the time of its introduction detergent powders were considered a luxury item as they were priced higher. Karsan Bhai Patel realized the potential of a vast detergent market that could be tapped easily with few changes. Moreover, he wanted the product to reach every household so what the company did was took down the prices to one-third in comparison to its competitors.
The company has adopted penetration pricing policy and has kept its product prices at very reasonable and affordable rates that were unheard before its own launch. This has helped it to deal with its competitors successfully as its product prices are anytime lower than the prices set up by rival brands. Due to its immense sales figures, the detergent brand has been able to garner great profits and better revenues over the years.
Promotions in the Marketing mix of Nirma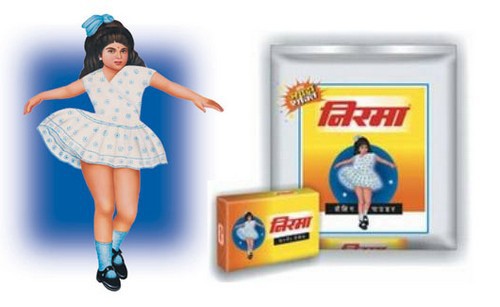 Nirma has adopted an aggressive marketing policy for Nirma Washing Powder and it includes both ATL and BTL plans. It has created some good commercials that are shown via television channels, radio, newspapers, magazines, leaflets, cinemas, hoardings, sides of vehicles like bus and trams and billboards. Moving with times the company also advertises via its official website, its Facebook page, and Twitter account so as to garner better brand visibility. Nirma uses wall paintings, POP displays, and contests in haats and fairs to increase its brand image.
Nirma Washing Powder has been immortalized by its very popular tagline 'Sabki Pasand Nirma, Washing Powder Nirma'. Its entry in the Indian market was a great success because of this tagline as people started connecting the detergent with this tune automatically. One of its other popular taglines was Hema, Rekha, Jaya, aur Sushma Sabki Pasand Nirma.
The brand realizes the power of celebrity endorsement and has roped in India actor Hrithik Roshan as its brand ambassador with a new and catchy tagline Naye Zamane Ke Ziddi Daagon Ke Liye. Earlier it had created ad campaigns with television star Deepika Chikhalia who was very popular.
Nirma realizes its responsibility to society and has become an active participant in activities related to social and educational development. It has established Nirma Education & Research Foundation in the year 1994 that works towards the benefit of society. Nirma Washing Powder has been the recipient of awards and recognition over the years.
It was declared as Most widely distributed detergent powder brand in India in the year 1997 and in the year 1999 was ranked at the top position in terms of penetration in the detergent sector. Nirma detergent cakes have also created a niche place for itself and in the year 1999 Nirma brand was ranked at the top position in terms of penetration via detergent cakes in rural markets.
Liked this post? Check out the complete series on Marketing Mix