Banana Republic is associated with Lifestyle and Retail industry as it deals in apparel and accessories. It is a subsidiary of its parent company Gap Inc.
This private company of American origin was founded in the year 1978 by its co-founders Patricia Ziegler and Mel Ziegler as Banana Republic Travel & Safari Company. In the year 1983, the company was bought by its parent company and its name was changed to Banana Republic. It faces competition from the following brands
American Eagle Outfitters
J CREW
M
Abercrombie & Fitch
GILT Groupe
Bonobos
J Hilburn
About Banana Republic
Type: Specialty retailer
Industry: Retail
Founded: 1978
Founder: Mel and Patricia Ziegler
Headquarters: San Francisco, California, United States
Area served: Worldwide
Key people: Sonia Syngal (Chairman) and John Mehas (CEO)
Number of employees: 16,000
Products in the Marketing mix of Banana Republic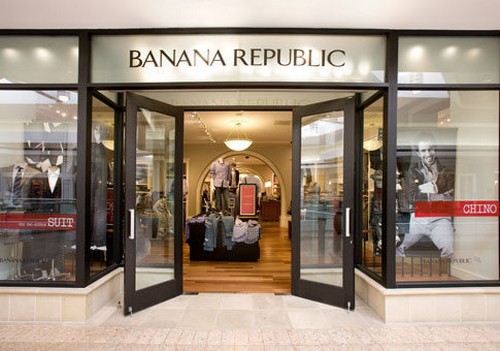 Banana Republic has been one of the prominent players in the fashion industry. It has launched several collections that express and reflect its unique style and innovative designs. Banana Republic deals in natural fibers, deluxe materials and better craftsmanship to offer a widespread product portfolio that includes collections like
Sunday Sunday
Heritage
BR Monogram
Capsule Collections include
Roland Mouret
Marimekko
L'Wren Scott
Issa London
Milly NY
Mad Men
Anna Karenina
Trina Turk
Its products include
Women
Apparel
Intimates and Sleepwear
Skirts
Shorts
Denim
Pants
Jackets and Coats
Blazers
The Tee Shop
Button-Up Shirts
Blouses
Sweaters
Suits
Swimwear
Rompers and Jumpsuits
Dresses
Footwear and Accessories
Home Gifts
Accessories
Jewellery
Handbags
Shoes
Men
Apparel
Socks and Underwear
Swimwear
Denim
Casual Pants and Chinos
Dress Pants
Blazers
Suits
Jackets and Coats
Hoodies and Sweatshirts
Sweaters
The Tee Shop
Shorts
Polos
Casual shirts
Dress Shirts
Footwear and Accessories
Grooming and Care
Home and Gifts
Accessories
Footwear
Petites
Shorts and skirts
Denim
Pants
Jackets and Coats
Blazers
Button-Up shirts
Tops and Blouses
Sweaters
Suits
Rompers and Jumpsuits
Dresses
Footwear
Boots
Flats
Sandals
Heels
Slides
Loafers
Oxfords
Sneakers
Accessories
Candles
Hair Accessories
Tights and Socks
Sunglasses
Belts
Scarves
Hats
Jewellery
Handbags
Socks
Wallets Ties and Pocket Squares
Place in the Marketing mix of Banana Republic
Banana Republic has spread its product presence in national and international markets. It has its headquarters base at San Francisco in United States. The company started its journey from its first store at Mill Valley in Northern California and with time has increased its operations to include stores in nearly six hundred and forty two locations.
In United States the company has nearly five hundred and thirty six stores in places like Puerto Rico and Manhattan. The first outlet outside of North America was opened in Tokyo in year 2005. Currently, it has outlets in Canada, Japan, Peru, Mexico, Colombia, Salvador, Costa Rica, Vietnam, Thailand, Qatar, Croatia, France, Russia, Turkey, UAE, United Kingdom and South Korea.
Banana Republic operates via franchise outlets and company-owned stores. It also deals via third-party operators and company-owned websites. The company has opened its stores in high-profile shopping malls to garner maximum customers.
In the year 1996, Banana Republic launched gender-specific outlets as concept stores for men and women titled Banana Republic Women and Banana Republic Men. Its flagship outlets were larger than its original outlets and featured all the lines under one roof. Special emphasis was put on the interiors that incorporated its distinctive and signature features like polished metal, super-sleek fixtures, and neoclassical arches.
Price in the Marketing mix of Banana Republic
After its acquisition by its parent company Banana Republic was rebranded as mainstream apparel retailer of luxurious items. Its current revenue is estimated at ten million US Dollars and is ranked as fourth-highest amongst its rival brands.
The company has targeted young white-collar professionals who are looking for business-friendly and sophisticated merchandise. The company emphasizes on its durability and adaptability and conveys the reason for the astronomical prices.
Banana Republic uses lifetime value pricing model and has adopted a premium pricing strategy. As its products are of premium quality it has not hesitated to maintain its premium prices.
The company faces lots of challenge from rival brands and hence also maintains a competitive pricing policy by keeping its product prices at par with the prices maintained by its competitors. The brand is well-established in the market and has a following of its own and hence has been able to gain success with its pricing policy.
Promotions in the Marketing mix of Banana Republic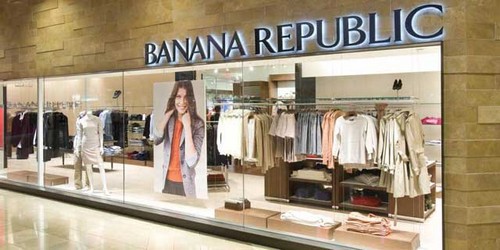 Banana Republic recognizes the power of marketing and has created ad campaigns that display society in diverse and real glory.  It sells a concept of uniqueness and originality. Its ads display an urban lifestyle and relaxed image. The brand has adopted a bold marketing policy and has used advertising tools to its advantage.
The ads are shown via print, digital, electronic and visual medium in newspapers, television channels, hoardings, billboards, and mobile. Banana Republic has realized the importance of social media platforms in current surroundings and hence uses its official website to offer news, information, display ads, relay current offerings and showcase its products.
In today's scenario celebrity endorsement helps in gaining extra brand awareness. Banana Republic appointed Olivia Palermo in the year 2016 as its global-style ambassador. In the year 2018, the brand has extended its partnership with Kevin Love to include a design collaboration of accessories and apparel for men.
As part of its promotional policy Banana Republic offers discounts and incentives to its card members. In its factory outlet, it offers regular discounts as part of clearance sales that may vary up to 60% off, each at 9.99 dollars, an item at 7.99 dollars or at the similar sounding amount.
The brand also offers discounts up to 40% off on new arrivals to increase its customer base. On orders of 100 dollars or more Banana Republic enables free shipping facility. The company offers its customer an option of easy returns without any extra cost.  The brand offers personal shopping assistants as well as the option of free alterations to attract its customers.
Liked this post? Check out the complete series on Marketing Mix