Amul Ice Cream is a subsidiary of its parent company Amul. It is associated with food industry as it deals in frozen dairy products. Amul is a cooperative of Indian origin founded in year 1946 by its founder Tribhuvandas Patel. Amul Ice Cream was started by Amul in the year 1996 and by year 1999, it was easily available in most parts of the country. Amul Ice Cream has the distinction of being ranked among the top five brands of India in terms of ice cream. It faces stiff competition from several rival brands like
Vadilal Ice Cream
Kwality Ice Cream
About Amul Ice Cream
Type: Ice cream brand.
Industry: Food and beverage.
Founded: 1946.
Founders: Dr. Verghese Kurien and the Gujarat Cooperative Milk Marketing Federation.
Headquarters: Anand, Gujarat, India.
Area served: India and other parts of the world.
Current CEO: R. S. Sodhi.
Number of employees: Over 60,000.
Major products: Amul Ice Cream is available in a variety of flavors, including vanilla, chocolate, strawberry, mango, and coffee
Product in the Marketing mix of Amul Ice Cream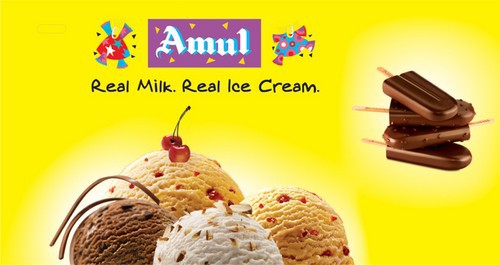 Amul is an established brand in India with a strong market value. It is one of the most popular as well as desirable brands in terms of dairy products. Amul Ice Creams has a lot of variants in its product kitty to tempt its consumers like Kulfi, cones, pack tubs, cups, sticks, choco bars and ice candies.
These ice creams are easily available in different flavours like strawberry, litchi and pasta and sizes like 120ml, 50 ml, bulk packs, family packs and combo packs to suit individual needs. In the year 2007, the company introduced sugar-free ice cream for health-conscious consumers. Amul is a trusted brand and its ice creams are made from fresh and real milk. The calcium and protein content makes it a nutritional product. Packaging of any item is very important and Amul ice cream packaging is very attractive. Amul Ice Cream includes
Amul Epic Strawberry Twist
Amul Frostik
Amul Prolife Probiotic Ice Cream
Amul Chaupati
Amul Malai Kulfi
Amul Epic Choco Cappuccino
Amul Epic Choco Almond
Amul Choco Caramel
Amul Orange Vanilla
Amul Dark Choco Sin
Amul Jigar Thandai
Amul Kesar Delight
Amul Mango Marble
Amul Rum Punch
Amul Koolfi-e-Khaas
Amul Pan Nawabi
Amul Fundoo
Amul Sundae
Amul Chocolate Brownie
Amul Fresh Litchi
Amul fresh Strawberry
Amul Black Currant
Amul Kaju Draksh
Amul Cookies N Cream
Amul Afghan Dry Fruit
Amul Kis Mis Kaju
Amul Spanish Saffron and Cream Balls
Amul Chocó chips
Amul Shahi Anjir
Amul Tutti Frutti
Amul Creamy Almond
Amul Kesar Pista
Amul Butter Scotch
Amul Chocolate
Place in the Marketing mix of Amul Ice Cream
Amul Ice Cream is available in most cities and towns of India as its product has a Pan-India presence.  It includes famous cities like Mumbai, Kolkata, Bangalore, Ahmedabad, Pune, Chandigarh, Chennai and Delhi as well as towns like Rohtak, Nohar, Rajgarh, Burdwan, Durgapur and Darjeeling. Head office of Amul Ice Cream is established at Anand in Gujarat. Amul Ice Cream is manufactured at HACCP and ISO certified state-of-the-art factories with absolute hygienic standards so that food safety can be ensured.
The brand has a well-spread distribution network that helps in transferring the products from manufacturing outlets to retail outlets quite easily. Amul Ice Cream has taken help of the distribution channel set up by its parent company. It includes both procurement channels that are responsible for collecting the ingredients from dairy co-operatives and other sources and the distribution channel that helps in distribution of its end-products via C&F agents, distributors, suppliers, retailers and dealers to the retail outlets which are in direct contact with consumers. It has such a strong and powerful distribution channel that its products reach the consumer market easily in most parts of the country.
Amul Ice Creams are sold in exclusive parlours, retail outlets, discount stores, hotels, canteens, restaurants, café, supermarkets, fast-food joints, clubs and shopping malls. Amul has its own outlets where it sells its products exclusively. In some cities, vendors sell Amul Ice Cream via mobile vans and carts also.
Price in the Marketing mix of Amul Ice Cream
Amul Ice Cream has kept a market-oriented pricing policy for selling its products. Amul is a brand that believes in mass consumption and all its product prices are kept at such levels that they can easily be purchased by its consumers.
At its onset, Amul Ice Cream adopted a penetration pricing policy and kept its product prices marginally lower than the prices of its rival brands. The brand has maintained its low-cost pricing strategy so that it could easily make inroads in new markets. Amul also offers periodic discounts and incentives to attract customer interest and increase its sales. It believes in bulk sales and generally offers incentives on bulk packs.
As it became popular and faced competition from competitors it also adopted a competitive pricing strategy and kept product prices affordable and reasonable. Recently it launched its EPIC Ice Cream a day before the launch day of the same type of Ice Cream of its rival brand and kept its prices much lower even when they both had the same basic ingredient Belgian Chocolate which was making them unique. This helped the cause of Amul to a great extent and resulted in mass sales.
Promotions in the Marketing mix of Amul Ice Cream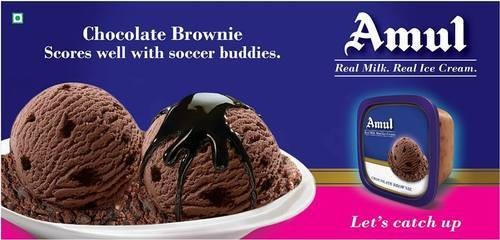 Amul has adopted several marketing strategies to market its products in the consumer market. Its above-the-line marketing is less compared to its below-the-line policy for advertising its products because it does not want to spend excessively on marketing.
It is an established brand with very heavy footfall. The brand advertises via radio, television, newspapers, magazines, hoardings, billboards through its longest and unique brand ambassador and advertising character The Amul Girl. Amul Ice Cream does not believe in other celebrity endorsements as its poster girl is the best advertisement tool according to the brand as well as media reports.
Amul Ice Cream takes part in several events like distributing free products during school events, or sports day. It is a firm believer of sales promotion activities, discount schemes and trade promotions. Several discount options like 20% extra and one free with other are its favourite marketing strategy.
It has received several awards and recognition for its efforts. In the year 2007, its Amul Pro-Biotic Ice Cream, which is sugar-free, won The International Dairy Federation Marketing Award.
Liked this post? Check out the complete series on Marketing Mix