Mufti is associated with Apparel and Fashion industry and deals in manufacturing clothing items for men. The brand is of Indian origin and was founded in the year 1998 by its founder Mr Kamal khushlani. It was driving ambition of its creator to offer an alternative to the conservative way of dressing that did not match his perception of uniform code while dressing for mainstream fashion.  Some of its competitors are as follows-
About Mufti
Type: Privately held company
Industry: Fashion
Founded: 1998
Founder: Kamal Khushlani
Headquarters: Mumbai, India
Area served: India
Key people: Kamal Khushlani – Founder and CEO
Number of employees: Over 1,000
Product in the Marketing Mix Of Mufti :
Mufti is all about conceiving imaginative and beautiful products made from different fabrics and colours that convey Indian spirit and international codes. It was the first brand to launch stretch jeans with a perfect fit. This unique product was later copied by other brands. It is a casual wear brand that offers diversified products as part of menswear collection like the following-
Winter Wear
Indigo Jacket with Zipper
Grey Knitted Jacket with Leather Detailing
Blue Sweater with Mandarin Collar
Blazers
Navy Blazer with Small Motif Print
Olive Blazer with Detailing
T-Shirts
White Henley Mix and Match Polo
Navy Stripes Tee with Naps and Front Pocket
Maroon printed Polo
Joggers
Dark Blue Engineered Jogger Denims with Drawstring and Bottom cuff
Olive Blue Jogger Denims with Side Panel
Army Chinos Jogger with Sports Fit Bottom Cuff
Shirts
Vertical Stripes Wine Shirt
Black Striped Shirt in Soft Fabric
Blue Shirt in Checks Fabrics
Royal Lumberjack Shirt
Navy Mix and Match Checks shirt
Maroon Checks Shirt with Hood
Jeans
Super Slim Blue Corduroys
Textured Deep Blue Jeans
Dark Blue Lasered Jeans
Blue Jeans with Light Wash
Black Stone Jeans in Structured Fabric
Black Jeans in Straight Fit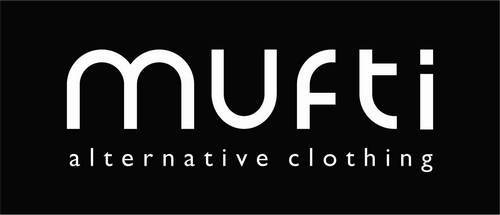 Place in the Marketing Mix Of Mufti :
Mufti is a progressive brand that has spread its presence to every part of India. Its stores are located in several towns and cities like Nellore, Vijayawada and Tirupati in Andhra Pradesh, Patna, Muzaffarpur and Katihar in Bihar, Raipur, Raigarh and Bilaspur in Chhattisgarh, Rajkot, Surat and Ahmedabad in Gujarat, Rohtak, Sirsa and Sonipat n Haryana and Durgapur, Haldia and Kolkata in West Bengal.
It has a strong and extensive distribution network that includes services of retailers, wholesalers and distributors to reach customers via more than 250 exclusive brand outlets, more than 1400 multi-brand stores and 110 big-format stores. Products of brand Mufti are marketed by Credo Bands Marketing Private Limited. It has its own website to offer products via online shopping all over India.
Price in the Marketing Mix Of Mufti :
Mufti's core belief is originality and innovation and thus offers its clients something unique and different. It has achieved constant growth over the past years in terms of sales and revenue figures.  Mufti has been able to gather cult followers who believe in progressive attitude and does not hesitate to shed a few bucks more for such an innovative brand. It has adopted a Skimming pricing policy that offers apparels at mid-premium rates to its target customers. Its clients from the high-income group are willing to pay so that they can associate themselves with a qualitative and premier brand.
Promotions in the Marketing Mix Of Mufti :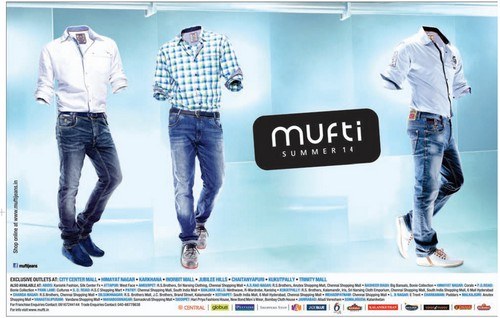 Mufti has projected itself as a complete lifestyle brand that oozes appeal and fashion statement. It has adopted an above-the-line approach for mass marketing and has launched ad campaigns via digital and print media on radio, billboards, newspapers and magazines. It also advertises on social media platforms on its own website and other shopping portals. One can follow through Twitter, Facebook, Google+ and YouTube.
It has also implemented Below-the-line approach in terms of niche marketing and distributed flyers at high-traffic routes, motels and malls. It offers several incentives as part of its promotional strategy like the end of season sale, earning reward points while shopping through its website, coupons, discounts, free gifts and loyalty points. Some of its most popular taglines are Mufti- Anything Else is Uniform and Mufti- Alternative Clothing.
Liked this post? Check out the complete series on Marketing Mix