Infosys is a public corporation of Indian origins. It is a multinational company that is associated with IT industry and deals in business consulting, outsourcing services and information technology. Infosys was founded in the year 1981 by its co-founders N. R. Narayana Murthy, N. S. Raghavan, Nandan Nilekani and others. In the year 2013, it was ranked at fifth position as H-1B visa's largest employer in the United States. In the year 2015, the month of February, it was ranked at sixth position in terms of a publicly-traded company with 263,735 crore rupees of market capitalisation.
Some of its rival companies are as follows-
Cognizant
Tata Consultancy Services
About Infosys
Type: Multinational information technology company
Industry: Information technology, consulting, outsourcing
Founded: July 2, 1981
Founders: N. R. Narayana Murthy, Nandan Nilekani, S. D. Shibulal, Kris Gopalakrishnan, Ashok Arora
Headquarters: Bengaluru, India
Area served: Worldwide
Current CEO: Salil Parekh
Number of employees: Over 343,234
Major products: Business consulting, information technology, outsourcing services
Product in the Marketing Mix Of Infosys :
Infosys is a major powerhouse that offers business solutions in IT sector. It is a pioneer in software services and offshore outsourcing. The company provides help in the development of new products and services and in the implementation of technology and business strategies in the digital environment. Infosys serves several industries like
Automotive
Transportation Services
Retail
Resources
Entertainment and Media
Life Sciences
Insurance
Leisure and Hospitality
High Technology
Healthcare
Energy
Discrete Manufacturing
Consumer-Packaged-Goods
Communication Services
Capital Markets and Banking Sector
Defence and Aerospace
Infosys offers several services to above mentioned industries like –
Systems Integration
Product Engineering
Packages-Application Services
Infrastructure Services
Enterprise-Quality Services
Corporate Performance-Management
Maintenance and Application Development

Place in the Marketing Mix Of Infosys :
Infosys is one of the largest IT companies in India with its headquarters base at Bengaluru in Karnataka.  By mid-January year, 2016; Infosys was catering to the demands of nearly 1,045 clients spread over fifty countries of the world. In the year 1987, the company opened its first overseas office in the United States and in the year 1996, it set up its first European at Milton Keynes in the United Kingdom. In the year 1999, Infosys opened several offices in places like Australia, Belgium, Sweden, Japan, China and Germany.  It has a wide-spread global footprint that includes services through development centres and sales and marketing offices.
Price in the Marketing Mix Of Infosys :
Infosys occupies the third position in India in terms of revenues in IT sector. By the end of the financial year 2015-16 its revenues were estimated at 9.501 billion dollars. The company has adopted a fair pricing strategy so that clients find its rates reasonably priced. As Infosys is an Indian based company it has a competitive advantage. Indian economy has comparatively low labour costs with high skill levels. Infosys was always interested in expanding its business far and wide and hence has adopted a penetration pricing so that its products and services reach a wider margin. The company has to face regular competition from its rival companies and hence has maintained lower rates than its competitors for various services and products. It offers quality products and high-class services at realistic rates.
Promotions in the Marketing Mix Of Infosys :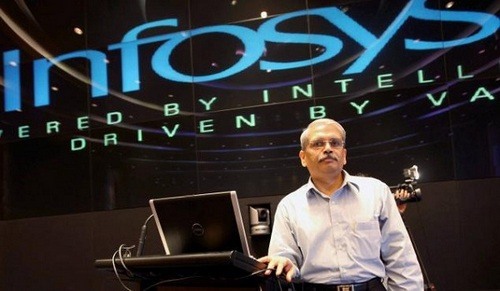 Infosys is the most trusted and popular brands in India and has an impressive marketing campaign for services and products which are advertised in electronic and print media. The company also has a website that offers relevant details and information to interested parties. Infosys is included in top twenty green-companies. In the year 1996, it started Infosys Foundation for supporting underprivileged people in areas relating to rural development, culture, education and healthcare. One of its entities Academic Entente explores opportunities between academia and Infosys via student trips, case studies and speaking engagements. For research and innovation, the company has Infosys Labs that collaborates with international and domestic universities.
An annual award titled Infosys Prize is awarded to social scientists, engineers, researchers and scientists from India and it includes 65 lakh rupees, a citation certificate and a gold medallion. It is one of the most admired global companies because of its employee friendly policies. Infosys was the recipient of National Award for Excellence in Corporate Governance in the year 2000 and in the year 2001 was awarded Best Employer of India. In the year 2002, it was awarded India's Most Respected Company.
Liked this post? Check out the complete series on Marketing Mix