Prospective customers are influenced in their buying decision by solid endorsements from friends and family and reading reviews. It establishes credibility and trust and overcomes the fear of taking a wrong decision.
Nobody considers making a purchase without the assurance that some other people have already purchased and liked it. Customer testimonial page is one of the most powerful pages on any website as it has the ability to make or break a company.
It is considered a strong tool and has become important as it is social proof of product quality and has the ability to persuade visitors to become customers. You can easily get customer testimonials by asking about them from satisfied clients. Recommendation via customer testimonials has a direct impact on the mindset of an individual and can help him to make up the mind to buy that product.
1) Ask your customers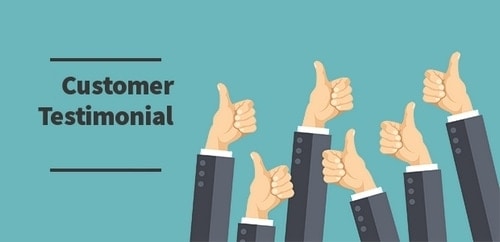 The best way to get customer testimonial is simply asking for one. You might feel awkward but do not hesitate. The best time for it is when the client is already made a purchase and is praising it. You can then ask his permission for using the feedback for a testimonial or can encourage him to write a few words.
You can check in with the clients after some time and ask whether the product is working excellently and you can then ask the satisfied customer for a testimonial. At this point, he can offer concrete specifics and update the original one. The customers are aware of the importance of a review as they themselves have searched for one and hence will not hesitate to offer one.
2) Make it easy to leave reviews
A customer is not going to search for ways and means to leave a review on your portal until and unless he had a very bad experience and want to share the negative aspects with everyone. Do not worry as these types of customers are far and few only.
You need to ask an average client for review and make it easy for him to write testimonials. The best way of doing it is by placing direct links in review profiles in places like newsletter and follow-up emails. One way to get customer testimonial is by making it possible via the contact form or by adding a separate page to it. A customer will not hesitate to write 3-4 extra sentences if you ask him to do it.
3) Create incentives
Human beings have a tendency to go for incentives and offering it to show gratitude is one way to bring the customer in your fold. Do not offer an incentive for writing a good review instead give him for writing a review that is honest.
Both you and your client's time are valuable so make sure that both of you are getting something out of it. You can choose a random customer from the review section and offer an incentive as this will make others sit up and notice.
From then onwards, people will become more active on the testimonial page. You can offer coupon codes, gift cards, cash prize and discounts to show your appreciation and to get customer testimonial.
4) Ask at the right moment
It is important to approach the customer at the right moment to get a customer testimonial. Do not push a client repeatedly for a review as he may leave a negative one after becoming frustrated. You need an optimal result so ask when he is in a good mood, for instance, they have recommended a product to a friend and you have come to know about it from the client.
Then you can ask both the current and previous one to share their reviews as it will create a bigger impact. When a previous customer has tagged on social media if he is browsing your website for other products of the same brand and if he has recently purchased from you are the best times to ask for testimonials.
5) Send a follow-up email
Text message and follow-up emails are a sure way to get customer testimonial. It will prompt the buyer to post a review. It is better if you give the client at least a month or two to use the product and then send a follow-up message or email.
Be polite and do not ask repeatedly as it can have serious repercussions. By this time the customer will become adjusted to the product and will be happy to share his choice with others.
6) Ask the right questions
In today's competitive world every brand and product needs approval in the form of feedback, reviews, and testimonials. One of the ways to get customer testimonial is by encouraging his participation. The first question you can ask is whether he will recommend the product to others.
The answer is generally yes because he has also made a purchase on the recommendation of someone else. Follow it with simple questions like what do you like most about it. Encourage him to post feedback on the company website so as to garner more visitors.
7) Asking for a testimonial out of the blue
Reach out to customers who have already made a purchase a long time back and have posted and shared their reviews. You can out of the blue contact them again and ask for a testimonial to show that they are still satisfied with their choice.
This is one sure way to get customer testimonial once again as people do not mind helping others if they are pleased with their product. You can mention that it is a random effort and means a lot to you if they could share their experience with a few words. Your words of gratitude will prompt a reply and a testimonial surely.
8) Make review a part of your workings
One important way to get customer testimonial is to make your employees aware of its importance to the company. Schedule regular meetings and emphasize on getting a review with every sales and service. Soliciting reviews at the moment when a purchase is made is quite easy just go for it. Start an incentive program to encourage employees to get a maximum number of reviews. When review becomes a part of work culture it is easy to procure one.
9) Share positive reviews you have already received
Satisfied customers do not hesitate to give you positive feedback. It can be verbally or via forms or emails. Make sure you start sharing them on your website and highlighting the best ones for the knowledge of visitors on your sites.
This will inspire others to share the experience. You can simply ask a client via a chat on the website whether you can write what she said about the product over here and mention the positive comment. This will prompt the client to reach out and share your views. Post positive reviews periodically to keep your website updated and upbeat.
10) Respond to every review even negative ones
Responding to a review whether positive or negative creates a favorable impression of the company in the mindset of the customer. Sometimes an unhappy customer can leave scathing comments on your website, make sure to know about his difficulty and try to offer a solution. Respond thoughtfully and take time to come to a resolution. This will work in your favor.
Your compassionate reply will urge customers who are going through the review to make a purchase as 'to err is human' and nobody can discount that mistake happen. Sometimes responding positively to the negative review makes the customer testimonials more realistic and strikes a positive chord in others.
You should also support positive reviews by thanking them and with incentives, good and encouraging words, discount coupons and gift vouchers.
If you liked this article, we bet that you will love the Marketing91 Academy, which provides you free access to 10+ marketing courses and 100s of Case studies.