Customer development is a framework businesses use for deciding whether a product can fulfill the specific needs of the target customers. It is a component of the lean startup concept that comprises business model design, agile engineering, and customer development.
Customer development is used to understand the problem and determine whether or not a solution would fulfill customers' needs. CustDev or Customer Development can also be understood as a process of defining your target customer and validating your solution hypotheses within it. It helps in checking the feasibility of a minimum viable product.
What is Customer Development?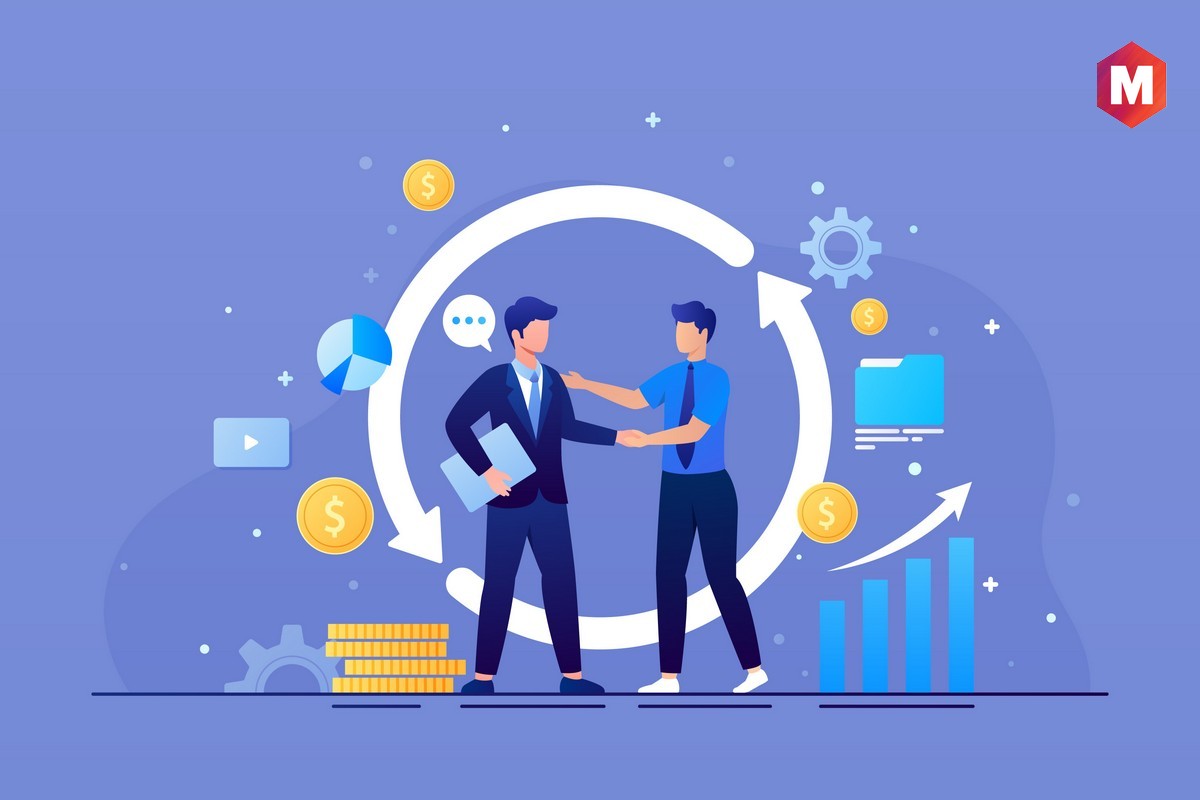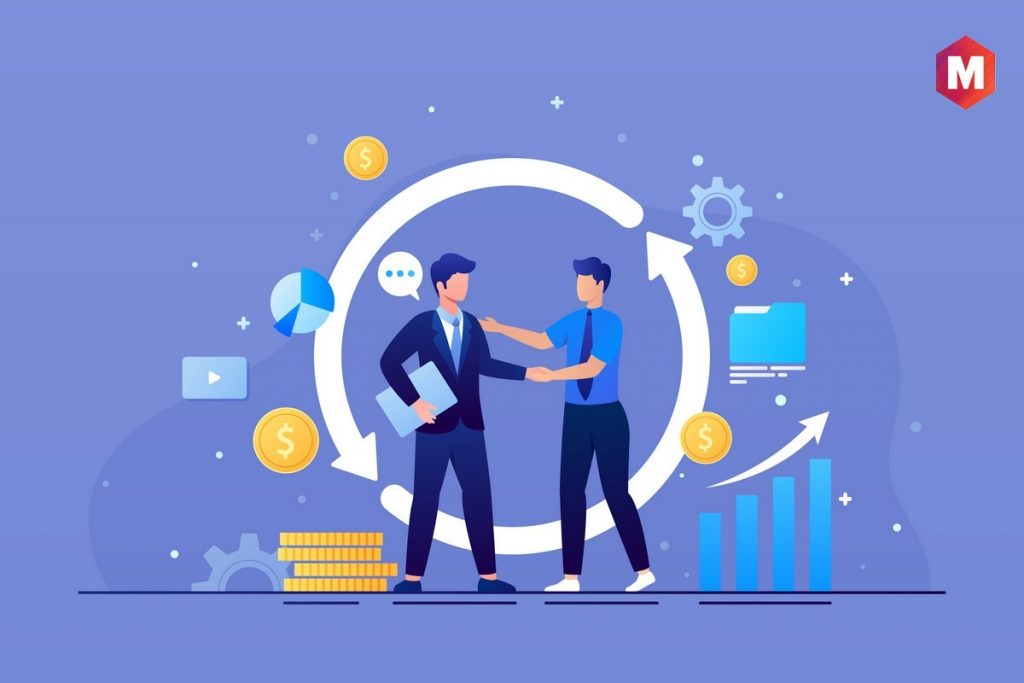 Customer development is a four-step framework of asking potential customers open-ended questions that help product development teams to understand whether a product solves a problem it is trying to solve and fulfills customers' needs to ultimately get customer validation. An example of customer development is to use surveys, interviews, and focus groups to determine if a product concept resonates with potential buyers.
It is a process or framework that tells the development teams that they have identified the needs of their ideal leads, made the right product to fulfill needs, tested the best methods to acquire and convert leads, and utilized the accurate resources available in the organization for meeting the product demand in the market.
It is a process or framework that tells whether a product solves a problem it is trying to solve and fulfills the needs of actual customers to ultimately get customer validation. In other words, the customer development concept revolves around steps that prove that your product or service would solve a specific problem for a particular audience group.
It involves a business assessing the available opportunity and validating that the solution will be feasible enough to satisfy the demands of its customers. The customer development strategies provide a final product that not only solves a real-world problem for the consumer but also stays viable to produce and scale, plus best suits the price point for all the stakeholders. In lean startup methodology, customer development is typically the middle step preceded by Business Model Design and followed by the Agile Engineering process.
Origin of Customer Development Concepts
The customer development methodology came to the fore in the 1990s with a focus on comprehending a business problem and determining whether the product of a company would satisfy the customers' needs or not. Customer development is a startup framework designed by the entrepreneur Steve Blank that comes after the Business Model Design process and before the process of Agile Engineering.
Companies are in a better position to satisfy their customers' needs once they adopt this methodology. As a result, they can quickly draw up many different solutions to their problems. Companies are supposed to form assumptions for the various hypotheses and then look for ways to validate those proposed assumptions. With this framework, companies will be able to roll out their final product that would solve their customers' problems.
In their book, The Startup Owner's Manual, Steven Blank, and Bob Dorf share a customer development manifesto-
There are no facts inside your building, so go outside
Pair customer development with agile development
Failure is an integral part of the search
Make continuous iterations and pivots
No business plan survives first contact with customers, so use a business model canvas
Design experiments and tests to validate your hypothesis
Agree on market type; it changes everything
Startup metrics differ from those in existing companies
Ensure fast decision-making, cycle time, speed, and tempo
Startup job titles are very different from a large company's
Preserve all cash until needed; then spend
Communicate and share learning
Customer development success begins with buy-in
It's all about passion
4 Step Framework of Lean Customer Development Method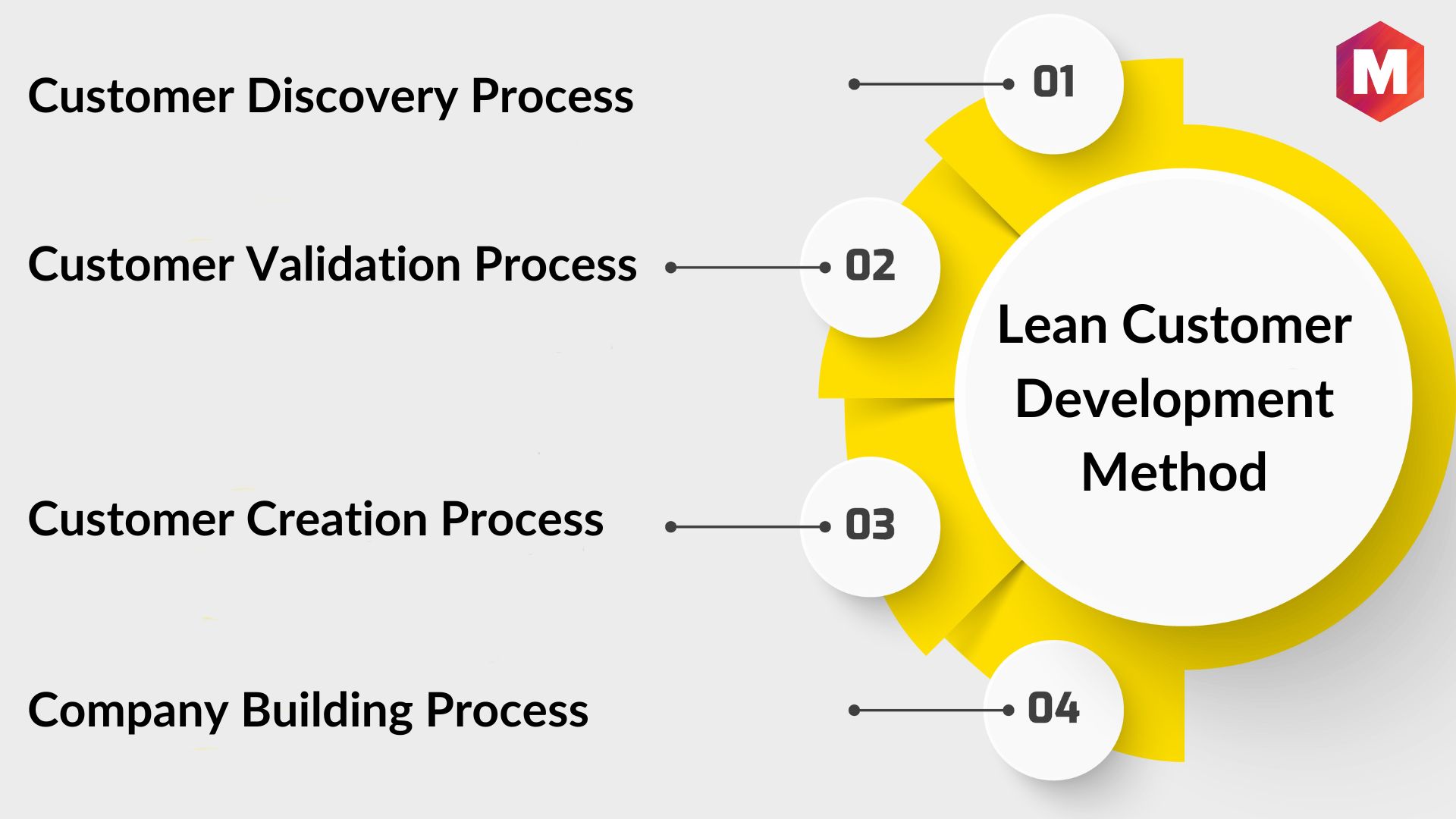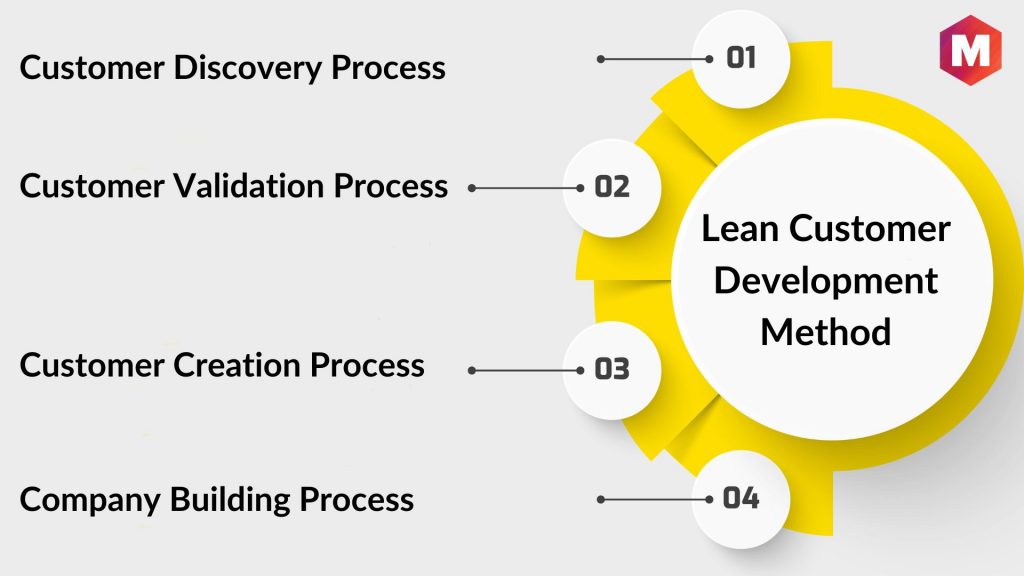 Customer development revolves around different steps involved in identifying potential customers and figuring out befitting ways to fulfill their needs. Along with spending money on the product or service, it is inevitable for different business models to know the needs of their target customers.
It helps in this by using customer interviews and asking potential customers open-ended questions. Then, accordingly, it gives them hypothetical solutions for evaluating the right product development process.
Established companies to startups to new businesses use it for discovery, customer input, information gathering, confirmation of assumptions, etc.
Some of the key steps involved in it are-
1. Customer Discovery Process
In this phase, a business designs its strategy to test and understand two hypotheses proposed earlier. It is involved considering the founder's vision and creating a business model accordingly.
One of them is the 'problem hypothesis' which tries to identify and interpret its customers' pain points. The other one is the 'product hypothesis' which deals with the solutions it needs to clear up those significant pain points.
To get feedback, the business needs to get in the field and talk to its customers. This is where the importance of listening is most realized.
To know whether its product generates value, it needs to listen to its customers' opinions, needs, and pain points about the already existing product.
2. Customer Validation Process
Customer validation is one of the most significant phases in customer development. This is where a business needs to be ready to make the sales. What is required of it is a sales process that is feasible and scalable.
In other words, this is the testing stage for evaluating the viability of the product with real end-users. If the product does not invoke enough customer interest, the business must go back to the first step to ensure that those significant pain points are being solved.
3. Customer Creation Process
This is the phase where the execution or implementation of the project truly begins. When a business reaches this stage, it means that it has successfully triggered the market demand for its product.
It is effective in building a demand for the product in the marketplace.
Its chief goal must be to find out ways to raise that demand and ensure scalability, profit, and business growth. The only way to succeed is to show consistency, listen to customer feedback, look out for the trends in the industry, and adapt to the changing times.
4. Company Building Process
Company building is the last phase in the entire process which involves a shift in the mindset of the business. It is all about building the company into a well-functioning unit.
To make this transition happen, a business needs to define specific roles, introduce more departments within the organization, and hire more staff.
It is used for creating the right conditions in the organization for letting the product model be a success.
Importance of Customer Development
The importance of customer development is better if realized early on in the journey of a startup. It helps save the business from wasting its resources, time, and funds on products whose chances of becoming a hit in the market are minuscule.
It provides a clear judgment on whether the company's product is satisfying the needs of its customers or not. This helps a lot in the process of decision-making where the company needs to make upfront investment decisions.
It allows companies to test the waters to find out the feasibility of their products. This provides them with reliable data and information using which they can make essential decisions objectively.
It is a relatively cost-effective way of testing the viability of the product and allows a business to preserve money by removing the need for a fundraiser. This means that the time before a company loses all its money expands. It helps in giving the impression to the investors that the business has done proper research. As a result, the business will be able to get more investments.
When to use Customer Development?
It is suggested to start it as early as possible because it will help the business in saving money in the long run.
However, it would be better to start it when a business is in a pre-product market- which is when- you have a great product idea, or you are building your product or you have finished your product but you have not gone into the market yet.
You may also incorporate customer development after you've released the product, but then you will only be able to reach out to a small customer base. In such cases, customer development will start with customer discovery and then validation of their prospects would take place.
Challenges of Customer Development
Customer development does not come without disadvantages. One of the essential factors it impacts is time. The product development process, as well as the marketing process, get deferred.
It becomes difficult to maintain secrecy as a business that converses with loads of people regularly may not be able to hide what it is up to. Challenges occur when a business goes about thinking that it knows almost everything. This is the wrong strategy to follow.
A business may be tempted to think that it is all over with the customer development principles. But the truth is that it is a repetitive process, and a business can't function well without performing it.
Nothing is fixed, and uncertainty is the so-called enemy of growth. To ensure that uncertainty does not affect the business, a company needs to use the customer development framework constantly.
Teams Involved in Customer Development
It involves the contribution of sales, engineering, marketing, and product management teams. However, a business should put its marketing and product management teams in the forefront as their expertise is what is required the most.
Marketing and product management teams excel at conversing with customers. They know how to listen to their needs and create market demand around them.
Executives and founders also have a small yet vital role to play in this. Whether the product will be a hit or a failure depends entirely on their decision and judgments. The teams must disclose their findings even if they are in contrast to the founders' hypotheses. Not doing so can have severe implications.
However, the more obvious team involved in this process is that of the customers.
The data or information on which the entire process is based can be extracted only by getting in touch with potential customers. Interviews, conversations, and surveys are all essential tools. They must be leveraged to find out the needs and concerns of the customers.
Great Customer Development Examples
Groove is an online help desk software for enterprises and small businesses. The company was being able to earn customers but it was not able to hold on to them.
The Groove CEO then realized that the company's churn rate was hanging out around 3% which was hampering the company in meeting its goals. But the main problem was that no one in the company was aware of the reason behind such a high churn rate.
In such a situation, the customer development model helped the brand.
Let us have a look at the customer developments of Groove-
In the customer discovery, the company started by talking to the target customers. Their biggest priorities since then have been to know more about their target customers.
Then in customer validation, their teams tried to get in touch with their customers via email campaign to have one-on-one conversations to get real feedback regarding the model, product, service, or business of The Groove.
Customer creation strategies helped Groove in growing its customer base from 2,000 customers to 5,000 paying customers in around 12 months.
Finally, in the customer-building step, Groove became able to drive new customers and handle existing customers efficiently to slow down their churn rate. They understood the importance of hiring the right employees and retaining them.
Outcomes that Groove CEO got via this process were-
They started using blogs to drive a real online community around their brand
Blogging also helped them in driving organic SEO
They found out that they should build a better solution for driving and processing referrals
They understood that they need to find ways to better integrate with future partners
They identified that they should drive product development within realistic timelines
They also analyzed that they would need to find a better way to convert more leads and nurture them
Conclusion!
Customer development is the process or framework that companies can adopt to find out about the feasibility of their products or services for scalable business models. It ensures that the products target the actual problems of the customers.
Its four phases- customer discovery, customer validation, customer creation, and company building help in developing a firm judgment about the company's product. By listening to its customers, a company can get the data and information to draw the solutions for solving their pain points.
So, with the help of the customer development process, a business model will be able to draft a strategy to test its hypotheses as well as assumptions to optimize the lead generation and conversion of a product or service.
How effective do you find the customer development process for a business? Share your opinion with us in the comment section below.
Liked this post? Check out the complete series on Customer Management