Companies often use customer profitability to figure out the net benefit they receive from their customers. This can involve anything from advertising and product expenses to costs linked with securing and maintaining customers. In short, it's a powerful tool for gaining insight into how much value each customer is providing your company!
For example, say you sell shoes, for instance. Customer profitability analysis allows you to figure out how much money is being invested in acquiring and keeping each customer. You can calculate the average value of all purchases made within a certain time frame like one month or one year by an individual customer – this helps determine just how profitable they are in your business! This way, you'll know if customers are consistently providing profits or not.
What is Customer Profitability?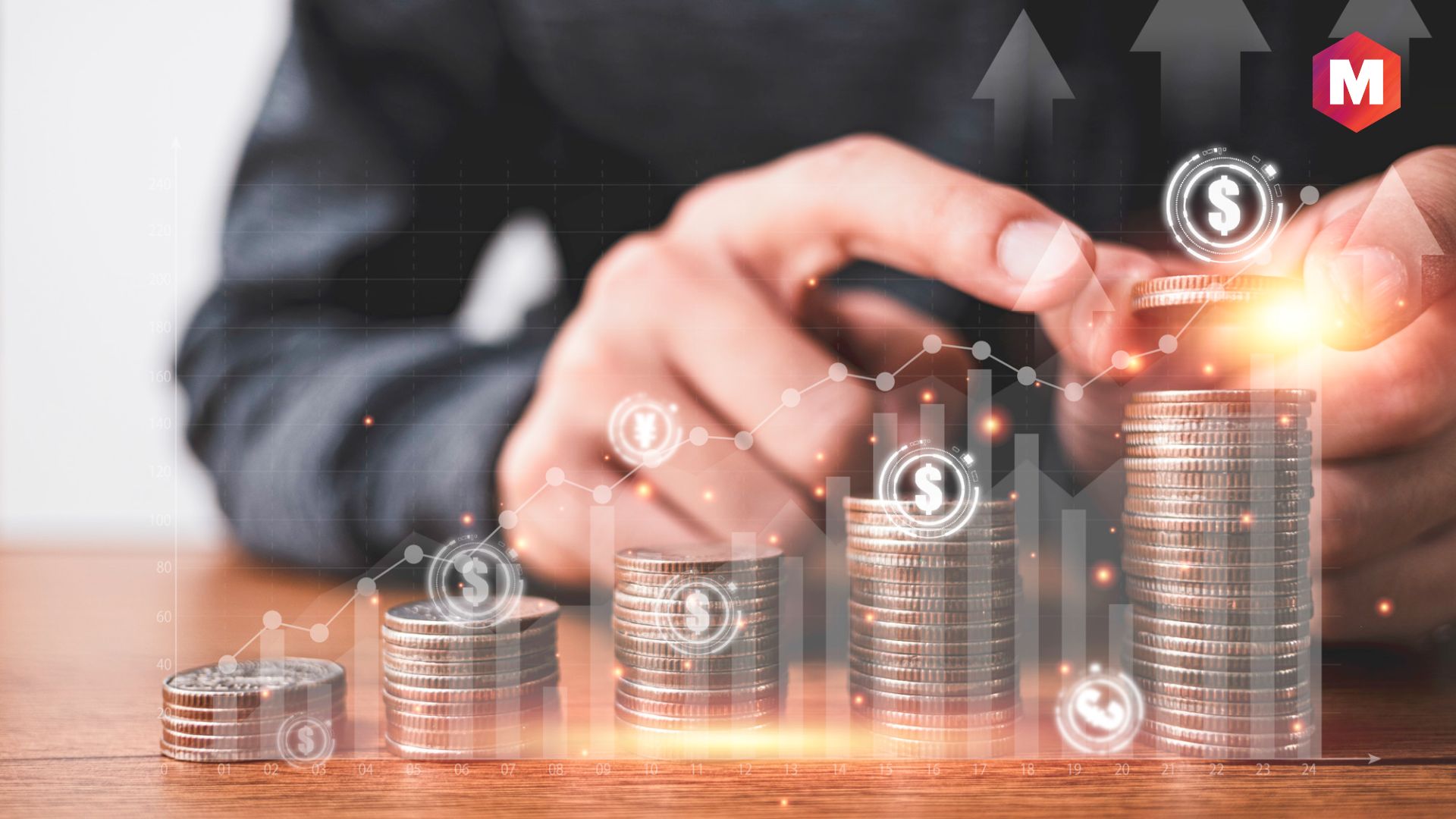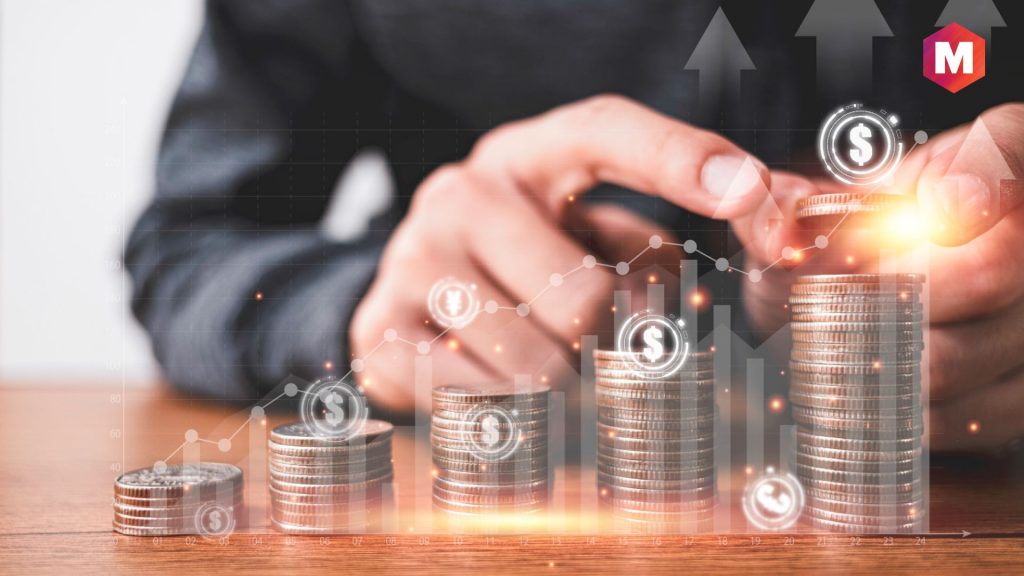 Customer profitability is a great indication of how rewarding or profitable your relationship with that particular customer is. Analyzing customer profitability would help you determine the long-term relationship value of a customer, and if they are worth investing in.
Customer profitability helps businesses make decisions about how much to invest in marketing, product development, and customer service activities related to any given customer. It's also a great way to evaluate the customer lifetime value and see which customers are more profitable.
Calculating customer profitability is straightforward; one must merely subtract all the associated costs, including marketing and overhead expenses, from the total revenue garnered by that particular customer.
Customer Profitability Analysis Definition
Calculating Customer Profitability (CPA) is an invaluable accounting technique that helps businesses identify profitable customers who provide a positive return on investment. A successful customer, in this case, refers to one whose revenue surpasses the cost of procurement, sales, and maintenance combined.
Companies can calculate CPA for individual clients or all their customer bases collectively – it's up to them! It helps in measuring the profit that each or the average customer generates for the company.
Purpose of Measuring Customer Profitability
Achieving customer profitability is indispensable for any business to make informed decisions across all departments. With every decision made, the relationship between the customer and the business alters in terms of value.
According to the latest McKinsey research, enhancing the customer experience can boost sales revenues by 2-7%, and profitability by an impressive 1-2%.
Once we determine our customers' profitability, we can identify who they are as well as how to gain profit from them. By utilizing customer feedback, businesses can gain invaluable insights that enable them to prioritize what matters most – the customer.
All in all, why customer profitability matters can be understood in the following key points –
With this, businesses can quickly identify which customers are the most valuable and develop specific marketing tactics to reach them.
Knowing which customers are profitable helps to prioritize resource utilization and customer retention.
Steps in Customer Profitability Analysis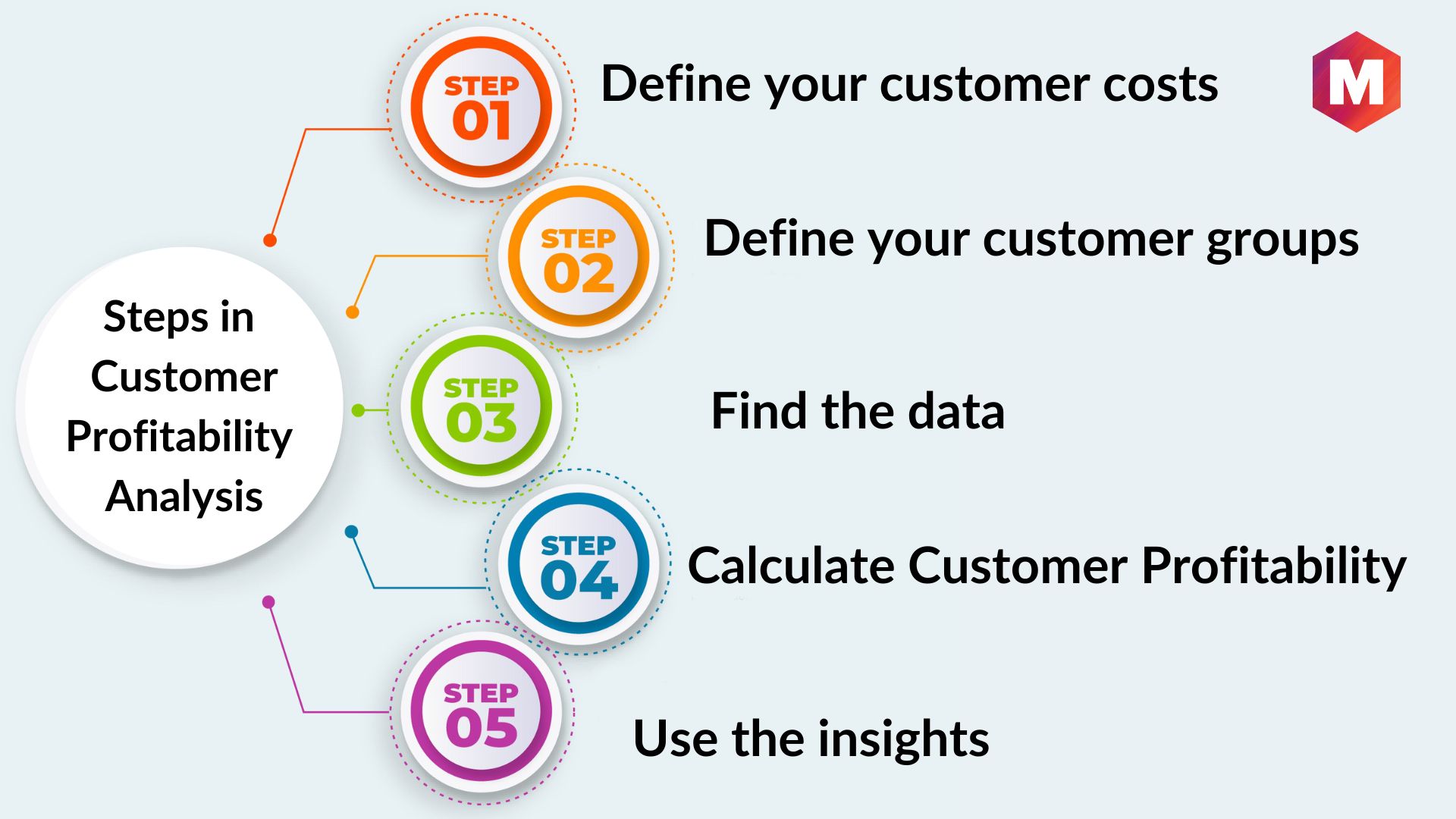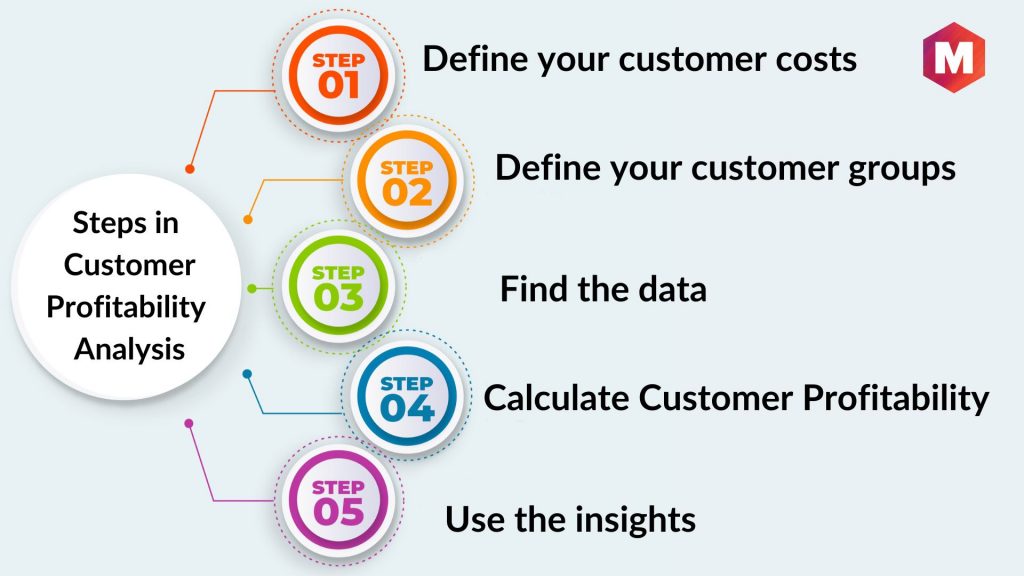 Step 1 – Define your customer costs
Knowing the profitability of your customers is paramount, but you won't be able to get that far without first calculating their associated costs. These expenses include marketing and advertising budgets in addition to customer service fees; not forgetting about indirect outlays such as lost opportunities or personnel's time spent maintaining relationships with clients.
Step 2 – Define your customer groups
Moving forward, you need to explore customer profitability segmentation. Many companies have precise segments based on the size of their business or the various departments they purchase from.
Through an RFM Analysis, you can separate customers into distinct categories. This Recency, Frequency, and Monetary Analysis is a precise approach to analyzing customer profitability. It takes time to complete but provides invaluable insights for your business.
RFM Analysis offers an insightful way to organize customers into groups based on three factors: When they purchased your product
The frequency of their purchases
The amount spent
Utilizing this tool helps you gain insight into consumer behavior, as well as recognize patterns in customer engagement.
Step 3 – Find the data
Now that you've identified your customer segments, it's time to start collecting data. Customer profitability analysis relies on the accurate collection of information including sales data, cost of goods sold, customer lifetime value, and other important metrics.
Although it's improbable that you'll acquire every piece of data connected to each customer, expenses such as customer service charges are usually combined into one expense line on the Selling, General & Administrative Expense (aka SG&A) statement.
Understanding marketing spend and cost per transaction can provide valuable insights; if you analyze these metrics by specific customer groups and marketing channels, there could be many hidden opportunities. You can find out a series of average costs per activity like –
Average customer service contact per order
Marketing cost to generate an order (cost per order)
Average cost per customer service contact
Average shipping cost
Average return rate, etc
Step 4 – Calculate Customer Profitability
By unifying the customer-level data and analyzing it thoroughly, you can begin to identify those customers who are profitable.
Customer lifetime value is an invaluable metric that considers the entire spectrum of customer-related costs, including onboarding and service charges, as well as acquisition costs.
Step 5 – Use the insights
Delving deeper into your customers' data with customer profitability analysis can unlock valuable insights, empowering you to make more informed decisions and optimize the costs associated with each customer.
Utilizing better insights on customer acquisition and retention costs allows you to maximize your marketing tactics by targeting more lucrative customer group or investing in specific platforms that generate higher profits.
Not only does it help you make smarter choices about which customers to focus on, but also helps determine how much should be allocated to each customer.
Customer Profitability Formula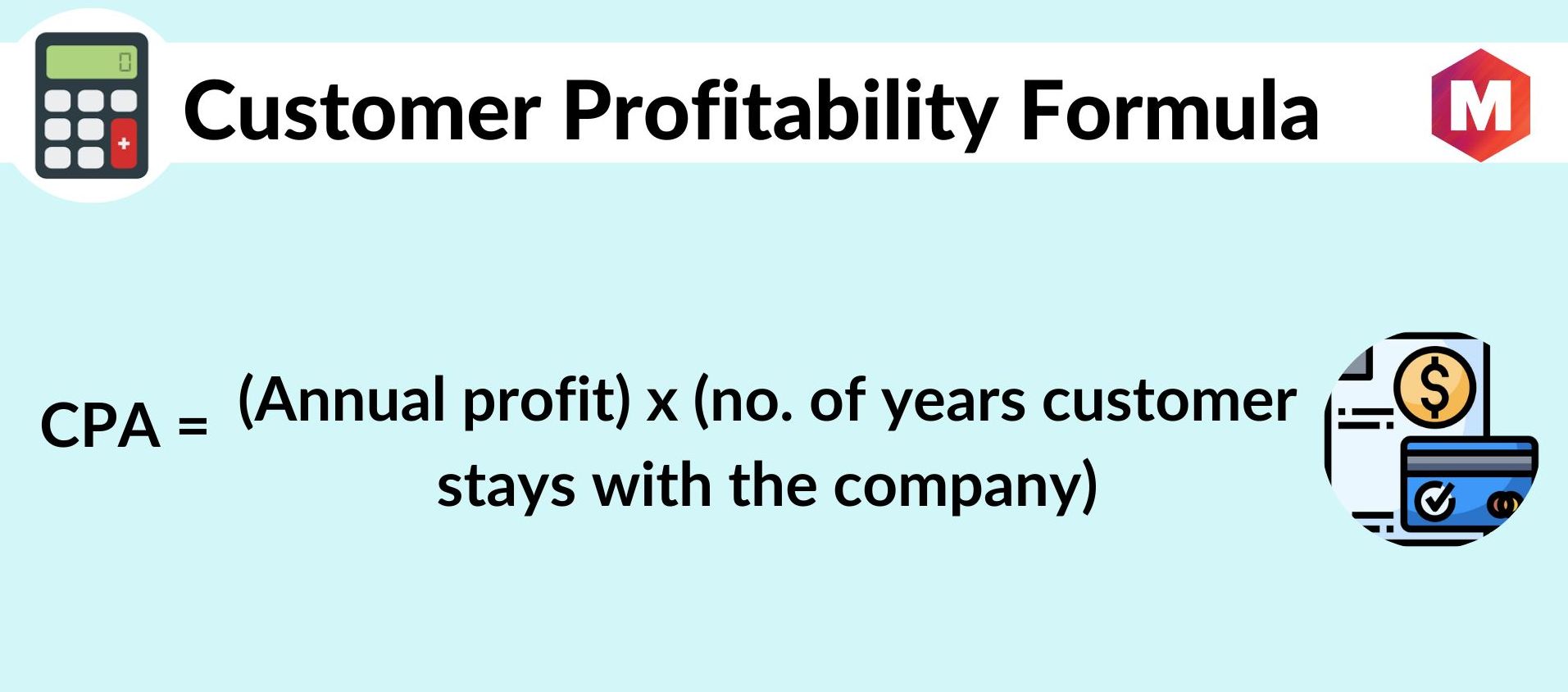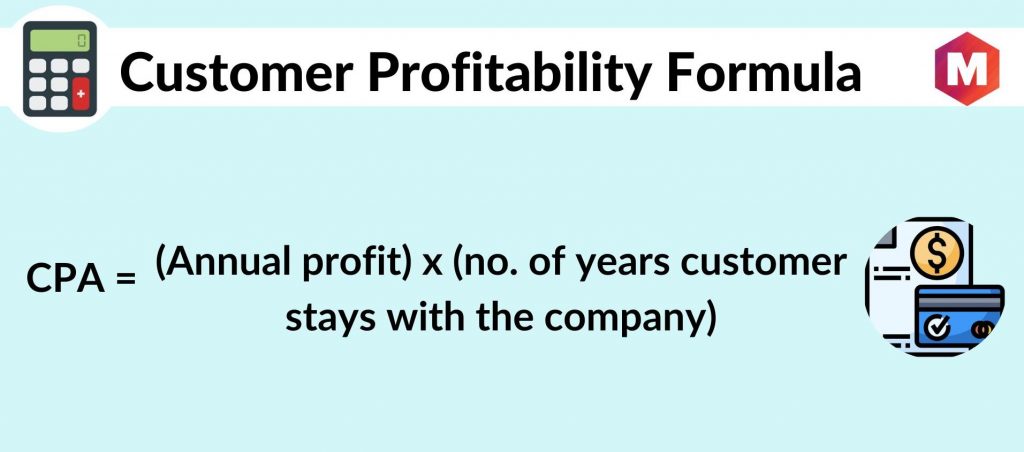 CPA can be determined by calculating the annual profit from each customer, as well as their total duration of patronage with your business.
Annual profit = (Total revenue generated by the customer in a year) – (Total expenses incurred to serve the customer in a year)
Your business can benefit from an array of revenue streams, such as –
Recurring income
Upgrades to better plans
Cross-purchasing complimentary products
Incorporating these avenues into your strategy is certain to provide you with a substantial total return. Furthermore, you need to take into account expenses that may arise from a variety of sources such as the cost of customer service, operational costs, loyalty perks, maintaining a customer success team, etc.
Ultimately, when you have the yearly profits at hand, calculating customer profitability can be done with this equation –
CPA = (Annual profit) x (no. of years customer stays with the company)
How to Improve Customer Profitability
Knowing what contributes to the cost of every customer will help you enhance customer profitability. Analyzing the expense associated with obtaining, keeping, and serving customers can aid in determining which areas should be changed for maximum efficiency.
Understanding which customer segments have the greatest revenue potential can help you prioritize your efforts and maximize profits. If you want to maximize profits and create a more successful business, hone in on your most lucrative customer base – improving their experience will result in greater success.
To uncover the proportion of customers that your organization consists of and to maximize its potential, you must assess the resources required, financial investments, and prerequisites necessary to optimize this demographic's growth. Through this assessment, you can discover if additional investments are necessary to maximize sales.
Despite identifying the most profitable customer segment, you shouldn't neglect other customer groups altogether. Undoubtedly there are methods to help enhance the performance of less profitable segments, like those seen in the above example.
In a nutshell, Customer Profitability is the process of examining your customer base and optimizing them to maximize their financial gains. Through effective customer segmentation and analysis, you can discover which areas of your business need to be improved to generate more profit.
Benefits of Customer Profitability Analysis
1. Uncover Customer Segmentation and Targeting
Through a customer profitability analysis, companies can unlock the secrets for targeting their most profitable existing customers and gain invaluable insight into how those individuals interact with your business.
2. Increase Customer Retention
Knowing which customers are most profitable allows business owners to concentrate on maintaining those relationships and guaranteeing their loyalty. By learning the value of each customer, companies can provide incentives that will keep them coming back for more.
3. Improved Customer Service
Companies can leverage customer profitability analysis to better serve their customers and determine which ones are the most valuable. By understanding who is more profitable, corporations can offer personalized services as well as exclusive promotions for these clients.
4. Optimized Pricing Strategies
Comprehending customer profitability can be a game-changer for organizations, allowing them to adjust their pricing strategies with ease and identify customers who are willing to pay more. Customer profitability analysis is the key; it enables businesses to recognize price-sensitive consumers while preserving loyalty at the same time.
5. Increased Margins
By utilizing customer profitability analysis, any organization can boost its margins by offering improved deals to customers who are profitable. This type of analysis aids companies in taking measured risks and creating a more targeted strategy for long-term success.
Customer Profitability Analysis Example
An e-commerce apparel store is an ideal case study to examine a customer profitability analysis. By analyzing data such as purchases, returned items, and shipping costs associated with each customer, the true value of that client can be precisely determined.
In-depth analysis can unlock the secrets to customer loyalty and purchase frequency that will enable businesses to generate a comprehensive list of their most profitable customers. With this knowledge, companies have a better opportunity to devise effective strategies that promote sales growth and strengthen customer retention.
Mistakes made while performing Customer Profitability Analysis
1. Failing to recognize that each product is distinct
When performing a profitability analysis, it is essential to remember that each product has its unique characteristics. Oversights such as not considering the distinctiveness of individual products can lead to incorrect impacts on your results.
2. Overlooking the complete financial costs
When it comes to measuring profitability, we must never forget the hidden costs associated with doing business. It may be easy to overlook these expenses that can otherwise diminish our profits if not tracked properly.
3. Ignoring Customer Behaviour
It is invaluable to remember that customers are ever-evolving and never static. Therefore, CPA must always be a dynamic process requiring consistent attention and resources in monitoring customer behavior for any potential changes.
Conclusion!
We hope that you have now comprehended what is customer profitability and why it is beneficial to businesses. Key details about it can be summarized in the following points
Customers generate profits when the revenue they generate is greater than the cost of acquiring and maintaining them.
By determining how much money a business earns from its customers, we can measure the company's profitability.
By utilizing this service, businesses can pinpoint their most successful customers and customize their offerings to suit them.
To determine success, one must assess customer lifetime value, the cost to serve, sales volume, and average purchase size.
With CPA, you can easily distinguish between customer types, craft personalized campaigns for each segment, foster meaningful connections with your customers, and reward those who remain loyal
Liked this post? Check out the complete series on Customer Management