Knowing your Customer Lifetime Value (CLV) is decisive when it comes to determining the well-being of your business. CLV gauges how much a customer may spend over their lifetime, allowing you to make informed decisions that will help grow your company and drive profits.
For example, consider a jewelry store. Let's assume that Customer A invests $500 in the store every month over their lifetime — this computes to $6,000 of Customer Lifetime Value (CLV). By leveraging this data, the store owner can get a better understanding of Customer A's spending patterns, uncover new marketing opportunities, and create more personalized campaigns.
What is Customer Lifetime Value (CLV)?
Customer Lifetime Value is a customer's estimated monetary worth to your business throughout the duration of their relationship. This figure encompasses all anticipated earnings from any purchases your customers will make on products associated with you or directly through your company.
Understanding this figure is essential for making informed decisions about how much capital to allocate for acquiring new customers and retaining current ones. Customer lifetime value provides you with invaluable insight into the loyalty of your current customers.
If they keep coming back for more, it is likely a clear indication that you're doing something right in your business! Additionally, the higher your customer lifetime value is, the less money you will need to invest in acquiring new customers i.e. customer acquisition costs.
Why Is Customer Lifetime Value Important to Businesses?
1) Increasing CLV can be a lucrative long-term strategy to boost revenue
As customer lifecycles lengthen and the value of customers increases, businesses will begin to see a substantial rise in revenue. As a result, monitoring and enhancing CLV yields greater revenue. Know your most profitable customers with CLV! This powerful tool allows you to easily identify which customers are driving the highest revenues for your company.
2) Leverage it to uncover issues and amplify customer loyalty and retention
Making customer lifetime value (CLV) a priority should be of the utmost importance in your business to identify any potential problems immediately and devise plans for their resolution. For instance, if you detect that your CLV is persistently low, you can refine your customer service system or loyalty plan to better accommodate buyers' desires.
3) It helps you connect with the customers who best match your product or service
Once you are aware of the lifetime value of a customer, it will let you in on the amount they spend with your company over some period. Leveraging this expertise, you can curate an irresistible customer acquisition plan that seeks out the customers who are most likely to invest heavily in your business.
4) Increased CLV reduces Customer Acquisition Costs
Obtaining new customers can be expensive and time-consuming. According to an article from The European Business Review, it is significantly more expensive (up to five times!) for businesses to acquire new customers than retain existing ones. It is paramount for a business to recognize and cultivate the relationships of its most loyal patrons. Doing so will ensure that your company continues to prosper in the long term.
How to Measure Customer Lifetime Value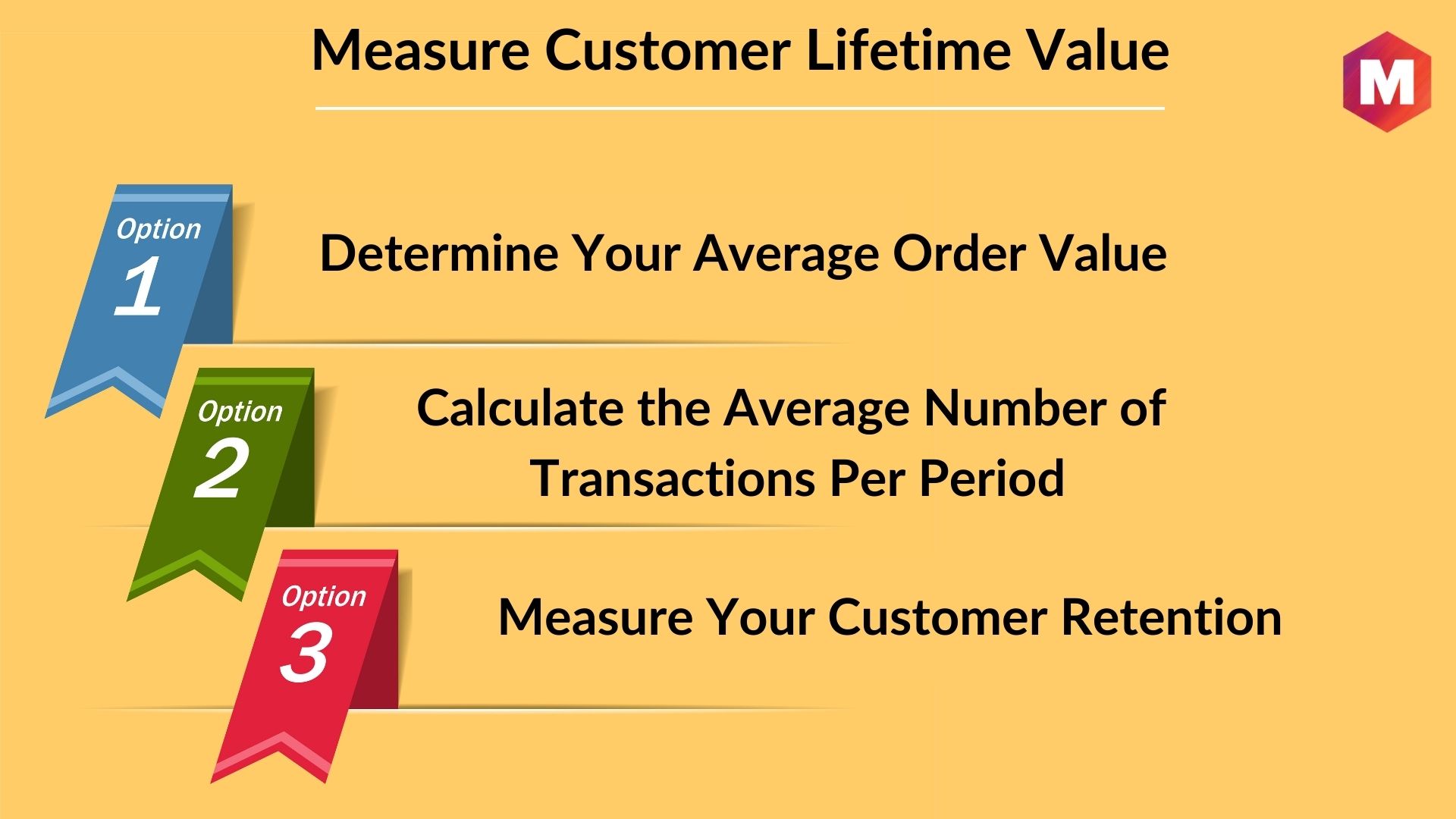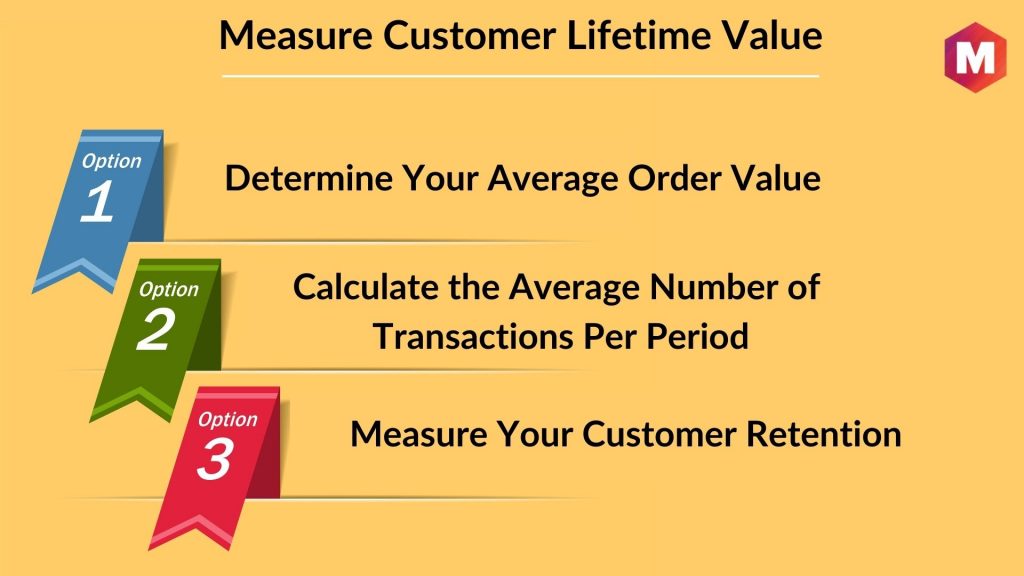 1) Determine Your Average Order Value
To begin, determine the worth of each sale. If you're not able to access information from a year-long period, consider looking at data for one or three months as an approximation.
2) Calculate the Average Number of Transactions Per Period
Just how often are customers visiting your business? Is it a daily occurrence, or at less frequent intervals? The frequency of visits is essential in determining customer lifetime value.
3) Measure Your Customer Retention
Eventually, you ought to determine the time frame patrons stick around with your brand. There are certain companies like technology and car brands that can inspire lifetime devotion from their customers; whereas others such as gas stations or retail chains may have less loyalty towards them.
Calculate Customer Lifetime Value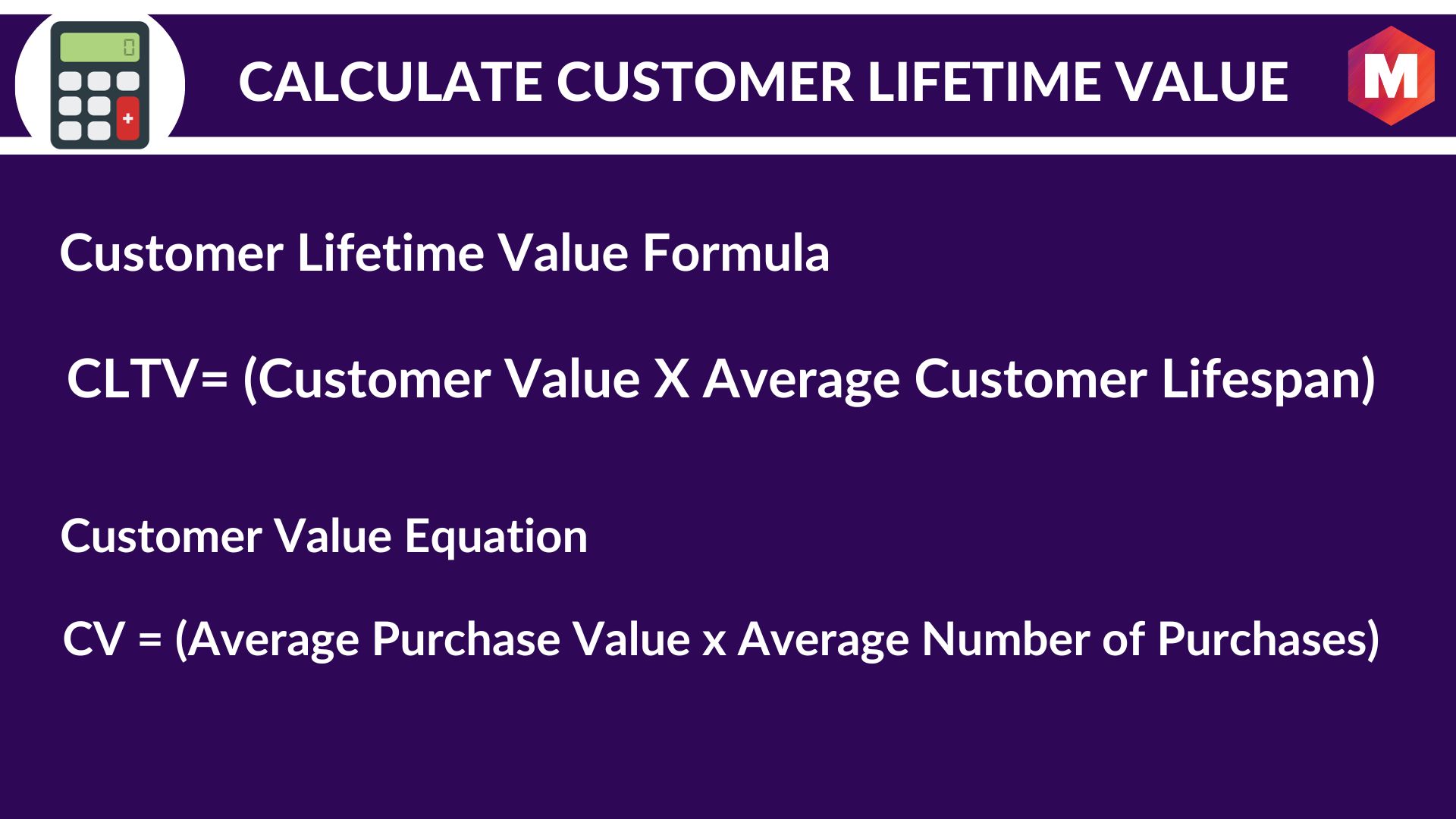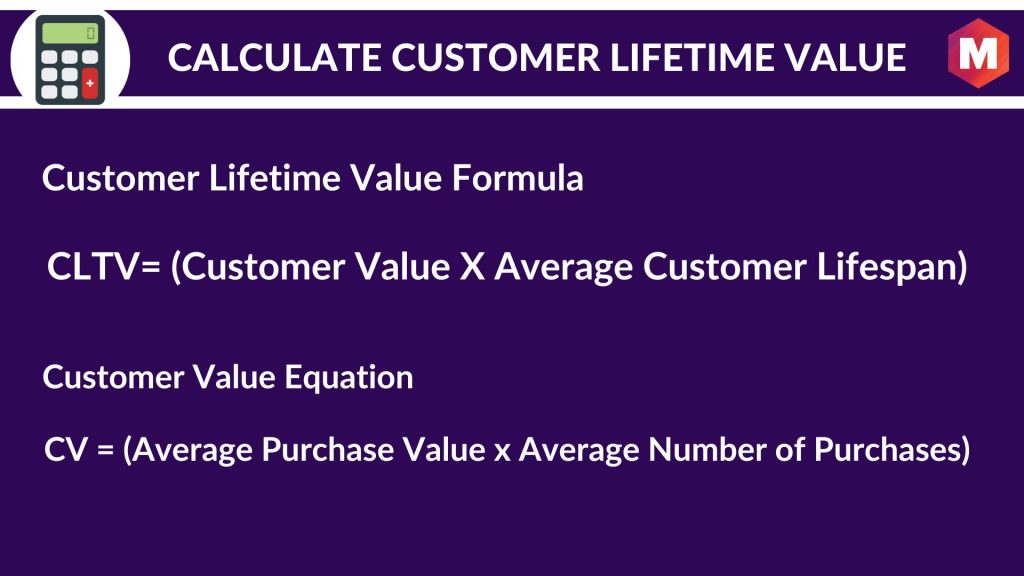 After you've collected all the data, it's time to calculate the Customer's Lifetime Value using the formula given below –
Customer Lifetime Value Formula –
For customer lifetime value calculation, you can use this formula –
CLTV=(Customer Value * Average Customer Lifespan)
Here, you can calculate customer value by using the following equation –
*Customer Value = (Average Purchase Value x Average Number of Purchases)
Customer Lifetime Value Examples
You can go through following examples to learn the process of customer lifetime value calculations –
1) Online store
A clothes retailer, such as an online store, could expect a $50 initial purchase with its average customer making two purchases annually over three years.
CLV = $50 (average sale) x 2 (annual visits) x 3 (years) = $300
2) Software as a service (SaaS)
For a typical SaaS company, such as an email marketing platform, customers can experience the value of their services for only $200 per year – and usually stick around for five years!
CLV = $200 (annual subscription) x 5 (years) = $1,000
3) Customer loyalty programs
If a loyalty program offers $20 for every 500 points, the estimated Customer Lifetime Value (CLV) of an average customer collecting 5,000 points over five years could be immense!
CLV = $20 (reward) x 10 (number of 500 point blocks collected) x 5 (years) = $1,000
Customer Lifetime Value Models
This model categorization is based on whether a business decides to scrutinize existing data or aims to analyze customers' future conduct in light of present conditions. Let's now go through both models –
1) 2Predictive Customer Lifetime Value
Employing regression or machine learning, the predictive CLV model anticipates the purchasing trends of existing and prospective customers. Taking advantage of the predictive model for customer lifetime value will assist you in determining your most prized customers, discovering which products or services bring in the greatest revenue, and unlocking ways to raise customer retention.
2) Historical Customer Lifetime Value
By relying on the traditional model, estimations of customer value are based solely on past data and do not take into account whether or not existing customers will remain as loyal customers in the future.
If the majority of your customers are limited to a specific time frame, then you'll find that the historical model is particularly effective in determining their value. The average order value will be used as part of this calculation.
Nonetheless, because individual customer paths are not identical, this technique has certain drawbacks. Customers who had been distinguished as valuable by past data may become inactive and distort your information. Conversely, your inactive customers may begin shopping with you once again, but they could be ignored because of their "inactive" status.
Customer Lifetime Value Metrics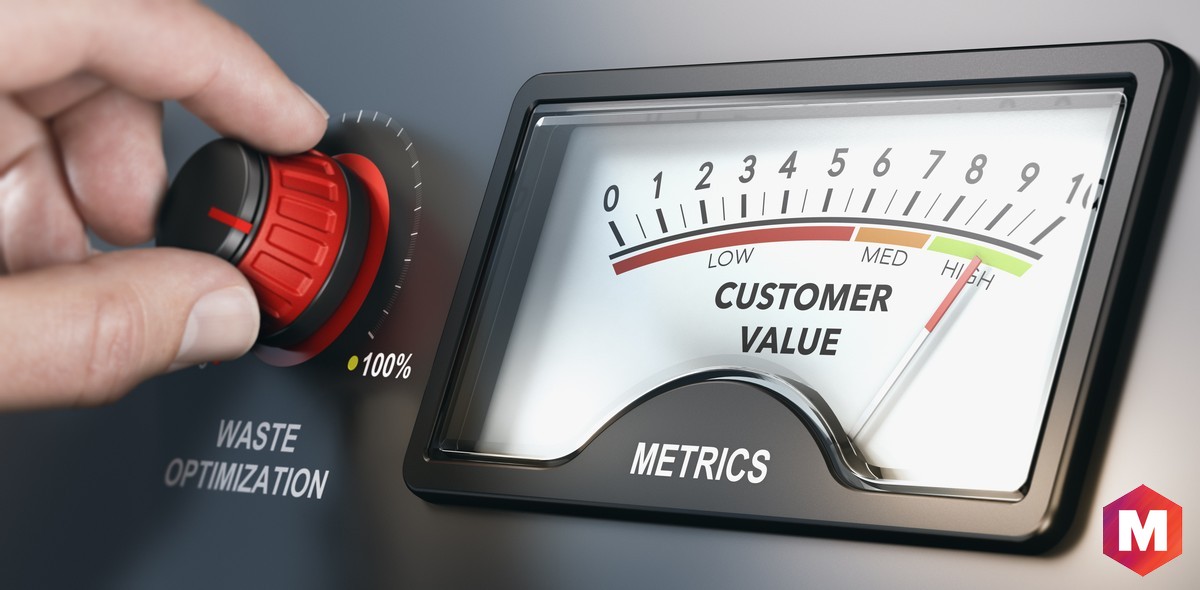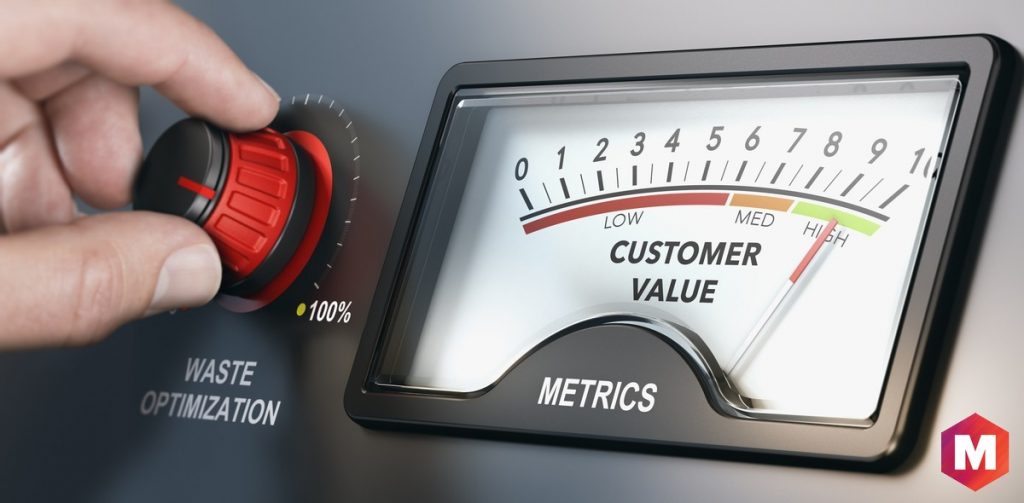 1) Average Purchase Value
To calculate this figure, simply divide your business's revenue in a given period – usually one year – by the number of transactions during that time.
2) Average Purchase Frequency Rate
To arrive at this figure, simply divide the number of purchases by the number of distinct customers who made transactions during that time frame.
3) Customer Value
Utilizing the average purchase value and the average purchase frequency rate, compute this number by multiplying them together.
4) Average Customer Lifespan
Estimate the longevity of your customer relationships by computing the average number of years each client remains devoted to your enterprise.
Tips to Improve Customer LTV
Improving customer lifetime value is useful in making strategies to optimize customer satisfaction of high value customers and increase brand loyalty. Some of the ways you can do this and enjoy high customer lifetime value are-
1) Make sure your onboarding process is effortless and worry-free
From the very first moment a customer encounters your brand, their experience with it should be taken into consideration. However, many companies forget that customers need to be catered to even after they've made the purchase.
Make sure your onboarding process is personalized to meet and exceed the needs of your customers, making it as effortless and straightforward as possible.
2) Fuel your customers' journey with an unbeatable experience
The customer experience is composed of every interaction and exposure between a consumer and a brand, from store visits to contact center queries, purchases to product use, as well as an advertisement or social media encounters.
Transforming the customer experience into something more enriching and fulfilling is a mission that companies make every effort to accomplish using an interactive customer experience management program.
3) Boost Your Average Order Value and Amplify Your Profits!
Elevate your Customer Lifetime Value (CLV) by increasing the Average Order Value (AOV). Right before a customer completes their purchase, offer them complementary products that correspond to what they've already selected. This is an effective way of boosting AOV without compromising on quality!
Subscription-based business owners can upgrade their average order and customer lifetime value by suggesting customers switch to an annual billing cycle. Doing this could be the key to boosting your profits in no time!
4) Build long-lasting relationships
Establishing long-term relationships with customers begins and ends with trust. If they recognize that your company is offering them the most competitive prices on goods or services, then they are more likely to become returning buyers.
However, this isn't where it stops; customer loyalty relies heavily on providing a comprehensive client experience through consistent communication and ongoing support.
5) Open your heart and mind to good advice.
Silence can often be golden; customers' insights, after all, provide valuable knowledge that could benefit your organization and amplify customer lifetime value.
For this reason, it is beneficial to relinquish the reins of conversation from time to time and take a step back to truly listen so you may act on their advice.
6) Enhance your customer service and take it to the next level!
A staggering number of Americans prioritize customer service when selecting which companies they want to purchase from and work with.
If you want to maximize your customer lifetime value, prioritize superior customer service and find opportunities to make it exceptional.
7) Start a loyalty program
A loyalty program rewards your customers for their continued purchases, providing them with discounts and other perks.
These may come in the form of a loyalty card or an app that tracks points from each purchase; these accumulate over time to produce valuable benefits. With such incentives, you can ensure repeat business while also gaining customer loyalty!
8) Recognize and reward your best customers
By launching your customer experience management program, you will be able to identify and prioritize customers who have the highest potential in terms of Customer Lifetime Value (CLV).
Nurture your relationships with these individuals and groups by utilizing targeted marketing and providing special offers to honor their loyalty.
Customer Lifetime Value (CLV) FAQs
1) What are the three parts of customer lifetime value?
For calculating customer lifetime value, the following information is necessary:
Your customer's average purchase
Your customer's average rate of purchase
How long does a customer typically stay loyal to your brand
2) How much are your customers costing you?
CLV and CAC are two metrics that must go hand in hand. CAC stands for customer acquisition cost, which is the money you invest to bring a new user on board. This includes advertising campaigns, marketing efforts, special deals – anything! To obtain an accurate understanding of your customer lifetime value then it's essential to take into account the total amount spent on acquiring customers too.
Cost to Serve is an integral part of any business and encompasses all activities necessary for delivering the product or service to your customer. Logistical costs, overhead expenses in a physical setting, and contact center fees– are just some of the examples that form this equation.
3) What are the benefits of Customer Lifetime Value
Finding out customer lifetime value is vital for any prosperous business. It aids you in recognizing who are your most valuable customers, and those that will remain loyal to you over the years. Utilize the formulas and model we've covered to begin computing CLTV of your existing customer today to learn how your company measures up!
Here is a video by Marketing91 on Customer Lifetime Value.
Liked this post? Check out the complete series on Customer Management