Customer experience is the holistic impression or perception that a customer has of a brand due to the interactions and experiences he or she received from the brand throughout all aspects of a customer journey. Positive customer experience is the backbone of customer satisfaction.
To meet the demands of our evolving society, business entities have undertaken several measures to enhance the customer experience in their company. They have kept the consumers at the epicenter and have tried to create their marketing strategy around customer experience management.
A customer will always have high expectations from all the brands. He wants the best possible deal at the minimum price and the least effort. Marketing strategies of organizations include paramount onus on their customers so that their perceptions, emotions, and feelings remain positive about the company.
What is Customer Experience?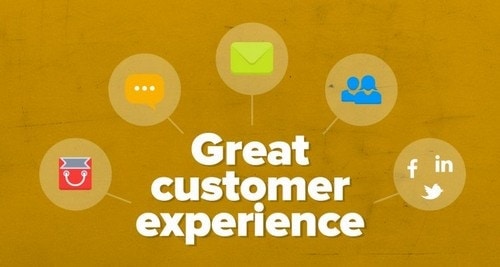 Customer experience is an impression that the customers have (positive or negative) while interacting with the brand throughout their entire customer journey. Some examples of customer experience include customer service interactions, product features, and quality, website usability, ease of purchase, and returns process.
The customer experience can be good or bad. The more positive experience a customer has, the more brand loyal they will be. Hence, the experience of the customer while interacting with the brand becomes an important factor when building a brand. Focusing on good customer experience paves the way for the economic growth of that company.
A customer experience strategy revolves around ensuring customer satisfaction by smoothening customer journeys and fulfilling customer expectations to optimize customer loyalty. It leaves a feeling of warmth and appreciation in their hearts that ultimately leads to maximum efficiency and minimum friction. Maintain a human element in dealings and see a marked difference in the attitude of your customers. When you have satisfied ones at your place, they will buy more and encourage their friends and family members to do so also.
Understanding Customer Experiences CX
Times are changing, and so is the concept of doing business. It is wholeheartedly believed that the present and the future of a company are greatly dependent upon the customer experience. Business entities have modified their focus from only revenues, sales, and profit margins to include one of the most necessities for the customer.
It has shifted its basic mentality so that it can implement customer-centric strategies based on customer interactions and customer feedback. Invest in your customers if you are looking for prosperity and growth in your company as customer experience is the new mantra that is being followed diligently from now onwards.
Organizations are striving for the best possible customer experience so that they can maintain and increase their existing customer base. Some important key factors that can help them in their endeavor are a friendly attitude, timely help, and consistent behavior.
In most cases, we have seen that customers are willing to pay a bit more if they had a good customer experience in that place. Welcoming and positive customer experience trumps all other considerations. Similar circumstances can produce different results because individuals will react in their way, depending upon the emotions that they are feeling at that time.
Remember, when the customer feels appreciated, it is the company that reaps the resulting benefits. The pay-off is tangible and is easily converted into spending a dollar of a consumer plus their loyalty which is very hard to earn. Superior customer service has always won favors from customers, and the only way to gain it is via personal and human touch. Customer service representatives are a bridge between customers and the brand.
Make provisions that the bridge remains strong via impeccable services so that a customer leaves your place with a happy smile on his face. Effective customer experience management involves the best process to capture customer feedback, channel customer relationship management, understand customer perceptions, and manage effective customer journey mapping.
Examples of Customer Experience
A few common examples of good customer experience management by a brand can be understood by the following examples-
1) Positive impression
I received a message on the phone from a burger company telling me about its deal for the day. As it was lunchtime, I decided to visit the place as it was near my office and take up the offer. The place was overcrowded and swarming with people because of the lunch hour.
I was greeted with a genuine smile at the door and directed to the counter. The employee taking the order was very helpful and made sure that I had a good time at the shop. His warmth and few kind words made all the difference in my attitude towards the place.
After coming back, I told regarding this to my colleagues, who also decided to visit the place that evening. The optimistic nature of the employees rubbed me with a positive feeling making my experience a good one. This is what good customer experience is all about and how it can generate more than one customer easily.
2) Loyalty
It was my birthday, and I decided to buy a new shirt for dinner. I was hosting that night. I was welcomed warmly by the gatekeeper and later was directed to the men's section by another employee.
I chose a shirt but could not find the right size. Before I could ask for help, another employee was there and asked whether I needed any help. When I told him about the size, he immediately helped me in finding the right one. Meanwhile, a friend called me to wish me a happy birthday.
After I put the phone down the employee also wished me after confirming it. When I went to the billing counter, I was given a special discount because of my birthday. I was surprised by how the person at the billing counter knew about the occasion and asked him about it.
The employee that had heard me talking on the phone and wished me informed him. It was a surreal experience and made my day better. The genuine warmth had a positive impact on my mindset, and with time, I became one of their loyal customers and recommended the store to several of my friends.
Examples of Good Customer Experience
Following are a few illustrations of a good customer experience crucial in ensuring greater customer satisfaction to increase customer loyalty-
1) Mobile Phone Industry
The growth of the mobile phone industry has been tremendous in the last decade or so. Every year mobile phones upgrade themselves and add a feature and make last year's model outdated. While mobiles have certainly become a necessity, their added features are optional and to promote them companies have to spend a lot on proper advertising.
For example, until 2017, Google's flagship phone Pixel 2 XL had the best camera in the industry, and to highlight that camera, the company must have spent a lot of money. To show its picture quality, video quality functions in different light conditions and everything a photography enthusiast would want.
Certainly, the advertisement does the job but unless customers hold it in hand and experience the sleek design, the smooth and fast interface, and the dynamic look of the mobile, they would not be impressed. Advertisements have limits on customer experience.
It can be visually as appealing as possible but until the customer does not touch and see the mobile phone, there would be no convincing on the customer's part. Advertisements are not an end but they are a means to an end, they motivate the customers to go and take a feel of it, and for a good customer experience, the customer must see the product physically.
2) Starbucks
Starbucks has excelled at providing fantastic customer service. In April 2018, two black men walked into the Starbucks Philadelphia store and asked to use the washroom. Since they had not purchased anything from Starbucks, the customer executive denied it. When they insisted, cops were called and the two black men were arrested on account of trespassing. Later when the news became viral via a video, there were numerous protests all over with #BoycottStarbucks trending.
Starbucks later issued an apology saying it would do everything to get this right and ensured that no case was filed against the two black men. In May, Howard Schulz, the CEO of Starbucks issued a statement saying anyone can sit in Starbucks or use its washrooms without buying anything. This proved to be an exemplary gesture towards a good customer experience.
Starbucks shares rose and according to the internal source's business of Starbucks rose considerably. Although no percentage was given, it can be estimated that it rose around 10% which is a substantial number owing to the number of stores Starbucks has worldwide. This not only has improved the customer experience for customers only visiting Starbucks but it also has earned Customer Goodwill.
3) Real Estate
Real estate sales are considered to be very profitable and realtors ensure a better customer experience by going out of the way. Things like showing the property by arranging a visit, even multiple visits if required, and all of this at the cost of the realtor.
Many of the people don't show up and in that case, the cost is gone. With the advent of Virtual reality glasses, customers can now view the entire property sitting at their home and which also reduces the cost of the realtor. While physical experience matters to close the deal, at least the initial sifting through customers is done and the ones simply browsing are avoided while focusing on serious buyers.
How to Develop a Customer Experience CX Strategy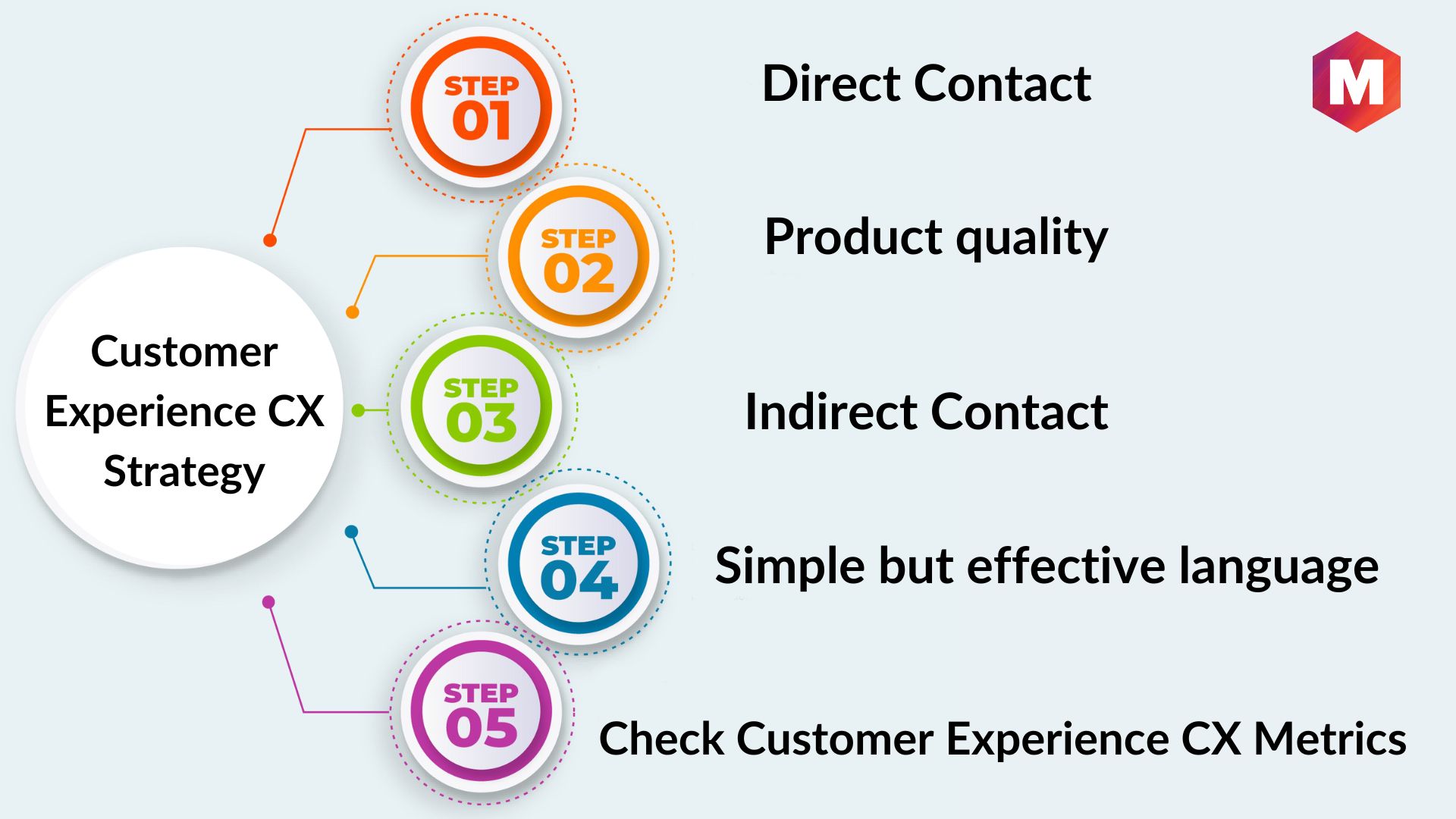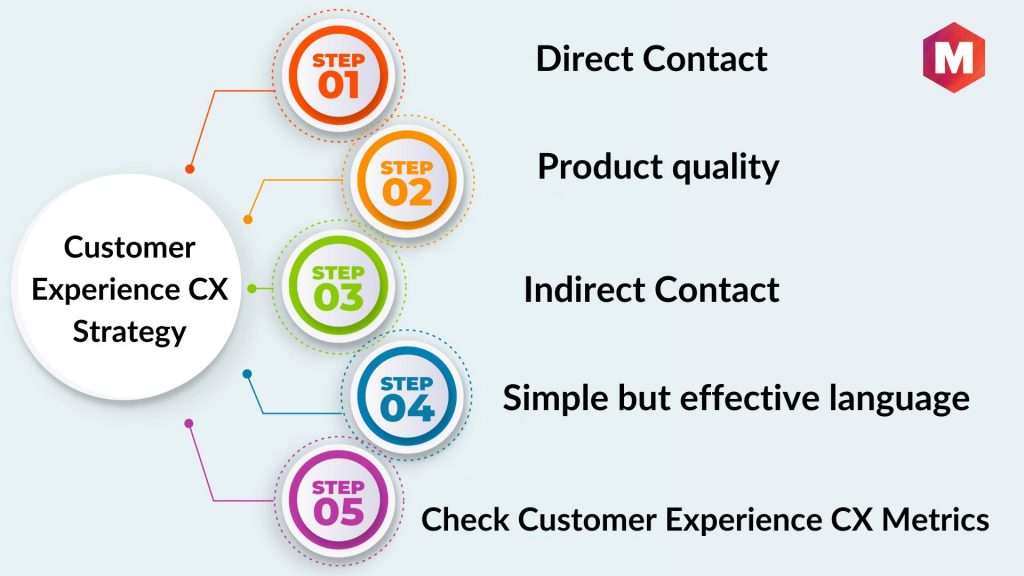 1) Direct Contact
It is seen that direct contact brings in more conversion than In-direct contact customer experience. Also, direct contact customer experience pushes up the ratio of conversion of leads to customers. Direct contact stimulates customer senses faster than visual or any other mode would do which brings faster conversion.
The feelings – touchpoints – have to be elevated positively to develop a positive customer experience. In the case of services, only after availing of the services will the customers develop positive experiences.
Collecting customer feedback, understanding customer needs or customers expectations, and analyzing customer journey maps ensure a competitive advantage while targeting specific customer segments.
2) Product quality
The quality of the product should be superior to have a good outcome of the experience. The design, taste, and color all act as touchpoints and if all of these touchpoints are positive then the customer experience is positive.
When a company creates a product in a customized manner, it is almost guaranteed that the product will delight customers.
3) Indirect Contact
Ads are effective up to a certain extent but with the advent of social media and 1080 and above-pixel images, the images can be visually more titillating than the product itself. Such a visual feast can push more and more non-users to buy the product and get the contact customer experience.
Ads of any sort are effective if presented properly and push the customer towards a product demonstration or consideration which is a form of contact customer experience. Word of mouth is another major tool for developing the customer experience.
An ad may be considered staged and manipulative or misleading but feedback from a neighbor or relative or a friend would be trusted more. Companies encourage such word of mouth for a trustworthy customer experience.
4) Simple but effective language
Using a lot of jargon during a sales pitch may not be advisable from the customer's perspective.
The language must be simple for every customer to understand but at the same time, it should be effective and should convey the superiority of the product or service in the simplest possible language. This is yet another essential feature for a great customer experience.
5) Check Customer Experience CX Metrics
Different metrics can be quite useful when you want to measure customer experience or analyze customer experience. They help you understand what your customers feel which ultimately empowers you in retaining customers.
Customer Effort Score (CES) is one of the key metrics that will help you in measuring how much effort a customer has to exert for getting an issue resolved or a request fulfilled or a question answered or a product exchanged or returned.
Customer lifetime value CLV, customer churn rate, CSAT or customer satisfaction score, etc are some other metrics to track key customer data that a customer service team can use. Some of the other metrics that customer service teams can use to track and optimize customer interaction are-
Net Promoter Score
Sales
Customer Loyalty
Average Time Resolution
First Contact Resolution FCR
Visitor Intent
Task Completion
Stock Price
Contact Volume By Channel
Social Listening
Referral Rate
Cart Abandonment Rate
Advantages of Good Customer Experience
1) Gaining customers via social media portals
Sustaining a relationship via social media presence has become very important nowadays. An important advantage of a good customer experience is that you can gain new customers by building trust on social media platforms.
People interact with one another on several sites like Facebook, Instagram, YouTube, and Twitter when a customer recommends a particular item to someone; it automatically finds acceptance amongst his known ones. This helps to gain further customers for your brand.
2) Customer acquisition through word of mouth
An important advantage of good customer experience is customer acquisition with the help of word-of-mouth publicity. It is the goodwill of the consumers that helps to spread mouth publicity.
This age-old concept has become very powerful in recent times because, according to a recently conducted survey, more than 92% of customers look at their friends and family members for guidance before making a purchase.
If you have a satisfied customer, it will ensure his loyalty plus he will be recommending your products and services to his acquaintances. This will be of immense help to the brand as he will gain further customers without taking any deliberate steps to do so.
3) Better customer engagement
Business organizations are reaching out to their existing customers to retain their brand loyalty. It is a proven fact that people trust only those whom they know personally and are confident about because of some good experience.
An important advantage of a good customer experience is that it will result in better engagement from the customer's viewpoint. The interactions will increase, and this will lead to a fruitful and long-lasting relationship.
Companies are offering value-added schemes to their customers via emails, social media portals, and messaging. They are also encouraging real-time interactions to build a mutually advantageous relationship.
4) Customer acquisition through warm attitude
Business entities have made it a priority to ensure that all their customers have the best possible experience with their brand. The first point of contact is very important to greet your customers with warmth, a smile, and a friendly attitude.
Enhance his experience by lending a helping hand whenever he needs it. Do not overcrowd your customer and give them the necessary space so that they can wander at their leisure.
It is important to build a relationship that will last for a longer period if you are looking for the advantages of a good customer experience. This will help you to convert potential customers into loyal ones very easily.
5) Reduced costs
Implement a customer-centric approach to know your customer better. You can be aware of their needs and wants via the data and information you have collected.
Understanding the dynamics of the market will help you in reducing costs and increase customer experience by offering them the products and services they are looking for.
6) Increased conversions
A new entry in your store will look at several items and think twice before making a purchase. In most cases, even that is not a surety. When you have your customer base, the best thing a company can do is pay consideration to them.
Pay special attention to the first-timers by giving them proper attention to make their experience count but pay special attention to those you have come a second or third time. When you give them your personalized attention, you include them in your long-lasting loyal customer base. Concentrate on building a relationship via good customer experience if you are looking for increased customer conversions in your store.
7) Improved conflict resolution
The advantage of a good customer experience is that it builds a trustworthy relationship between the brand and its customer and helps in improved conflict resolution.
In such cases, the customer with a problem brings the complaint directly to the proper authority without airing his grievances in public. Remember a tarnished reputation will make you lose your brand image and credibility and can cause further repercussions on your sales figures and profitability.
When you have customers that had a good experience with your brand earlier on, they will believe in giving you a second chance. Make sure to maintain his trust by offering the best possible solution to his problem.
8) Customer retention and loyalty
One of the most important advantages of a good customer experience is that it helps the brand to improve customer retention and maintain brand loyalty. Customers are willing to shed some extra bucks if they are comfortable with a brand and trust them above all.
Hence pay attention and offer impeachable services and the best products to your customers to make their experience count.
Disadvantages of Poor Customer Experience
1) Bad experience drives customers away
When a customer has a bad or negative experience with a brand, he will stop interacting with them. According to statistics, nearly 78% of people have backed out of a brand because of a bad customer experience. I visited a store sometime back, and my experience was horrible.
There were many employees in the store, but most of them were busy talking amongst themselves. When I asked for help in finding the necessary item, the first employee directed me to the second, who was even more disinterested than the first.
I had to come back without the product because of the negligence of its employees. I have not visited that store after that and told me about the experience to all my friends and family members who also stayed away from it because of my bad experience.
2) Missing information
When a customer asks for specific information, the company employee is duty-bound to help the customer out. If he is not aware of the facts, how is he going to offer help? This is what happened when I visited a grocery store recently.
I wanted to buy fat-free butter as my doctor had advised me to do so because of my increasing weight. When I wanted to know about the related products, the employee at the counter did not know any facts about my query. It made me irritated as I was already late.
Even the next person who came to help did not have the right information. His supervisor was called who helped me out with my queries. By that time, a lot of my time was wasted, and I had already decided never to visit that particular store. When an employee is unable to offer crucial data, it results in a disconnect between the customer and the employee that can harm the brand eventually.
3) Slow engagement
When a customer engages with an employee directly, the process should be fast because if you do not offer timely help, the action loses all its meaning.
Sometimes when you make an online call to sort out a problem, your call is either kept on hold for a long time or is transferred from one section to another. There are no dedicated agents that can fix your problems with timely intervention. They are least bothered with such calls, and their attitude is reflected in their behavior while dealing with customers.
An important disadvantage of customer experience is that slow engagement is capable of driving the customers away from your company.
4) No empathy
Customers expect the finest products and impeccable services from an organization. If they have an issue, it needs to be sorted out in the best possible manner. A customer expects sorry for the inconvenience caused.
When he comes in contact with an employee who is least bothered with your problem and is not even acknowledging your plight, the customer is bound to feel angry and harassed. One of the important disadvantages of a bad customer experience is that the brand loses important customers when it fails to empathize with them.
Here is a video by Marketing91 on Customer Experience.
How to Measure Customer Satisfaction
Measuring customer experience is essential for businesses of all sizes. It provides valuable insights into how customers perceive your brand, products, and services. It helps you understand their needs and wants, as well as identify areas of improvement.
1. Use Surveys
One of the most effective ways to measure customer experience is through surveys. Surveys allow customers to provide feedback on their experiences and allow you to gauge how satisfied they are with your offerings. Asking customers questions about their experiences with specific products, services, or aspects of your business can provide valuable insight into how to improve their experience.
2. Analyze Customer Engagement
Analyzing customer engagement is another great way to get an understanding of the customer experience. This can include everything from website clicks, downloads, page views, and more. By tracking customer engagement metrics, you'll be able to see which areas of your business are doing well or need improvement.
3. Monitor Social Media Mentions
Social media is an excellent platform for gathering customer feedback. Customers often take to social media to share their experiences with a brand or product. Monitoring customer conversations on social media can provide valuable insights into how customers feel about your business and offerings.
4. Analyze Customer Service Interactions
Analyzing customer service interactions is another great way to measure customer experience. Tracking the number of customer service interactions, customer response times and resolution rates can provide insights into how customers perceive your customer service team. It can also help you identify areas where customer service could be improved.
5. Track Customer Retention Rates
Customer retention rates provide a great indicator of customer experience. Tracking how often customers return to your business can help you determine how satisfied they are with the products and services you provide. By understanding customer retention rates, you can identify areas of your business that need improvement.
Conclusion!
Improving customer experience helps a company in retaining its hold on those customers and gaining their loyalty. Every customer is an individual, and you cannot place them in groups for your convenience.
Every one of them goes through contextual and personal experiences that will be different from any other person. But the one thing constant in this equation is the way the customer service representatives behave. If you offer exemplary behavior and a willing attitude, the experience of a customer becomes doubly rewarding, and if not, then it is a sure recipe for disaster.
Value is in the eye of the beholder, but it is the employees that can enhance this value so that you can get maximum satisfaction. If you want your customers to have a fantastic experience, you must put your onus on the quality of the services you are offering.
The quality of both outbound and inbound communications matters a great deal to an individual, and it is he who will decide whether his experience has been a good or a bad one. Are you responding to the customers at the earliest or are you waiting for a convenient moment?
It is important that a company delves deep inside the heart of the matter and try to understand the wants of its customers. Once you have your fingers on the right pulse, it will become easier to offer a good experience to your customers.
Liked this post? Check out the complete series on Customer Management