Customer engagement is an emotional connection that a customer feels for a brand because of the ongoing interaction between both. It involves all the interactions between a brand and its customers. By using customer engagement marketing, a company can develop a personalized customer experience and optimize customer relationships.
Customer engagement activities feature a direct connection between the two parties and do not stand only on business terms. No matter how useful a product or service is, it is quite not worthy until you have a wide section of users liking and loving it. Engaged customers are the ones who will create a difference between the 'good' and 'great' brands.
Brands have to have a strong customer engagement strategy for customizing customer interaction, engaging customers, and retaining customers. Customer engagement campaigns build strong relations with your target and existing audiences to gather an audience for a long period.
What is Customer Engagement?
Customer engagement means providing your customers with consistent and interconnected experiences, rather than just one-time or isolated experiences. An example of customer engagement could be creating an online community for customers to interact with you and each other.
It is a process of customer communication and interaction using different channels for developing, nurturing, and strengthening customer relationships to have a loyal customer base. When brands increase customer engagement, they automatically optimize customer retention and customer lifetime value.
In the words of Lincoln Murphy, a world-renowned Growth Architect, Consultant, Author, and Keynote Speaker-
User engagement is when your customer is realizing value from your SaaS.
It is a two-way communication bridge between the company and its loyal customers. Customers engaged with a brand are the backbone of a sustainable market presence and optimized sales. Highly engaged customers have got more attention during the ongoing digital era and emerged as a new and powerful tool for online stores. This doesn't mean that it has no significance when dealing with traditional channels.
In other words, customer engagement is the relationship of a customer with a particular brand that comprises connection and customer communication held within the lifecycle of a purchase. It is highly oscillating and can be extended or destroyed, depending on the interactions between the two parties.
Importance of an Effective Customer Engagement Strategy
We are heading towards a modern digital period where everything would be completely online and hassle-free. Customers will be more likely to connect with your brand if you have better engagement strategies for a larger audience and in a shorter period.
Customer satisfaction will determine the quality of your product and justifies the price tag on it. When you engage customers, it increases the chance of converting existing customers which ultimately optimizes customer loyalty. From boosted customer satisfaction to increased awareness to boosted customer experience and loyalty are some of the key upsides of consumer engagement.
Also, strong customer relations will lead to a better advertisement channel. It is common to recommend a brand to friends and family if a user is satisfied with their services. Verbal evidence can help small businesses to grow and compete with market standards.
In short, a better customer engagement strategy is never a bad idea, and it will generate more business opportunities. It is always recommended that you build a strong and healthy bond with your customers in every way possible.
The customer engagement strategy includes the product you are providing along with the techniques you adopt to make a loyal customer who will stick to you even after purchasing it.
Let me be clear that 'Loyal' is the most emotional sentiment that a customer can relate to. Customer Engagement is considered more effective when the user feels comfortable while interacting with a brand repeatedly.
When you drive customer engagement, you have a better understanding of customer behavior to customize the customer journey as per specific customer segments. This will help you comprehend and resolve customer complaints in a more effective manner.
How to Measure Customer Engagement?
Measuring customer engagement lets you track customer data and analyze customer interactions to personalize the entire customer experience of your targeted audiences.
Many brands are not sure about the status of their customer engagement today. There might be circumstances when you need to estimate the level of your relations with your current customers.
The following methods and customer engagement metrics will help you to keep a check on it-
1. Frequency of Positive Feedback
Feedback or the product review is one of the most subtle parameters that decide your brand's quality. If a customer is happy due to your less response time and better assistance facilities, he will likely provide you positive feedback on your website or other branding platforms.
In case you are selling a product, the customer ratings will start to hike up, which shows that you have adequate customer engagement.
2. More Social Interactions
Any product is more likely to be famous if it has proper social branding. You need to keep track of all the comments and likes on your social media pages or customer engagement platforms like Facebook, Twitter, Instagram, etc.
If you have a good relationship with your customers, they will share the posts that will help you reach out to a new audience. You can analyze the level of engagement through the frequency of comments and other insights.
3. Tracking Happy Customers or Net Promoter Score (NPS)
NPS tests your customer loyalty by analyzing whether your clients or customers are happy with you or not. It might seem to be a tedious job, as you have to monitor each of your customers regularly.
It is where the role of 'surveys' becomes important. Try to conduct some small and effective surveys for your customers and ask them to fill in the answers at least a couple of times a year.
It will keep your customers happy and will show their engagement with your brand.
4. Average Time On Site/Page
Clicking a link and visiting a specific website several times is not a sign of good customer engagement. Your viewers need to stay on the webpage and have some in-depth knowledge of your products and services.
The total time spent by each customer is measured as the average time on the website. Ensure that your content is appealing enough to the target audience of your brand
5. Open And Click-Through Rates
It is essential that your sent emails and push notifications are opened and analyzed by the consumers. The click-through rate represents the number of people who have clicked a specific URL link attached in the text.
On the other hand, the open rate describes the percentage of people who have just opened your email or message envelope. In the case of encouraging customer engagement, both these parameters are significantly high.
6. Social Media Interaction
Social media is undoubtedly the most useful platform to enhance the customer engagement factors of a particular brand. Customers can directly approach the company executives through social media handles like Facebook, Twitter, Instagram, etc.
Moreover, the company can promote its latest products and new schemes on these platforms. This will act as an alternative for advertisement and gathering new audiences. The number of likes and shares to your handles will act as feedback for your company.
7. Number Of Form Fills
Collecting data by filling out forms is a simple yet effective technique used by various firms out there. These forms will directly capture data from the customers and help you to determine your market value.
This generates a critical point where you must have sufficient data for the same. You can improve the frequency of filled forms by improving the text quality and only asking for relevant data from the consumers.
8. Customer Referrals
Apart from coping with regular customers, you also have to focus on generating new users for your product. Customer referrals let your current consumers share your brand with their known friends and family members.
Once the new members have successfully joined your community, they will get additional benefits. Both the new and old customers will enjoy some extra perks for increasing your community size. The referral bonus campaigns will have a huge positive impact on customer engagement.
9. Repeat Purchase/Renewal Rate
According to a survey, customers tend to buy a product from the same company, as their previous choice. This means that you have another chance to win over their trust and convert them into regular customers.
Moreover, keep them updated with your discount offers and benefit them with various schemes. This type of repeated purchase will prove to be a successful trade for your brand.
10. Repeat Visit Frequency
There is no doubt that if you are well-engaged with your customers, they will have no issue spending extra time visiting your store location. They will look for better opportunities and products in your store.
Several brands try to redirect them to their products page using their online agendas. This is the most effective trick to increase the number of visits made by customers to your website or even the real location store.
11. Direct User Feedback (NPS/CSAT Scores Or Online Reviews)
Customer feedback will determine the true image of your brand name within the market. The customers will have a word to say about the feedback they want to provide about the product.
You can improve your ongoing condition based on the user's replies and suggestions. Customers will feel connected to your brand and will directly improve customer engagement.
The CSAT score mentioned above is the Customer Satisfaction Score.
12. Customer Lifetime Value
This metric can be used for measuring the amount of revenue a business might expect from a customer over the whole period of the customer relationship.
The longer a customer keeps on purchasing from a brand, the higher will be the CLV.
13. Churn Rate
With the help of this customer engagement metric, you will be able to know the percentage of clients who cut ties with your brand.
Knowing this is highly crucial for companies whose users repeatedly pay like a subscription-based or SaaS company. With a lower customer churn rate, customer retention will be higher.
Customer Engagement Strategies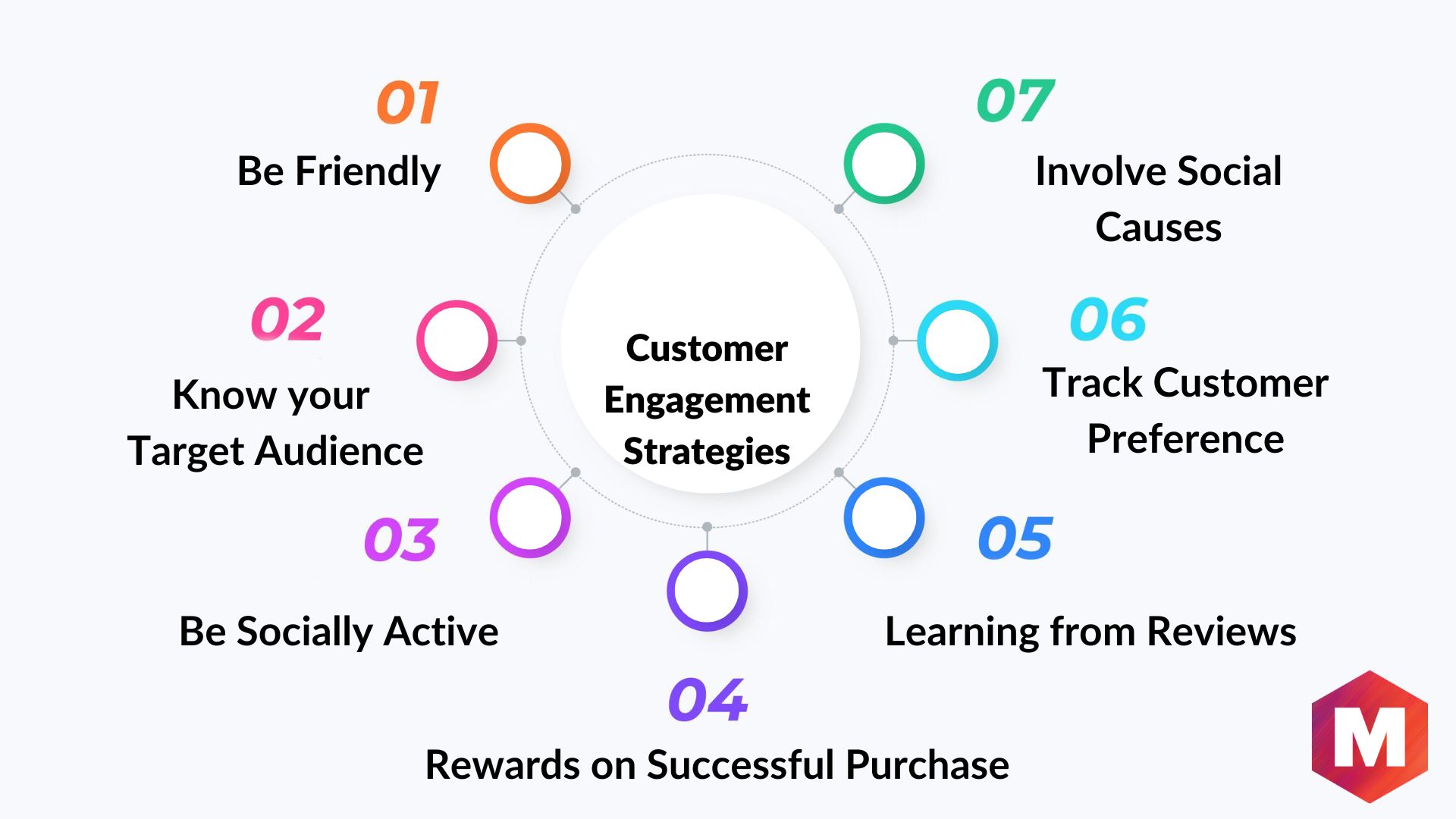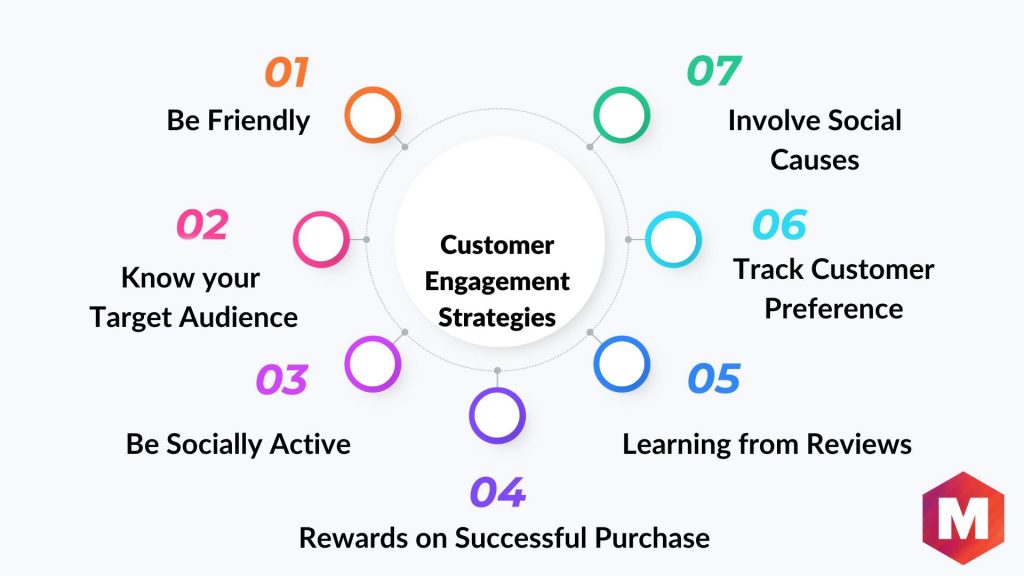 Now a question arises: what steps can you take to create a better environment for your existing customers?
There are many aspects that you need to cover, and today we bring you seven customer engagement marketing strategies or ways in which you can boost up your engagements-
1. Be Friendly
Formal language makes the human mind more alert, and it starts alarming you even at the slightest signal. Instead of being formal with your customers, try to adopt a friendly attitude toward them. It will help you with creating a strong customer relationship. Make your website more user-friendly and use portraits of real persons to help your customers develop a personal connection with your brand.
You can refer to people by their names and sometimes create customized messages to show them your affection towards them. Auto-Generated texts don't seem to be friendly as it shows you are sending them to a larger audience at once. Alongside, be respectful and ensure them your support during the whole session.
2. Know your Target Audience
You need to be very careful while targeting a particular section of your customers. For instance, an MNC will be having its products distributed in various countries of the world.
They need to specifically meet the needs of customers from a particular region or background. Running a complete history check of your customer will help you know their needs and preferences. In this way, you can save your efforts and create powerful customer engagement.
3. Be Socially Active
I don't think anyone would not be connected even to a single social platform. Almost everyone has an account on Facebook, Instagram, Linked In, etc. Engaging can be done through purchasing and by creating awareness about the services you provide to the customers.
If customers visit your social handle, it should be creative enough to force them to visit your website. They will find more means to connect with you and might end up becoming your loyal customers.
4. Rewards on Successful Purchase
It is regarded as a smart move to keep your customers visiting your store from time to time. Whenever a user invests and makes a successful purchase of your product, try to provide them with luring benefits. Give them discount coupons during the purchase that can be used during their next shopping session.
It will make the customers return to your store and redeem their previously earned reward.
Moreover, conducting weekly or monthly discount periods will eventually increase your sales chart. Customers need to have a relevant offer to act accordingly and promote your product as much as they want.
5. Learning from Reviews
As already mentioned, reviews will provide the actual picture of your product in the market. You have to work over the loopholes that were part of the reviews. Ignoring any major feedback will result in losing customers.
Create an overview and highlight 2-3 points that need to be reworked. Once you are set with improvements, make sure to let your customers know through social media or other advertising platforms.
6. Track Customer Preference
Many brands like Netflix or Spotify use this strategy to generate more loyal customers for their service. It includes creating a customized playlist that suggests movies or songs to a user related to his previously watched genres.
You have to analyze their taste and then recommend a similar kind of content. Every customer will have his homepage designed in the way he loves. As a result, he will try to keep connected with you for more time.
If you find order in your customer's purchasing pattern, try to mail similar products that go well with his shopping cart. Amazon has a feature called "Customers also bought" that will suggest more products to the customer.
7. Involve Social Causes
Humanity is the biggest trait anyone can possess. Customers should feel that their money is being spent on the product and has a social cause attached to it. If you include some social influence on your product, the customers will generate a soft corner.
They will get more attached to your brand. You can either associate with a charitable trust or fund some institutes working for a social cause.
The best way is to combine the purchase with your donations. For example, "Every product you buy, we donate $1 to a social cause" can become an effective slogan. It will not only be socially acceptable, but your sales will also crash the roof!
Top Hacks to Drive Customer Engagement
Some of the highly effective and exclusive ways to drive successful customer engagement strategies that industry experts suggest are-
Using owner digital properties like a website or mobile app
Different types of emails such as Newsletters, Welcome/Signup Emails, Thank You Emails, Abandonment/Recovery Emails, New Product/Service Launch Emails, Feedback/Survey Emails, Transactional Emails
Web Push Notifications that require an opt-in from customers
Using human or bots based live chat as a key communication tool
Use of Social media, Video, SMS/text messaging, etc.
Using Mobile app push alerts and Voice assistants
Here is a video by Marketing91 on Customer Engagement.
Advantages of Customer Engagement
The notable benefits of an effective customer engagement marketing strategy are-
Better and healthier customer relationships
Boosted customer retention and reduced churn
Stronger opportunities for cross-sell & up-sell
Optimized subscribers
Shorter purchase cycles
Optimized brand evangelists
Recognizable brand identity
Increased Customer Support/Service
Improved brand loyalty
Conclusion!
All the mentioned strategies will only work if you have a good understanding of your product.
Always try to create a better platform for your customers as they will open doors for new branding options. Customer Engagement will be the next big thing in the market, and you have to participate in this journey actively.
How important do you consider customer engagement for optimizing the performance and sales of a brand?
Liked this post? Check out the complete series on Customer Management