A customer review is a true testament to one's experience with your company. Customer reviews offer an invaluable resource for businesses, providing plenty of potential to increase sales and grow your influence. Not only do customer reviews supply you with valuable insights, but they can also help grow your sales and bring in more leads.
Customer reviews hold a significant amount of influence when it comes to influencing customers' decisions to purchase from you. From Google Reviews, Amazon, and Yelp to Facebook, you can easily locate online reviews that authentically reflect how consumers feel about your products or services.
What are Customer Reviews?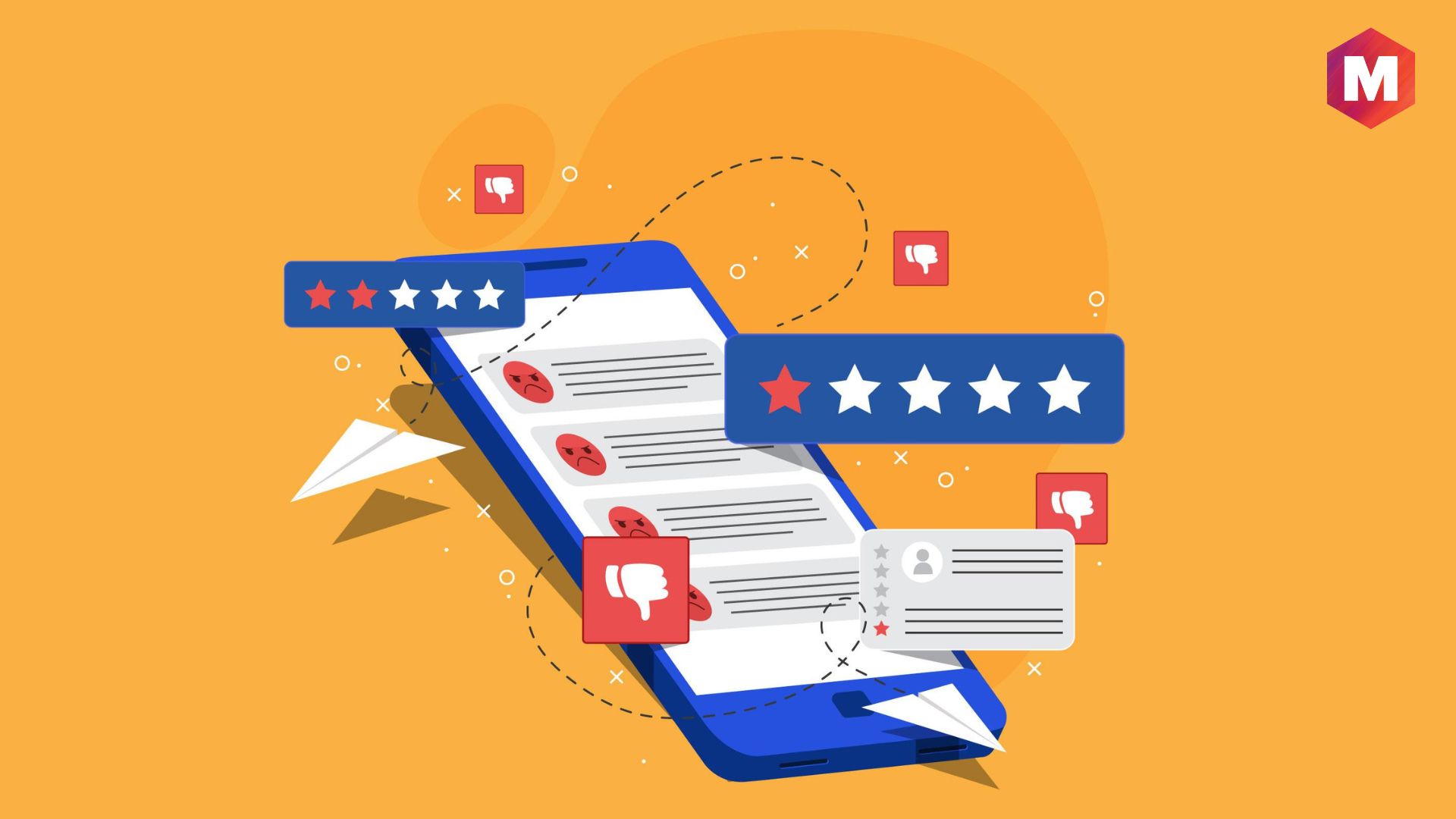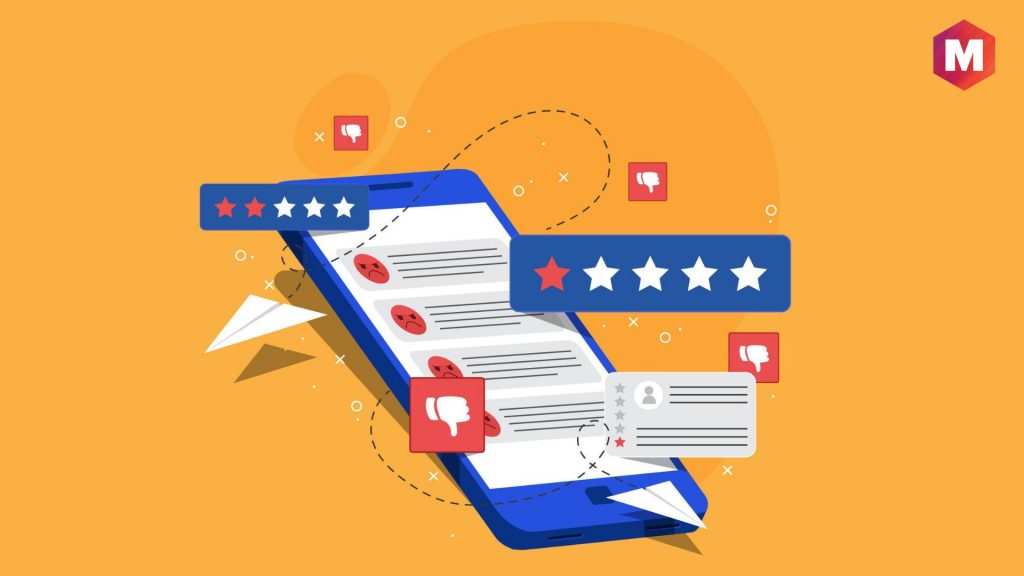 Customer reviews are invaluable insights about existing customers' experiences that potential customers can access to help them make informed decisions about a business's products and services. By reading honest customer feedback, they can gain a greater understanding of what the company offers and how it compares to competitors.
A study conducted by PowerReviews revealed that 99.9% of online shopper reads reviews before making a purchase.
So, before opting for a particular product or service, consumers nowadays turn to customer reviews to fully understand the business and what they have to offer. To help customers make more informed decisions, many online reviews provide a star rating system to rate businesses quickly and accurately.
Why are Customer Reviews so important?
Some of the reasons why customer reviews are so important are –
1) Establish credibility
Consumer reviews are undoubtedly influential as they come directly from consumers, who feel appreciated and heard. Plus, it's like having an online word-of-mouth marketing platform; the more content you have out there generated by real people with experience, the better your chances of making a sale!
2) Unlock invaluable insights
Reviews are a great way to understand what your customers appreciate about you and where there is room for growth. Keeping track of reviews allows businesses to maintain their brand image and make sure they always deliver the best customer service possible.
3) Maximize profits
Studies have revealed that customer reviews are by far the most influential factor when it comes to online shopping. By using reviews, you can boost your sales and watch your bottom line grow exponentially!
What to do with your Customer Reviews?
1) Respond to all reviews
Not only should you stay in touch with customers, but responding to all reviews – good and bad – is an absolute must. Studies have found that nearly half of the customers are more likely to visit a business if it takes the time to address negative feedback.
2) Share positive reviews on your platforms
Amplify your positive reviews to make more people aware of the great things they've heard about your business. Share them across your website and social media channels – you'll be surprised how far that good word will go! And don't forget to encourage customers who have had a pleasant experience with you to leave feedback too.
3) Reward customers who review
Not only should you incentivize customers to leave reviews, but consider rewarding them for doing so! Surprise your customers with a special gift after they've written their review – such as a discount code that can be utilized on their next purchase. This simple gesture will go far in demonstrating how much you value and appreciate the feedback of your customers.
How to Ask for a Customer Review?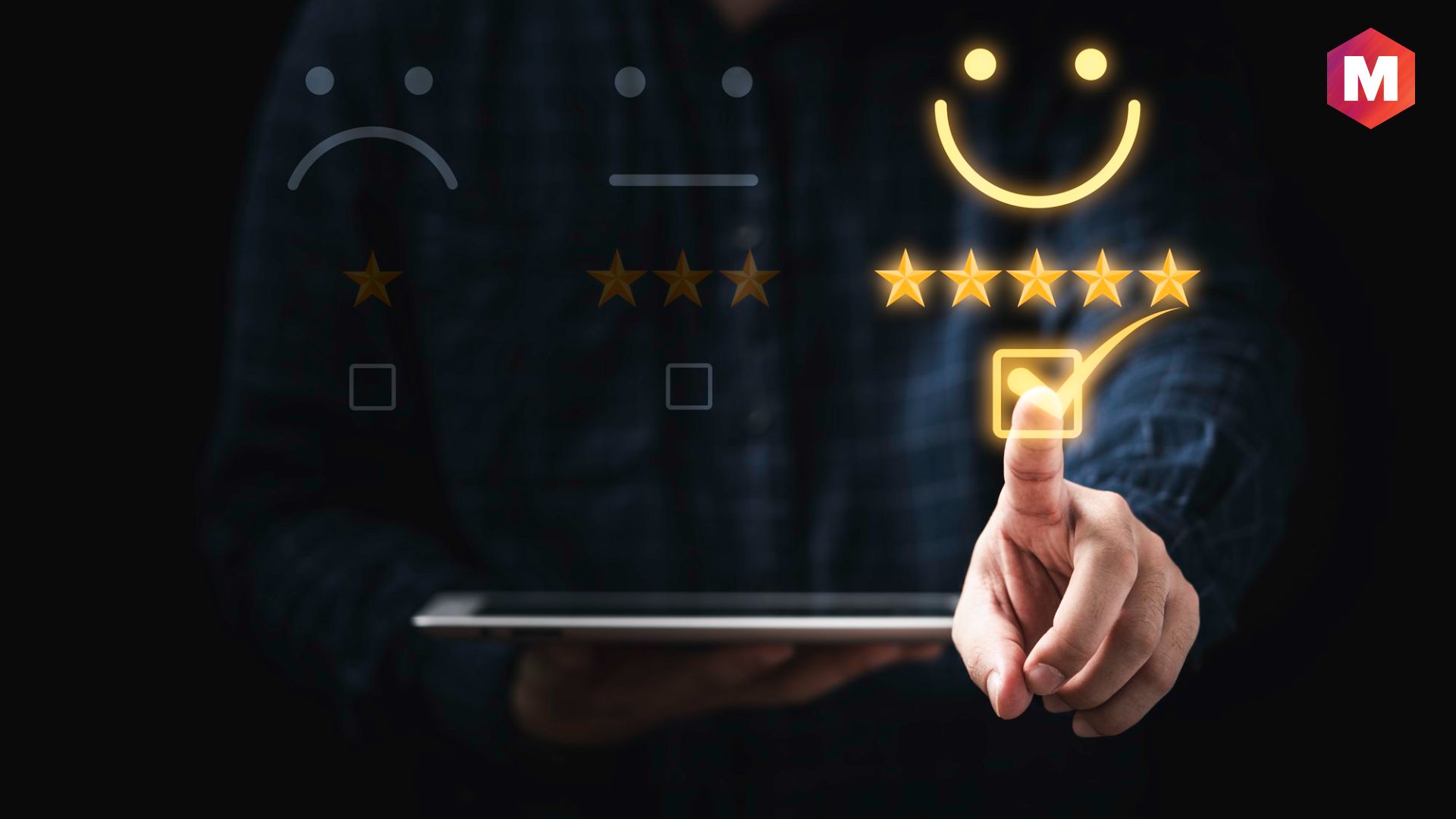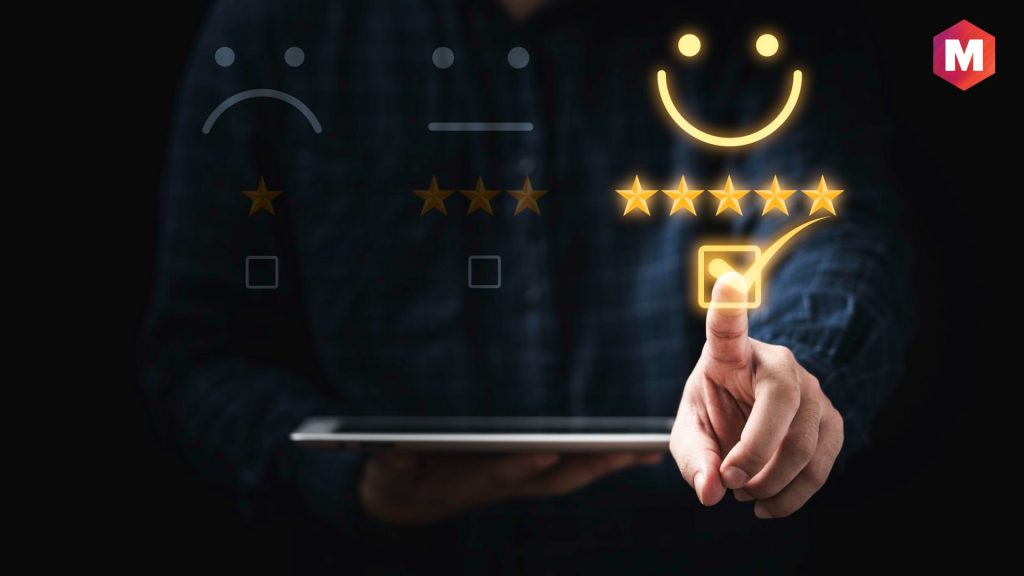 Some of the ways to do the review request and ask your users to share customer experience are –
1) Incorporate it into the conversation naturally
If someone mentions your business in conversation or expresses their view on one of your products/services, inquire whether they'd be happy to leave a customer review about it. Your company will greatly benefit from the insights and feedback that these reviews could bring!
2) Make sure to ask for more whenever you receive compliments.
Convince your customers to share their positive experiences with others by providing them with a convenient link to your business review page and encouraging them to express their satisfaction. Their feedback will be invaluable for pushing the success of your company even further!
3) Reach out to your customers by sending an engaging email blast!
To truly get an accurate picture of how your company is performing, email all contacts on your list and ask for honest feedback. Detailed instructions should be included in the message so that reviews can be filled out quickly and efficiently.
4) Ask customers for a post-purchase review
Once you've completed a sale, why not take the opportunity to hear what your customers have to say? It's something stores do all the time: offering reviews and feedback at checkout. Make sure this is part of your customer service routine so that you can gain valuable insight from those who are already invested in your success.
5) Maximize your reach and visibility with social media engagement
While using social media to solicit reviews isn't exactly groundbreaking, the platform you use can be creative. For example, if you have a Facebook group or LinkedIn group, why not ask the members of those groups to leave reviews?
6) Express your appreciation with a personalized handwritten note and heartfelt gift card
Show your loyal customers how much you appreciate them by sending a thank-you note with a bonus! Include a gift card to reward their loyalty and encourage more reviews – it's the perfect incentive for word-of-mouth marketing. Your kind gesture will demonstrate that their opinion matters while giving them something in return for taking the time to leave feedback on your business or website.
Customer Review Examples
From local businesses to global brands, all should use customer review platforms to optimize trust-building and conversions. Some of the examples are –
1) Peer review sites
When it comes to customer reviews, peer review sites often come to mind. Google reviews, Facebook comments, Yelp opinions, Amazon blurbs and G2 Crowd, etc are a few trustworthy examples of such platforms. Consumers trust online reviews and these sites can do wonders in using customer testimonials in your favor.
2) User-generated content
User-generated content encompasses anything and everything a customer creates, whether it be social media posts, videos, images, audio recordings, or any other form. It's an invaluable asset that offers insights into how customers view your product or services.
3) Quotes
Utilizing customer remarks in the form of quotes or testimonials is a time-tested way to attract potential customers. Often they appear on company websites, like the homepage and marketing collateral, serving as an effective tool for building trust with consumers.
4) Social media
Companies use social media not only to gain followers and increase their brand's visibility but also as a tool for engaging prospects. Don't limit yourself in what you can do with your social media campaigns – think beyond the bounds of conventional approaches!
5) Case studies
Case studies offer an in-depth look into customer outcomes, especially beneficial for organizations providing services to other businesses (B2B).
6) Blog posts
Blogs are a wonderful platform to share your customer's success stories in an approachable and informative way. Include captivating visuals, witty headlines, and engaging storytelling elements to make the most of every post!
7) Customer stories and interviews
Our love for a riveting tale is apparent in the various review types we have mentioned. Prospective customers seek to identify with the individuals your company has already served; they want to ascertain what their own experience will be like.
8) Brand ambassadors
Consider brand ambassadors as an external sales team, for they are devoted customers who highly value your product or service and are more than willing to market it in their personal networks.
9) Videos
Video is an established favorite among internet users in the US. This makes it a perfect platform to showcase user reviews and testimonials – making them more impactful than ever before!
How to Get More Reviews?
1) Generate a variety of platforms to leave reviews and feedback
Customer reviews are critical to comprehend the quality of your products and services, so let's make it effortless for customers to share their opinion! When consumers are looking to learn more about a company or product, they usually look at the reviews on popular third-party review sites. Some of the sites or platforms that you can use for reviews are-
Yelp
Facebook
Google
Amazon
Better Business Bureau
2) Optimize your content
You might not even realize it, but customers could be raving or complaining about your business on third-party sites in the form of unsolicited reviews.
Once visitors come to your site, ensure that you make it simple for them to leave reviews. Optimize all of your online presence – website, blog posts, social profiles, and emails – so there are streamlined pathways for leaving feedback. This will help build trust with potential customers and create a positive reputation surrounding your brand.
3) Create incentives.
Entice your customers to write reviews by offering incentives such as discount codes, and a chance to win an even bigger prize, or gift cards for online shopping or cash. It's a simple yet effective way to show appreciation and get more feedback from them!
4) Meet customers where they are
When you make it effortless for customers to leave reviews, they will be more likely willing to do so. Make sure that your company is present on social media platforms and send out email surveys with links directly leading them toward review sites. Interact with your audience where their attention already lies, providing a simple way for them to provide feedback.
5) Respond to positive as well as negative reviews
Show your dedication to customer satisfaction and enhance trust with potential customers by responding to reviews. Not only will you make present clients feel appreciated when answering positive reviews, but you'll also be able to address any concerns of dissatisfied customers with negative ones. It's an ideal way for companies looking to improve their reputation and connect more strongly with their audience.
6) Showcase the glowing reviews that your customers have shared.
Leverage the momentum of your glowing customer reviews by spotlighting and broadcasting them, inspiring other customers to follow suit. It's effortless to spread the positive word about your business on Google, TripAdvisor, Yelp, Glassdoor, and countless other review sites.
Business owners have the advantage of being able to select favorable reviews and "boost" them, causing them to become more prominent for other customers. This is just like upvoting a review so that it gets seen by as many people as possible.
7) Reach out to customers individually
For those businesses with an enthusiastic and committed customer base, sending email blasts may be the optimal way to acquire more reviews. Taking this approach allows you to request that your customers offer honest feedback on their experience with products or services they've acquired from you.
Showing customers that you value their presence by providing a personalized touch will encourage them to leave more favorable reviews and make them feel appreciated.
How to respond to Customer Reviews?
a) Responding to positive customer reviews  –
Although dealing with a positive review is far more pleasant than addressing something negative, the response remains just as essential. By acknowledging the positive feedback of your satisfied customers, you can inspire them to continue spreading their kind words. Showing gratitude for their reviews is a surefire way to keep your customers coming back! Some of the ways you can respond to positive reviews –
Make your message personalized – Make sure to create a response that is customized and precise. Demonstrate to your customers how much their feedback matters by directly referring to them and expressing gratitude.
Be prompt – Customer reviews are a double-edged sword: they alert potential customers about the quality of your products or services, and also demonstrate that you take customer feedback seriously. Where possible, make sure to reply within 24 hours of receiving any review.
Encourage further engagement – Maximize customer engagement by asking for reviews and follow-up questions that can reveal the extent of their experience with your company.
Mention any ongoing promotions or special offers – Remember to include your promotion in any replies you send – it's an excellent way to increase interest and engagement with your audience!
b) Responding to negative customer reviews –
Though unpalatable, negative reviews can be invaluable. Even the most discomfited customers can alter their viewpoint with a bit of persuasion. Despite how overwhelming it may seem, responding to criticism is essential in satisfying and cultivating customer loyalty.
Crafting a response to a negative review requires more strategy than simply being yourself – it's time to get strategic! Some of the ways you can do this are –
Respond promptly – Customer service should be swift and attentive. When displeased customers write reviews, responding promptly showcases your appreciation for them as well as provides an unparalleled opportunity to apologize.
Put the customer first – Strengthening customer loyalty should be your priority. Make sure that their requirements are met by paying attention to any questions or worries they have about the products you offer and services rendered.
Apologize – Although it can be intimidating, a heartfelt apology can make all the difference to an unsatisfied customer. Offering sympathy and being receptive to criticism will help ease any tension that may have arisen, ultimately allowing you to build trust with them again.
Respond publicly, but push the conversation to a private channel – This is the perfect solution to dealing with negative feedback. Publicly responding to customer feedback not only demonstrates your transparency and appreciation but also helps keep the situation from escalating by taking it into a more private setting.
How can you improve your customer reviews?
Showcase the best-rated reviews on your website to promote customer confidence and loyalty. Showcase your customers' glowing reviews on the homepage of your website so that visitors can see how much they enjoy using your services.
Maximize your customer's shopping experience by displaying reviews on individual product pages – this will give them greater insight into the quality and value of what they're purchasing.
Incorporating images can powerfully boost your message and create a lasting impression on viewers. Showcasing photographs of your products or services may inspire more customers to trust the reviews on your website and ultimately purchase from you.
Gently encourage customers to modify their negative reviews and turn them into a more positive experience.
Conclusion!
The importance of Customer Reviews for your local business cannot be overstated. Consumers read online reviews and trust them as much, if not more, than personal recommendations.
As a local business, it's essential that you have Customer Reviews and actively seek out them. You can do this by requesting Customer Reviews, engaging with customers online, and taking advantage of industry-specific review sites.
Having more customer Reviews can help you to attract new customers and grow your business. So make sure to start leveraging Customer Reviews as soon as possible!
Liked this post? Check out the complete series on Marketing