A customer-oriented marketing strategy is one that focuses on meeting the needs of your customers, and doing so in a way that allows them to feel valued and appreciated.
It's all about building a relationship and establishing trust with your customers, so that they feel comfortable with you and the products or services you offer them.
What is Customer-Oriented Marketing Strategy?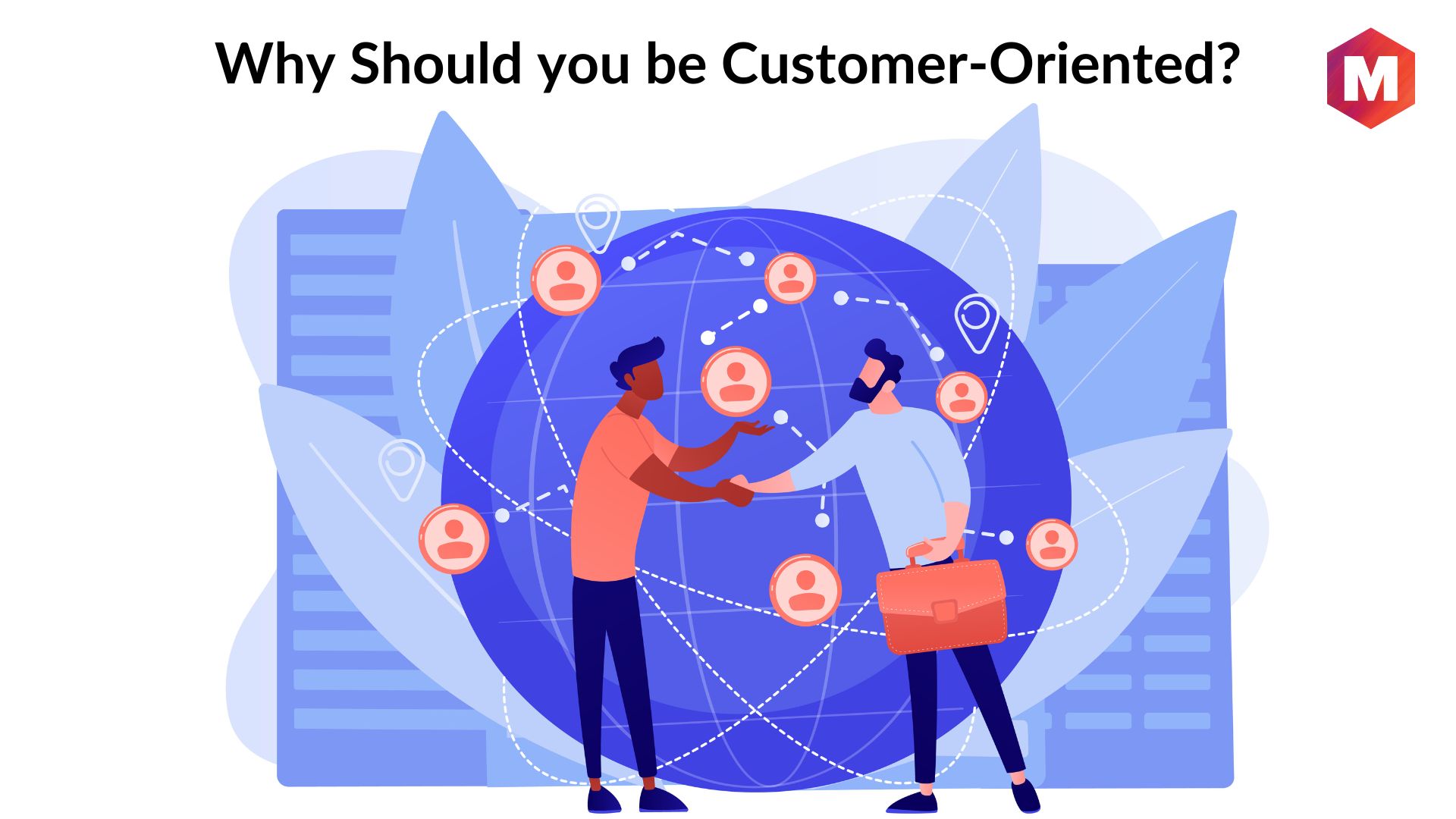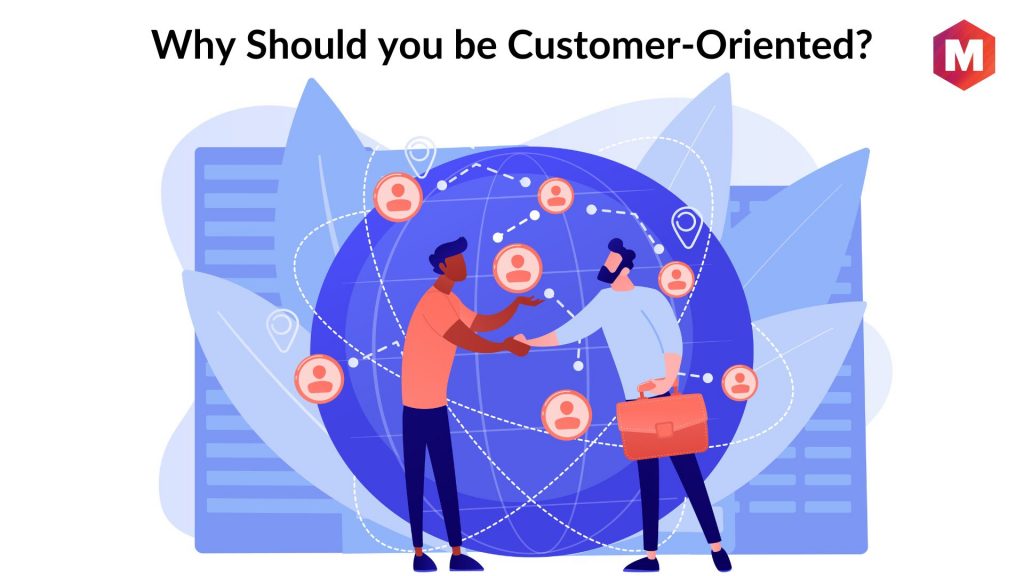 Many companies nowadays tend to focus more on earnings and get more profits so as to conquer the largest market share. However, one important thing which they should not forget during this endeavour is the customer. The customer feedback is the one who can help the business man achieve his objectives. Hence the term — customer oriented marketing.
In the need of making more money to remain viable, companies can choose between focusing on introducing innovative products for which currently there is no demand and demand needs to be created (push strategy) or introduce products based on the needs of customer (pull strategy). The latter one is known as the customer oriented marketing strategy.
High sales volumes and increased profit margins can also be achieved through a customer oriented marketing strategy and according to the statistics it might be achieved with even better results then through traditional strategies.
Why Should you be Customer-Oriented?
You should be customer-oriented because it is the right thing to do. If you are not having customer centric approach, you are not providing exceptional customer service to your customers. You are not listening to their needs, and you are not making them happy. If you want to build a business that is profitable and sustainable, then you need to be customer-oriented.
The other reason why you should be customer-oriented is because it makes sense from a business perspective. If you treat your customers well, they will come back again and again, which means that you have repeat customers who keep giving you money! And if those repeat customers refer new customers to your company, then your growth rate will go up even faster!
In order for this process to work properly though, as a business owner or manager, YOU need to be the one leading the charge on creating great experiences for your customers using the customer support team so that they keep coming back and have the best customer satisfaction!
Now that we've covered the basics of why customer-orientation is so important, let's talk about how you can make it happen.
How Customer Oriented Marketing Strategy Works?
Focusing on a customer oriented strategy equals putting the customer in the center of all you goals and strategies. Basically this strategy focuses on the customer needs and their satisfaction. For getting a better overview of them, the simplest step is to pay attention and to evaluate your competitor's offer in contrast with your customer needs and identify which of those needs are not met by your opponents.
The main ingredient in the customer oriented marketing consists in research of your customer's needs. The research can involve focus group discussions, surveys, interviews, feedbacks, etc. Investing in the research of the customer behavior, considered a prior step before proceeding to product development, involves high costs, and this can be one of the main disadvantages.
But if we were to take into consideration that customers who purchase more frequently are more cost attractive than chasing new customers, the strategy might seem more profitable and sustainable. Happy and satisfied customers are going to continue to buy from you. Moreover they are going to spread the word to their family and friends, thus helping to enlarge your customer base.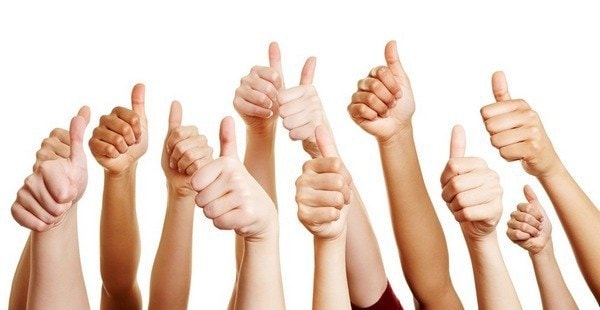 As mentioned earlier, research of your customer experience is one important ingredient of the customer oriented marketing strategy. Another ingredient having the same level of importance for the success of the strategy are the employees, who can be described as the main point of interaction between your company and your targeted customers.
Hence, marketers have also started to focus on holistic marketing as it is a part of customer oriented approach. If, at all points of customer interactions, the brand values of the company are resonated, then ultimately the customer gets highly satisfied with the experience, which is the best example of customer oriented marketing.
I believe that the advantages of applying the customer centric marketing strategy are quite obvious in terms of long term profitability as well as facility in defining the role of the employees in achieving a common goal of satisfying customer needs, but we should not underestimate its disadvantages, besides the high costs of market research which might lower the profit margins.
Challenges with Customer oriented marketing Approach
The strategy generally works for big companies as they are the one with the necessary resources for investing in research and diminishing the risks of underestimating the market and the customers.
Risk of underestimating your customers can also be a great drawback as managers have to keep in mind the fast peace with which people change their buying behaviors and needs . With more and more highly informed customers, customer oriented companies need to be flexible when employing the strategy, remaining consistently able to up-date it.
In order to conclude we are going to mention two companies which have succeeded in applying the strategy. One of them is the car manufacturer, AUDI, which in 2008 has been named the best market oriented company in the history of the automotive industry. Finally, the second example consists in the well-known airline company, the Scandinavian Airlines System (SAS), which has become a major market player in the industry by learning to listen their customer needs (using a customer service team) through a concept, they call "moments of truth".
Elements of Customer-oriented marketing Strategy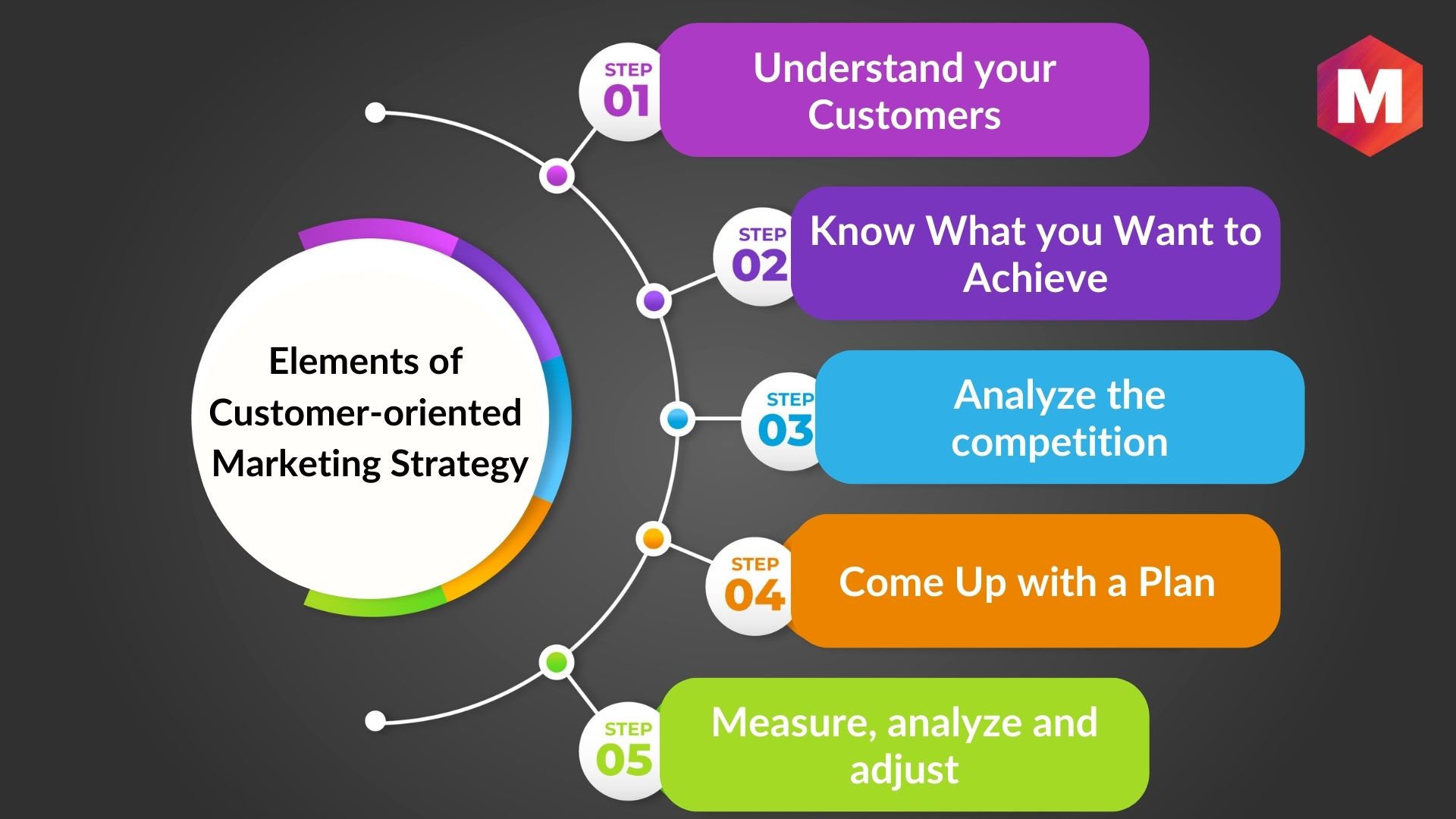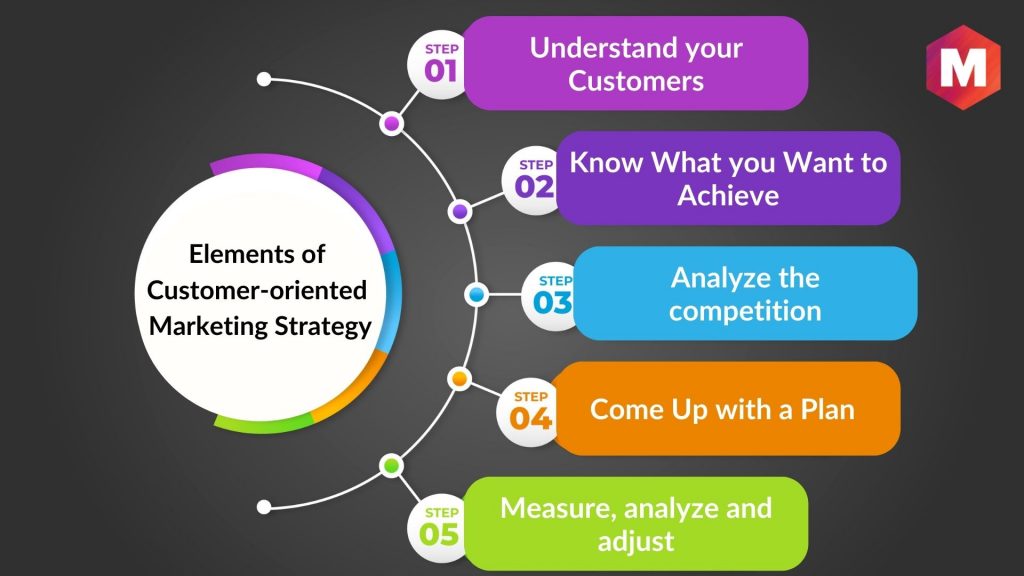 Customer-oriented marketing strategies are designed to create and maintain a mutually beneficial relationship between a company and its customers. The goal is to provide value to customers by helping them solve their problems, while also providing value to the organization by building brand loyalty, increasing sales, and reducing customer churn.
Here are some of the key elements of customer-oriented marketing strategies:
1. Understand your Customers
The first step in implementing a customer-oriented marketing strategy is to understand your customer's point of view. Who are they? What do they want? How do they interact with the marketplace?
Your customers will appreciate having a clear idea of who you are and what you're offering. This lets them make informed decisions about whether or not they want to buy from you, which means more sales for everyone!
2. Know What you Want to Achieve
Before implementing any type of marketing strategy, it is important that you have an idea about what outcome you hope to achieve from doing so.
For example, if your goal is simply awareness of your business then any type of campaign might suffice but if it's generating leads then something more targeted might be required instead (e.g., social media advertising).
3. Analyze the competition
Competition is key to any business, and it's even more important when you're trying to attract new customers and provide a great customer service to build meaningful customer relationships.
Before you start writing your plan, take some time to research the competition—what they do well, what they don't do well, and how they can improve. This will help you understand what kind of marketing approach will work best for you and your business.
4. Come Up with a Plan
Your plan should include some specific goals and objectives that are relevant to your target market. It should also include a timeline for implementing various tactics throughout the year so that you can keep track of progress and make adjustments as necessary.
5. Measure, analyze and adjust
Once you have a plan in place, it's important to make sure that it is working as intended by measuring its success along the way. You can do this by collecting customer feedback, and tracking performance metrics such as traffic sources and conversion rates so that you can adjust accordingly if necessary.
Final Words!
If you want to implement a customer-oriented marketing strategy, first determine how you can apply the superior knowledge that you have of your business and your customers. Secondly, identify ways to gain even more insight into their needs and wants.
In this way, whenever possible, you can bridge the gap between what's being provided for customers and how they perceive it. You can then inform these customers about this need, and try to put forth a solution that satisfies them and also improves your business.
Finally, carry on with this cycle until you have a plan that adequately meets the needs of both your entire company and your customers.
Liked this post? Check out these detailed articles on
Topic of Marketing
Alternatively, check out the Marketing91 Academy, which provides you access to 10+ marketing courses and 100s of Case studies.