Doris and Don Fisher opened the first GAP store in 1969, with the basic idea to make it easier for people to find jeans. Over the year's GAP has transformed the meaning of American style, the manner clothes are made and sold.
It's been 49 years and the company has now grown from a single store to a global business with 5 brands- Gap, Intermix, Banana Republic, Athleta and Old Navy, which has total stores in 43 countries. As of August 2018, it has 3187 company-operated stores in the US, Canada, Europe, and Asia. GAP's products are now available 90 countries worldwide through 439 franchised stores around the world. The brand has taken iconic American style from the streets of San Francisco around the world.
Strengths in the SWOT analysis of GAP
Global Brand Recognition &Multibrand Portfolio:
The brand has company-owned or franchised stores in operation in across 43 countries and has the ability to ship online orders to over 90 countries and areas. It is a highly recognized brand with around 135,000 employees around the world the brand takes advantage of customer's needs and wants across international borders.
Gap Inc. portfolio comprises of brands like Gap Global, Old Navy Global, Banana Republic Global, Athleta, and Intermix. The Banana Republic Global segment offers clothing, eyewear, jewelry etc. Athleta offers women fitness clothing under Gap brand, we have GapKids, GapMaternity, GapFit etc. All of these brands target multiple customer segments.
Equality and Diversity of the brand
Equality has been the cornerstone of the brand and these values have been inculcated in the culture since the beginning. The company ensures that people of all backgrounds feel welcome in the store and in the workplace.
According to Thomson Reuter's diversity and inclusion index, Gap Inc. ranks in top 5. The brand believes that inclusion, diversity, and opportunity are the keys to drive growth, retain talent and attract new customers. In 2016 Gap Inc. was awarded the 2016 Catalyst Award for leadership on equal pay for equal work and strong representation of women. This inclusive culture has helped create a good image and affinity for the brand.
When it comes to supplying chain it focuses on flexibility and speed, it uses ways like fabric platforming and positioning technique that involves using common fabric across multiple styles for multiple seasons. Gap Inc. also uses just-in-time basis to manufacture its merchandise, with a third of all stock being manufactured in a quarter as opposed to the nine months it used to take, it also uses streamlined inventory system.
Any pair of jeans bought by a customer at Gap is made with 20% less water than the conventional manufacturing method, thus saving nearly 65 million liters of water per year. By 2021, the brand claims that the cotton bought by customers from Gap will be more sustainably sourced. The brand also claims that by 2020, 80% of Athleta's materials will be made with sustainably sourced.
Also by 2020, one million women from factories and communities will be graduating from the P.A.C.E. program. Gap Inc. also plans to reduce greenhouse emissions from the global owned and operated facility by 50% by 2020. With all these efforts towards sustainability, it is facing the future with creativity, vision and clear sense of purpose.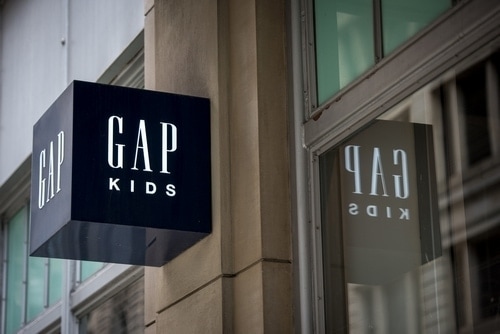 Weaknesses in the SWOT analysis of GAP
Decreasing brand popularity:
The brand identity of Gap is losing its appeal and needs a much clearer sense of purpose. Due to lackluster sales Gap has been closing number of stores around the world. The brand used to represent "effortlessly cool", but now it is not able to position itself in the mind of millennials which is costing its market share.
A pair of white jeans at Gap is priced $69 and the identical looking pair at Old Navy (with little polyester mixed in) is priced $25. The success of Old Navy has come at the expense of Gap
Brands like H&M, Forever21, and Zara are all upping their game and creating the more customer-centric collection. The market is moving upward but the gap seems to be staying still. Prevalence of online shopping and the popularity of the fast-casual segment has deeply affected the sale of the brand. There is intense competition in the apparel segment and customers are very prone to brand switching. A gap will have to work on its product offering and come up with collections that can resonate with the millennial customers.
When customers walk into Gap store all they are going to find is a wall of V-neck tees, sweaters, the array of jeans. The brand sells everything simple but essential, this strategy might have worked out in the past but now the customers want more, they want different. The same easygoing, not-too-flashy, dependable style is repeated year on year and now it is getting boring. H&M, Forever21, offer similar products at the much lower price. They tried to sell its essential basics image with a new campaign titled "Dree Normal" but when the collection came out in stores, it didn't do well. The clothes were too simple to pique any interest. Gap needs to revamp its product offerings and create styles that can better connect with the millennials.
Opportunities in the SWOT analysis of GAP
International market expansion focusing on Asia:
The Philippines is well suited for Old Navy's products because they have a good affinity towards American Brands. Even though the market is of small size, the middle class in the Philippines is flourishing offering good potential for value-based retailers.
Japanese buyers are more inclined towards buying longer-lasting value-focused products and the market for affordable apparel is increasing, so expansion would be a wise move. In China, Old Navy is the most popular affordable western brands. These are emerging markets, with increasing potential for buying, if Gap manages to effectively target the right customers, it could flourish in the Asian Market.
Improvement in the online business:
Gap Inc. has worked well to make its presence felt in the online space. It uses one single platform to sell all of the product ranges from the different brand. This has helped increase the recognition for the other brands. A gap was able to deliver strong growth from its mobile & online space. In the first quarter of 2018, it beat its own target of $3 billion in online revenue.
It has invested in the native mobile apps and also increases the speed of the site. They have a program called Gap cash with which customers could get more savings and offerings as well. The brand has the capacity to ship online products to over 90 countries. Gap has launched a new program which allows customers to buy online and pick-up in store and they hold the items for 7 days. The gap should work on making online experiences seamless for its customers which will help in retaining them.
In the year 2016, Gap utilized Olivia Palermo who is an international style icon and was made the first ever women's style ambassador. This helped improve the visibility and image of the brand. With her wearing Gap's apparel during the 2017 CDFA Awards in New York, it helped maintain a higher celebrity following for endorsement. In 2017, Gap announced it was launching a film cast featuring the number of well-known celebrities like Wiz Khalifa, Priyanka Chopra etc. With programs like this creates more opportunities for the future and position itself as a dynamic company. Research shows celebrity association to the brand can increase growth, increase visibility and capture younger audience's attention.
The popularity of Gap's Athleta brand:
According to Forbes, activewear is the primary driver for growth opportunity in the apparel industry. According to the Global Industry Analysts Inc., Global Industry Analysts Inc., sports and fitness apparel clothing will reach $231.7 billion worldwide by 2024Athleta brand has been performing well, and much faster rate than that of the industry. It is on its way to opening multiple stores and is swiftly gaining momentum. The social media presence of this brand is extremely good and takes initiatives to empower women around the world. Gap Inc. has also built an innovation center which is working on technical fabrication and sustainability innovation for active wear, with initiatives like this, Gap Inc. is very optimistic about the brand.
Threats in the SWOT analysis of GAP
The decline of sales and profit:
Gap brand recently announced that the sales from store decreased by 5%, the company has increasingly relied on Old Navy and Athleta brand while it is trying to revive Gap brand. The late deliveries caused the inventory to swell in the first quarter of 2018 which led retailers to resort to discounts. The brand is not able to deliver even during the period when consumer spending is increasing.
The number of physical stores is proving to be a liability for the brand as sales have been declining and consequently affecting the margins. A faster pace of transformation and a focused strategy is required to revive the brand.
Management not able to improve the business:
The brand has made improvements on the company's supply chain and is rolling out initiatives like loyalty programs that can be used across brands. Huge investments have been made on technology which helps staff replenish inventory etc. Old Navy has also announced adding plus sizes to attract more customers. The brand is not able to deliver profit even when the customer spending is increasing. The brand is unable to bring fresh design on to the shelves and also lacks an effective operating model.
Gap has been struggling to improve its performance as it faces intense competition from lower end fast fashion apparel and also the higher end fine apparel brands. Brands like Zara, H&M, and Forever21 are the main competitors of Gap. These brands are able to consistently improve their store traffic and also improve the inventory turnover.
Gap is taking initiatives for revival but the impact is not visible and is continuously losing customers. The company has launched a transformation program which involves achieving a more flexible and efficient business model. The brand is facing a challenging situation and needs to re-establish its brand identity.
Liked this post? Check out the complete series on SWOT