One of the stores which gives marketers lessons on how to keep customers coming back is Zara. It is the flagship brand of the Inditex group, which has more then 8 brands and subsidiaries in its belt. Out of all these, the one brand driving a lot of revenue towards Inditex is Zara.
Zara is known for its fresh designs and for keeping the designs on rotation so that the customers always get new designs whenever they walk into the showroom. Consequentially, till date, there has been almost zero advertising expenses by Zara and yet, the brand is one of the most powerful retail brands across the world. If there was an epitome of pull strategy based on product and strategic design, then Zara would be among the top 10 contenders of that price.
Here is the SWOT analysis of Zara.
Strengths in the SWOT analysis of Zara

Unique designs – One of the first and foremost advantages of Zara lies in its design abilities. It has a plethora of designers on board who understand the Zara brand and the psyche of the customers who visit Zara very well. The clothes are elegant, superior quality and have fantastic finishing. They come in a lot of varieties including party wear, office wear, for kids, for men and women, casuals as well as several others. Even accessories are an integral part of Zara wear.
Strong presence – Zara has kept expanding its presence across the globe. On latest count in 2015, it had 2100 stores worldwide with an average sale of 15.9 Billion per annum. In 2016, it has expanded even further. If it has to survive in retail, Zara has to keep expanding its presence and it is good to know that the brand is doing exactly that.
Brand value – The brand is ranked number 53 by Forbes in its brand ranking and is valued at a whopping 10.7 Billion dollars. There are several positive points leading to the excellent brand equity of Zara. The performance over the years and the consistent quality it has provided has given a boost to the brand in recent years. Besides this, the brand has stayed away from controversies and tried to stay humble even when it came across them. Such a healthy culture has resulted in the brand being loved by its consumers over and over again.
Superb supply chain – Zara is known to get its designs from conception to the stores in 2 weeks whereas it takes other competitors minimum 6 weeks or more, automatically making Zara the trendiest store which has the latest in fashion. On an average, 450 million items are designed every year by Zara. This naturally pushes the consumers to visit the store again and again to check out the latest designs.
Design advantage – Zara has the reputation of launching 1000's of new designs every year across the globe. As a result, a customer who might visit other stores twice or thrice a year to check out the latest in fashion, might have to visit Zara every month to see whats new in Zara. Because of their strong design advantage, the customer keeps buying fashion forward clothing from Zara besides purchasing the basics from the brand as well. Some customers dedicate their complete wardrobe to Zara clothing. All of Zara's designs are elegant yet trendy, and are loved by their customers.
Low cost and higher profits – Because of their design advantage and fantastic physical evidence in stores, Zara rarely advertises its products. It relies completely on its trendy image to pull the customers to its stores. This is the reason that Zara has very low cost of operations and at the same time has high margins. It spends most of its earnings and profits on backward integration and on supply chain rather then spending it on Advertising.
Physical evidence of stores – Another strong positive of Zara is that the service has very good physical evidence of the stores. Whenever you walk into the store, you will get this open minded feeling instead of feeling cramped like you do in other showrooms. Zara uses a wide and deep store layout so that customers would love to walk around the store while picking up and trying out their favorite designs.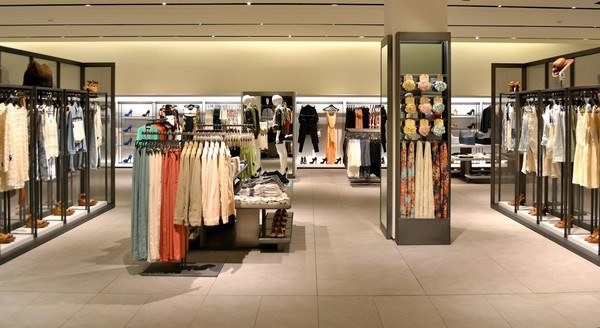 Weaknesses in the SWOT analysis of Zara
Generalised collection – Zara does not specialise in anything and has everything for everyone. One of the reasons that a customer shifts to a competitor is when the competitor is focused on one thing. It might be shirts, it might be pants, it might be dresses or party wear or whatever. Such immediate focus is lacking in Zara and it is good for the day to day wear or trendy wear.
Lack of advertising – While it may lead to a cost advantage and cost is one of the strengths of Zara, the lack of advertising is a weakness because the brand can double its profit and its turnover by advertising its collection. It is known to be a trendy fashion outlet and it can easily pull in more customers with advertising which will generate a lot of positive word of mouth for the brand.
Low safety stock – A regret which Zara stores have is that stocks which are fast moving rarely have a safety buffer behind it. Low inventory is kept at Zara as a strategy to keep customers walking into the stores to check out the latest items. But it also means that if a particular design is a hit with the customers, it wont reach its potential because there is no safety stock or buffer for this design.
Opportunities in the SWOT analysis of Zara
Online E-commerce – Zara can definitely take advantage of the online buying trend and make its clothes available not only in its own stores but also on other E-commerce stores as well thereby bringing a hike in sale.
Backing some flagship designs – One of the common traits of top brands is that they have some designs which are flagship designs of their stores. This is lacking in Zara and hence, there should be some designs which should always be sold from a Zara store, bringing in great demand for these designs and building even more brand identity for the brand.
Growing market potential – Wherever Zara is currently existing, he brand is becoming more and more popular, thereby resulting in growing market potential. A rise in earning potential of consumers results in rise in demand for status symbols. Zara is one such status symbol in clothing industry which consumers love to wear. Hence, Zara needs to capitalize on the growing market potential of existing markets.
Market expansion – New markets will always give new business and potentially profitable business to Zara. It needs to keep a constant eye on emerging markets, where the spending power is rising and where people can spend on a semi premium brand like Zara so that they can wear better and more stylish clothing. Such market expansion insures the clothing brand against saturation in developed countries where the competition is too high.
Threats in the SWOT analysis of Zara
Low advertising – Zara needs to ask this question to itself. Looking back, will Zara think that it made a mistake by not advertising its unique brand proposition from the start? The way that Zara keeps rotating design, it can rope in a lot more consumers if it advertises the fact that you will get the latest in designs from Zara. But maybe, if its consumer base increases tremendously, coming up with new designs and differentiating itself will become more and more difficult. So, the debate of whether Zara should advertising or not, will be going on in the management room of Zara itself.
Competition – Zara is not the only one which is known for its chic design. Vero moda, H&M and Mango are also loved for its design. But the advantage to Zara is that the other brands are quite costly when compared to Zara whereas Zara gives much better designs at affordable prices. However, this competition leads to saturation in the semi premium segment indirectly affecting the margins.
Reach  – Zara needs to increase its reach tremendously. Zara operates exclusively through its own stores and does not have shop in shop kind of stores or smaller displays (at least in Asia). This is where the competition gets its tremendous volumes from. But these volumes are missing in Zara and the only answer to this is that Zara increase its reach. If it does not, then competitors will eventually affect the brand equity of Zara because of their sheer power of penetration.
Liked this post? Check out the complete series on SWOT