A popular low-cost airline, SpiceJet was formed during the year 2005 and is headquartered in Haryana, India. SpiceJet is the fourth largest airline in the country that carries many domestic passengers and has a market share of about 13.3% as of the year 2017.
The company's tagline says 'flying for everyone'. SpiceJet operates about 312 daily flights to about 55 destinations that include 47 Indian and seven international destinations from places like Delhi, Mumbai, Kolkata, and Hyderabad. It was established as an air traffic provider ModiLuft during the year 1994. It later was acquired by Indian entrepreneur Ajay Singh during the year 2004 and restarted its operations as SpiceJet.
This airline also operates a fleet of Boeing 737 and Bombardier aircraft. SpiceJet provides premium services with the name of SpiceMax where the passengers can get additional benefits that include pre-assigned seats with extra legroom, priority check-in, complimentary meals on board, and many more.
About SpiceJet
Type: Low-cost airline
Industry: Aviation
Founded: 2004, New Delhi, India
Founders: Ajay Singh, Bhupendra S. Kansagra
Headquarters: Gurgaon, Haryana, India
Area served: India, Nepal, Bangladesh, UAE, Sri Lanka, Malaysia, and Thailand
Current CEO: Ajay Singh
Number of employees: 3,600+
Major products: Air travel
Having been a popular low-cost airline, let us examine the SWOT of SpiceJet.
Strengths in the SWOT analysis of SpiceJet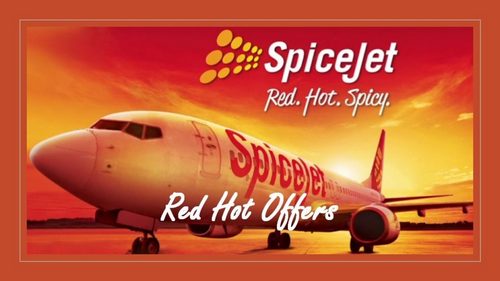 The power to fly – The management personnel of SpiceJet are all seasoned professionals and seniors who have a good amount of international experience in both managing and launching low-cost airlines. By having many man-hours in the industry, the management is committed to bringing to customers in India, the benefits of the global revolution in the skies. The airline provides a comfortable journey that is affordable and refreshing.
Safety features – The airline invests a huge amount in safety and maintenance of aircraft by a high level of expertise people. The pilots, maintenance crew, and its engineers are given rigorous training and are hand-picked for their experience and knowledge in the domain. Hence the passengers can rest while traveling.
Dynamic fare structure – Having a dynamic fare structure, the airline provides fares that are affordable and comparatively lower those other airlines. Having contemporary interiors, vibrant colors, and modern graphics, SpiceJet most fits the current traveler.
Good reachability – SpiceJet has good reachability to about 55 destinations. This makes the traveler fly to these destinations easily.
Good market presence – SpiceJet has a good presence in the market as it has maintained a good advertising strategy. Due to this, it has a good brand value.
An Interactive website – SpiceJet provides an interactive website that allows booking through their website. By this, the customers can book the tickets; perform check-in through online itself.
Tourism partnership – SpiceJet has partnered with Tripfactory for selling holiday packages by using the platform. This will increase their business revenue.
The Rs. 99 fare – It started off with Rs. 99 far for the first 99 days to attract the passengers. This has got many passengers to the airline for the first few days to increase their visibility.
Weaknesses in the SWOT analysis of SpiceJet
High competition – SpiceJet faces strong competition from other competitors and due to which it has low market share.
Limited destinations – The number of destinations served by the airline is low as compared to other airline services. This will provide a restriction to passengers who travel to other destinations not listed in the SpiceJet destinations.
Wrong decisions – During the year 2014, SpiceJet announced 50% discounts as the airline was facing a lot of competition. Due to this it has to cancel many domestic flights across the country and caused a lot of chaos to the passengers.
Frequent offers – SpiceJet providing frequent offers to the passengers is not a good idea to gain passengers. This will impact their revenue generation thereby facing a lot of loss in the business.
High airport and fuel cost – All the airlines including SpiceJet face the heat of having a high-cost environment that is widespread in the aviation industry. This will amount to major of their income thereby leading to a low revenue generation.
Dip in their profit – During the recent months, the airline has posted a major loss of Rs. 38 crore as compared to the profit of about Rs. 175.2 crore in the previous year.
Opportunities in the SWOT analysis of SpiceJet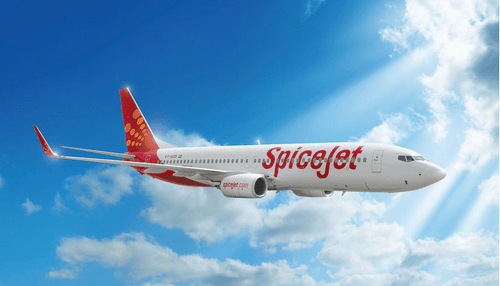 Low airfare, hence more passengers – Since SpiceJet is popular for their low-cost airfare, much middle class who wish to travel through airline can make use of SpiceJet for their travel.
More routes and destinations – SpiceJet can gain more opportunities to grow their business by introducing more routes and destinations. The airline can increase their destinations to popular places that will fetch them more passengers.
Having international partnership – Having partnerships with the international market can increase their visibility and their brand image.
Growing interest in tourism – Since SpiceJet has partnered with tourism sector; there is a huge opportunity for it. The tourism sector is growing in India and this helps the business to grow.
Tax holiday on leasing of aircraft – India's Union Budget Government of India has announced five year tax holiday on the event of leasing an aircraft.
Threats in the SWOT analysis of SpiceJet
Strong competition – SpiceJet faces a lot of competition from its competitors which is a serious threat to the airline services.
Fuel increase – The rising fuel cost can be a threat to their economy. This will decrease the margins for the airline.
Change of government policies – Frequent change in government policies and having pressure from the international market will affect the brand operations and image of the company.
Liked this post? Check out the complete series on SWOT