Strengths in the SWOT analysis of Hershey's
Largest chocolate manufacturer – Hershey's was Founded in 1849 and has a large presence across the globe. It is considered as one of the largest chocolate manufacturers in the world. Below is the US market share of Hershey's.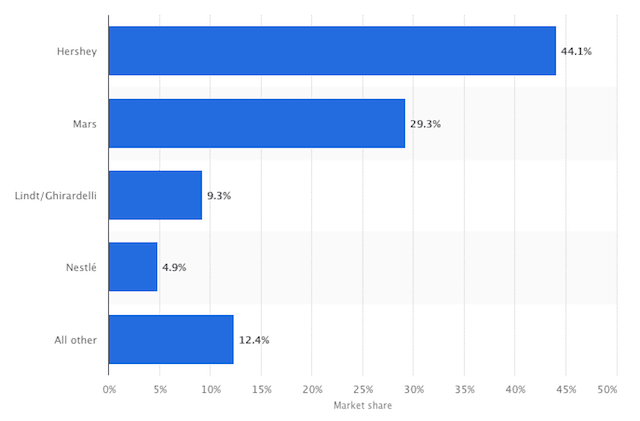 Wide distribution – Hershey's is distributed in more than 60 countries although it is highly concentrated in some countries and has an average market share in other countries.
Innovative chocolate brand – Hershey's is known as an innovative and creative chocolate brand. It has branded itself in many ways and has started many new things. Some of them include the Hershey's chocolate world, the various Packaging types used by the brands and the different types of chocolates created.
KitKat license – One benefit to Hershey's is that because of its huge market share, Hershey's in partnership with Nestle also has the USA distribution for KitKat. KitKat is again a brand loved across the world and is one of the highest sold chocolates. Thus, KitKat license also drives revenue for Hershey's.
Huge product portfolio – Here is the Product portfolio of Hershey's. As can be seen from the Wikipedia link, Hershey's is present in more than 50 product variants and this is a huge collection for a chocolate manufacturer. You can find any type of chocolate under the sun in the portfolio of Hershey's.
Billion dollar sales every year – Hershey's has a huge 7.5 billion dollars per annum as of 2017.
Highly regarded company – Hershey stands 249 on the highest regarded companies list of Forbes. It is also 269th in the world for the best employers. These 2 figures show the amount of respect for the brand.
Brand equity – Hershey's is ranked the 94th most valued brands in the world and has a Brand valuation at $7 billion. The company spends around 520 Million Dollars a year on advertising and marketing.
Philanthropy efforts – Hershey's has done a lot of efforts towards Education, has its own schools with very good facilities. Recently, in association with Clinton initiative, Hershey's has pledged to take care of Basic Nutrition for Ghana.
Weaknesses in the SWOT analysis of Hershey's
Purchase of Cocoa – Hershey's does not purchase in an organised manner for which it is criticised. Hershey's does not use fair trade practices as expected from such a top company.
The expansion is limited – Although it is in FMCG segment, Hershey's is expected to expand to more than 60 countries thereby covering more ground.
Many small players – The segment is such that there are many small and regional players thereby cutting the market share in different regions.
Fake products – The problem with Hershey's is that it is easy to duplicate and this is the problem being faced in developing nations where counterfeit Hershey's is found.
Opportunities in the SWOT analysis of Hershey's
Snacks segment – Besides chocolate, Hershey's can also snacks segment though this will create more diversification then focus on the brand. However, most FMCG's operate in various segments for Economies of scale.
Expansion – We don't think 60 countries is enough for such a loved brand and Hershey's can definitely expand further. In fact, it has a very low footprint in India and similar countries where there is a lot of scope for expansion because of the population.
Distribution network – Naturally, with expansion, the importance of having a strong distribution network rises manifold. Because Hershey's mainly deals in chocolates, it needs to have the right pull so that a strong distribution network is created.
Threats in the SWOT analysis of Hershey's
High competition – One of the major threat to the establishment of Hershey's is that there is very high competition in the chocolate segment. There are Mars, M&M and Cadbury which are strong brands in this segment. As a result, Hershey's is always fighting against these competitors at all steps.
Decreasing margins – Cost of all products is rising. Distribution costs, labour costs, fuel costs, everything is increasing. Due to this increase of costs over time and because of the strong competition present, the margins of the brands are decreasing. Over a period of time, the bottom line is getting hit because of these costs even if the top line is consistent.
Health awareness – More and more people are becoming aware of the benefits of a healthy lifestyle especially after many blogs and news programs have started focusing on these. The first suggestion in the health advice is to stop consumption of sugar or sugar-based products. As chocolates themselves are heavily sugar based, more and more people are avoiding chocolates and consumption is dropping.
Raw material problems – Cocoa is a major raw material used in Hershey's and there is huge consumption of Cocoa across the world in various forms. As a result, procuring the right amount of Cocoa is a major cost and bottleneck of production.
Liked this post? Check out the complete series on SWOT