Staples, Inc. is an American multinational office supply retailer. It has around 1,500 stores in North America and is headquarteredFramingham, Massachusetts and it opened its first store in Brighton, Massachusetts. Staples does business with large enterprises in Canada and USA.
It sells office machines, office supplies, technology&business services, printing & marketing service via both physical and online stores. It serves the wide range of enterprises from solopreneurs to Fortune 100 Companies. Staples assures that it has all the office supplies a company would need.
Strengths in the SWOT Analysis of Staples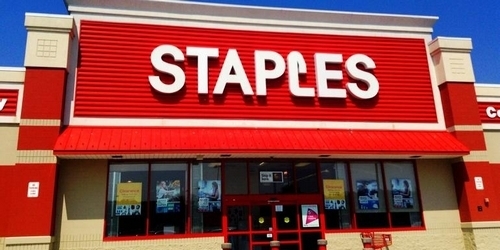 1) Sustainable Brand
The brand has a program called "EcoEasy" program that provides its customers access to earth-friendly and recyclable products. It has a large market share and the brand image of Staple is that their products are of high quality.
Since years, Staples has made sustainability a fundamental part of its brand identity. It wants to become a globally responsible brand by ensuring its products are environmentally favorable and uses its position in the market to educate its customers about recycling and waste reduction.
2) Excellent Strategy
Staples has built expertise at entering newer markets and obtaining success, the expansion in different markets has helped the organization build newer revenue streams and diversify the economic cycle risks in different markets it operates in.
It has a strong focus in Omni-channel commerce strategy by fulfilling customer's "get-it-now" demands and it also assures customers receive same-day delivery. By 2020 Staples wants to focus on growing the mid-market in North America, cut back the cost of the company and remain profitable in North America.
3) Omni-channel offering
Staples is improving its online and mobile capabilities to allow customers to experience differentiated multi-channel experience shopping experience. It is obtaining success in categories like breakroom supplies, technology products, copy & print. It wants its customers to have a seamless shopping experience.
The customers are provided a toll-free number at their fingertips to have a live chat with the representative. It has ensured customer engagement as the focus of their Omni-channel retailing. In a Staples, outlet customers will have both Point Of Sale and also online checkout. They also thoroughly integrate marketing campaigns across all the channels present.
Weaknesses in the swot analysis of Staples
1) Strong competition
Staples faces tough competition from companies like Walmart, Office Max and Circuit city store and also Amazon. Even though it is the largest distributor of office supply it is not immune to the tough competitions.
The competitive advantage of Staple is its economies of scale and excellent operating capabilities. However, it's a competitive advantage is getting diluted due to a merger of OfficeMax and Office Depot and also threat by Amazon on its delivery business. The products at Walmart are much cheaper than that of Staples, however, Stales should play on its strength of providing high-quality products.
2) R&D activities
Even though Staples is investing above average in Research & Development, it has not been able to compete with the players. In terms of innovation, Staples is lagging behind its competitors. Staples looks forward to bring out products that are based on tested features in the market. Both Amazon and Walmart are either building capabilities or buying them and are also establishing their own incubators, Walmart has its own research firm Walmart Labs which invests in businesses and startups
Opportunities  in the swot analysis of Staples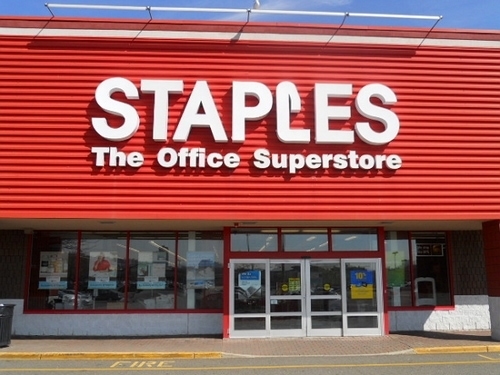 1) New Technology
Staples leverage the use of newer technology to provide differentiated pricing opportunities to the customers. It has enabled the firm to retain loyal customers through their value-oriented propositions. It is prioritizing innovation as a catalyst to provided a differentiated product offering to the customers.
They have voice-enabled Easy Button recording systems to quickly record supplies, chat about their needs and track shipments. It combines product management with technology.
2) Growth Acceleration
Staple's expansion model has helped it build newer revenue streams and has ensured superb performances in newer markets. It is now planning to integrate its retail and online offering, increase investments, implement leadership changes, also initiate a multi-cost saving plan and restructure its internal operations. All these strategies are aimed at accelerating the growth and also improving productivity. These strategies if implemented properly will allow greater growth opportunities for Staples.
Threats in the swot analysis of Staples
1) Counterfeit products
Counterfeit is a trillion dollar problem and is a significant threat to any brand. It is one of the most growing threat online. The volume of fake office supply products are increasing and the products have reached the global marketplace. The marketing costs also increase when illicit sellers bid up the paid advertising and erode legitimate SEO initiates. It affects the loyalty and lifetime value of the consumers. Staples have developed counterfeit detector pens to identify fake office supplies, however, the threat from this is still strong.
2) Currency Fluctuations
The company is operating in numerous countries thus it is exposed to currency fluctuations. It has to face the volatile political climate is various markets.
For a company like Staples, it is difficult to predict its earnings. If the company predicts to earn a certain amount each year, it faces significant reduction or increment depending on the exchange rate.
3) No point of differentiation
In the 1990s and early 2000s, Staples was selling office supplies, computer hardware, and software and it was considered a unique product positioning but with companies, Office Depot and Office Max also expanded and gained significant market share.  Walmart also started selling similar products and Amazon started selling office products with better delivery service. Thus it is always necessary for a company to evolve its shopper experience and thus Staples needs to create a better point of differentiation.
Liked this post? Check out the complete series on SWOT